What better way to set the stage for a conversation that deals with how the world is changing, then a live video interview with JP Rangaswami, Chief Scientist at Salesforce.com, while he was in Dubai airport on his mobile tablet. According to Rangaswami, an award winning CIO and one of the most influential executives in technology, the key to navigating this hyper-connected world is to understand what our customers perceive as scarce or abundant and use that information to help them.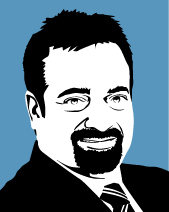 JP Rangaswami, Chief Scientist - Salesforce.com
Issues of scarcity and abundance go right to our core psychological framework. Rangaswami gets to the heart of these issues by spending 80% of his time talking with salesforce.com's customers about the roll-out of digital infrastructure and how it is affecting their lives and business and taking that information back to salesforce.com so that the customers are part of the conversation that influences the direction of the company.
It's actually not about scarcity or abundance. It's about the customer and using their behaviors to inform companies as to how they should be building systems and products to best respond to customers and increase loyalty and retention.
Five factors that influence customer scarcity and abundance in the hyper-connected world:

1. Information, connectivity and bandwidth are abundant: Venture Capitalist, Fred Wilson, spoke about how the world is shifting from bureaucratic hierarchy to networks and collaboration. Rangaswami tells us that hierarchy in organizations existed due to a scarcity of information and connectivity; when these resources were scarce you had to organize to solve these issues. But today's networks have solved these issues and have shifted organizations from a scarcity-based view to an abundance-based view of organizing and managing. As we get more connected, everyone and everything connected will drive out the inefficiencies that existed before. When you want to know what a customer thinks you are actually able to zoom in on what the customer actually thinks or says. This is made possible because of an abundance of connections, affordable CPU cycles and the bandwidth tools that have emerged.
2. Retention is the new scarcity: With such an abundance of places that customers can go, loyalty becomes harder because trust is scarce. The best relationships exist because of trust. Rebuilding the trust becomes possible when you recognize that each customer has a voice and you respond to them at the customer's speed. It is a mind-set shift. In this hyper-connected world there is an increased demand on companies to respond and adapt in real-time. To meet this demand and retain customers companies need to provide customers with a better experience based on differentiation of service quality.
3. Ecosystems have replaced monolithic architectures: The velocity of information has changed dramatically. We can listen to all customers, partners, distribution channels, employees and even ourselves. This ability to be able to listen means we can extract real insights at speed when, where and how we want them. We are able to do this because we build ecosystems - one of large shifts that has taken place. Over time we have discovered that monolithic architectures have not been able to hold up to the changing pace of the market. As everyone becomes connected and moves into the "stream", an environment is created where speed and velocity is sharply altered and accuracy increases.
4. Software and products designed based on the assumptions of scarcity or abundance: The ability for customers and companies to share and connect with each other is a dramatic change that has driven the transformation of what we see as business and has allowed companies to build intimacy with customers. As companies look at how they want to engage with customers they have an opportunity to deepen that intimacy when they consider what the customer will perceive to be scarce because that is where customers want the most choice quickly and abundantly. Every customer and every action they take sees a number of scarcities. Companies need to ask, "Is customer attention scarce?", "Is trust scarce?", "Is privacy scarce?" and if so, how do we help the customer solve that? If we know the customer has an abundance of devices, can we solve that with more bandwidth?
By looking at the time a customer spends on things, companies can impact the simplicity and convenience of what customers are presented with and sequence things that are relevant to the customer not the provider.
5. Strategy development based on an outside-in information flow: There is a need for IT to shift from a provider status to an enabler status. Companies will start looking outside-in rather than inside-out to fill the traditional role of IT. According to Rangaswami, the percentage of information on which IT bases decisions has grown to be outside the company, where customers and partners are. This trend will continue and will be in the majority in 5 years. As companies realize they have to spend time with customers who are not inside the firewall, they will start to engage with them on their terms.
Companies need to ask, "Where and how do our customers spend time and what do we need to do as a result to be in conversation with them?" This will not only transform the way we engage with customers but will transform existing architectures and give even more power to the stream. Rangaswami says that CIOs who have been worried about what their jobs will look like will have to become masters of how the company senses information around them rather than inside them.
It's clear from my discussion with Rangaswami that it is time to focus on ways of delivering service where the customer wants, when the customer wants, how the customer wants. By leveraging human nature to make distinctions between abundance and scarcity and applying that to their decisions, companies can build customer trust and loyalty and yield greater business results.
You can watch the full interview with JP Rangaswami here. Please join me and Michael Krigsman every Friday at 3PM ET as we host CXOTalk - connecting with thought leaders and innovative executives who are pushing the boundaries within their companies and their fields.