The role of the CIO continues to evolve rapidly in the midst of digital transformation and accelerating changes in technology. Exponential growth of cloud services, ubiquitous mobility and the social business imperative are creating new innovation opportunities for businesses. In this turbulent environment, the CIO should be positioned as a hero to business, but is too often disconnected from the business side.
I had the chance to speak with Robert J. Webb, CEO of the Technology Business Management (TBM) Council, about his joint research study with Forrester on this topic. The TBM project revealed some significant reasons for the CIO-business manager disconnect and proposes practical solutions.
Do You Speak Business?
Two sources of misunderstandings highlighted by the report were: business leaders consistently overestimate the resources available to IT staffs; and CIOs use Key Performance Indicators (KPIs) that are not directly related to the business side. On average, according to the report, business leaders think IT has 60% more budget to spend than it does. This means that for a company with $1 billion in revenues and an actual IT budget of $50 million, the CIO needs a way to demonstrate and communicate, "I don't have an extra $30 million to spend."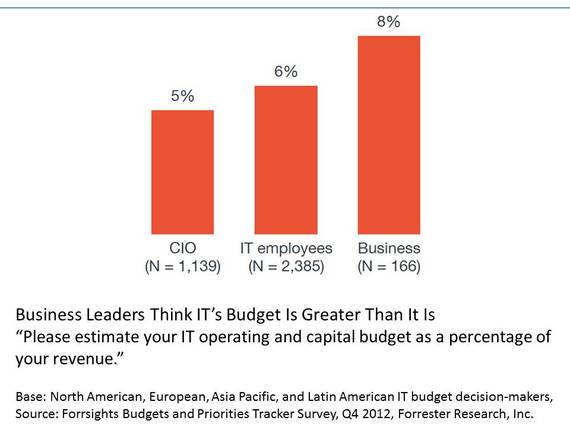 When asked to list their most important KPIs for IT, four of the top ten metrics on the business leaders' list were not even present on the CIOs' list. The CIO needs to bring these insights to the business table and have a conversation that starts with, "we are not aligned on 40 percent of our metrics."
A Better Way to Communicate
According to Webb, "These disconnects create an opportunity for CIOs to become better connected to the bottom line of a business. But CIOs are often ill equipped to do so."
The research highlights that CIOs communicate primarily in terms of operational- and transactional-level outcomes, while business leaders want to measure technology's impact on the company's strategic business objectives, such as finance, agility, and customer satisfaction.
The TBM suggests bringing IT and business onto the same page by means of a purpose-built CIO toolkit that starts with measurement. Four KPIs were identified by the joint research that CIOs should measure to begin this task of alignment. These metrics include: Health, Delivery, Outcome and Agility of IT operations. The Health metric measures the effectiveness of existing controls, while the Delivery metric tracks the ability of IT to deliver on its promises to internal and external stakeholders. The Outcome metric identifies and measures IT contributions to business outcomes, while the Agility metric tries to predict the ability of current IT investments in people, processes and technology to respond to changing business needs quick and flexibly.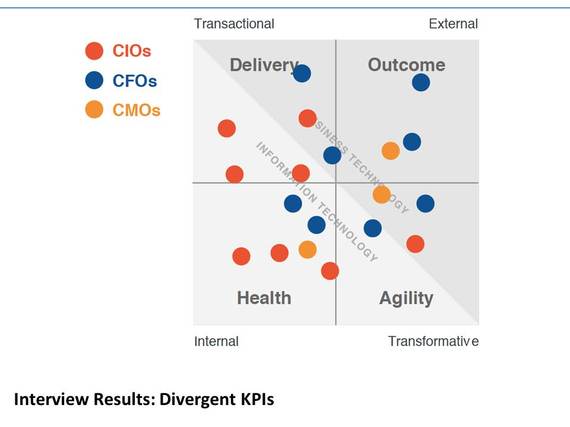 By implementing these key metrics, CIOs can become better able to demonstrate and clearly communicate IT's impact on the business to senior company leaders. At the same time, they will be raising their contribution and relevance among their C-suite peers.
The role of the CIO is progressing from purely a technology leader to a business leader. This requires CIOs to take a new perspective that involves both business and technology. It requires CIOs to think, act and communicate differently. By making a shift in the way CIOs measure IT value and impact, they have a common language to begin this new dialogue with their business partners.
To learn more about the discipline and practical use of technology business management, the TBM Council will be hosting the inaugural TBM Conference to highlight use cases and explore best practices for managing the business of IT.
This post was co-authored by Robert J. Webb, CEO of the Technology Business Management Council.