These days it is clear to see that the value of data is priceless. The explosion of mobile, social, cloud computing, apps and data has led to unprecedented levels of business process complexity, requiring digital savvy leaders to be informed and adaptable to a new set of consumer research and buying behaviors. With data as its defining attribute, digital marketing promises to give companies the power to enhance and personalize the customer experience through access to information that can be archived, tracked and measured. To achieve business value, marketers must be able to derive contextual intelligence from data that is actionable, aimed at improved responsiveness to customer needs. While a marketer's job has always been to get the consumer's attention, they have to meet consumers where they are. The way that we find people, find information, communicate and collaborate has changed dramatically as the result of mobile and social technologies. Those companies that are doing digital marketing well are reaping the rewards, and those who are laggards are subject to disruption. Yet the fact is that many organizations are overwhelmed as they navigate this brave new world of digital.
Brian Vellmure and Mitch Lieberman, two of the most experienced analysts who look at marketing and digital marketing, joined us on CXOTalk to shed some light on the topic of digital marketing and customer experience. Vellmure runs a boutique firm in Orange County, California where his focus area is where the digitalization of everything meets with customer experience. Lieberman is a Success Architect at Sugar CRM, where he bridges the gap between CRM and customer experience with digital marketing thrown in.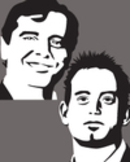 Mitch Lieberman (Twitter: @mjayliebs) and Brian Vellmure (Twitter: @BrianVellmure)
Both agree that when it comes to digital marketing there are digital leaders and digital laggards. While some companies are excelling at digital marketing, the reality is that much of the market is lagging behind - struggling with the basics of CRM and trying to get a more complete view of the customer.
Vellmure and Lieberman give expert advice on how companies can progress to becoming a digital marketing leader:
Fundamental understanding and baselining of existing capabilities - In order to move from being a digital laggards to leader, businesses need to understand and gain the full value of the tools that are already here, something which Lieberman predicts will be the next big technology spend. While the majority of organizations get on board with CRM, marketing automation and customer communities, the digital leaders will figure out what works and what doesn't, so that by the time the laggards are caught up they will be able to take full advantage of the digital landscape.
Context is at the center of digital marketing - For many companies who are still trying to make sense of the fundamentals and merge multiple CRM systems together, these two analysts give the advice to press on and keep their eye on the prize, which in the case of digital marketing and customer experience is personalization - made possible by having enough context to be able to add value by delivering messages specifically to a target audience of one. "The goal is to give context to what I'll call noise," says
Vellmure who thinks that right now organizations are struggling with figuring out what is the relationship between CRM, which is the context of the conversation, and the customers experience on the other side." He views them as mere images of each other, because CRM is an internal process and the customer experience is the external perception and data is what helps bridge the two and bring them together.
When we talk about digital marketing, context is at the center of all that and it becomes more important because it's more difficult for vendors to get in front of their customer and, on the flip side, it is also harder for the buyer to sift through zillions of options. Put in this context, context becomes very important because as marketers have more data points to make sense of who their prospective buyer is - what they are trying to get done and what are they trying to accomplish - they can surface the right message, the right offer or the right product in context of what the prospective buyer is actually trying to accomplish.
Partnering with technology is essential - If you're trying to transform your marketing to digital you need to invest in social listening tools and technologies, you need to have a marketing automation platform, you need to invest in a community platform - and all of that needs to be integrated into your CRM as well as be connected to all of your other systems, which requires working very closely with IT.
According to Vellmure, what is really needed is for this information to flow seamlessly within and without the organization and it's beyond the capability of most CMO's to understand how all of that stuff works. So marketing needs a technology partner, whether that comes from the CIO or whether that comes from building their own staff, they need someone who actually understands how this technology works to help inform some of that stuff that's going on.
Lieberman agrees, and adds: "Organizations have to bring in the common objectives all the way up to the boardroom and then trickle them down, and then integrate the processes and then figure out how to integrate the data. I said it that way because many of them are already in place, so we are kind of backpedalling a little bit, trying to figure out how to put the pieces together."
Focus on the customer - As marketing organizations strive to create a balanced team that can handle the analytical and technical demands that are inherent with going digital, Lieberman says to keep in mind the objective, which is to focus on the customer: "If your objective is to focus on the customer, then whether you are using digital communications, PDFs or emails, you want to step into their shoes and have people that can understand what they are going to think. What is their perception going to be when I do this? Then you have to have the analytical mind if you are going to do that 1,000 times in an hour or in a day. You need to put it together. You can't get away from the fact that marketing is to raise brand awareness and to communicate and engage people at a human level."
Identity is important - Vellmure believes that identity will be one of the most important things over the next decade. He says, "In order for marketers and organizations to do something relevant and in context they have to understand who it is that they're talking to, and doing that at scale requires the identities to be aggregated over multiple channels, and those channels are going to explode."
To know that someone is the same person that's browsing your website, calling into your call center and sending an email is no easy task. Some companies have taken a stab at that, but even when you solve the technological challenges around it, there is still the privacy conversation. Organizations will struggle with deciding if it's okay to opt someone in because they've just been able to discover their presence on other channels or do they need their explicit permission for each channel?
According to Vellmure, the identity piece is still being worked out and while no one has really cracked the code, there's progress being made across the mobile front.
Digital is not always a mandate - While all the buzz about multi-channel and omni-channel can't be ignored, the fact of the matter is that some businesses can have huge success with a single channel. To demonstrate that digital is not always a mandate, Frank Scavo points to Trader Joe's, who only has a website after just killing their iPhone app, yet they are so successful because they have created an experience that people want.
Vellmure agrees that even with all the digital tools in our toolkit, that doesn't necessarily mean that in every case it will augment the experience: "When I go to Trader Joe's, I know I'm going to get somebody that may even know my name, they are going to be friendly, they're going to have great products and great prices so it solves the need that I am trying to accomplish, and I don't need digital for that."
So as an organization considers digital, they need to realize that whatever they do needs to expand their capabilities and provide the optimum opportunity to engage with customers, and if digital, like anything else, is not enhancing the experience, it may not be worth the investment.
Keep predictive on the radar - Vellmure expects that over the next few years huge inroads will be made in predictive analytics - using marketing algorithms to have the machines get smart enough to learn on their own and to recommend both to marketers and to customers what they should be doing next. "Right now predictive, which is a very complicated thing, is in the early stages but we are already seeing indications of it working in certain scenarios. I've got my radar tuned to see how it is going to be leveraged by marketers," remarks Vellmure.
You can watch the full interview with Brian Vellmure and Mitch Lieberman here. Please join me and Michael Krigsman every Friday at 3PM ET as we host CXOTalk - connecting with thought leaders and innovative executives who are pushing the boundaries within their companies and their fields.