The question of IT leadership is fraught with challenge. In a world where IT's relationship to the business is being called into question, the CIO has a special responsibility to drive a transformational agenda. In a special edition of CxOTalk we spoke with three of Intel's top IT leaders to explore Intel's approach to providing transformational value to the company - the development of a three-tier pyramid to deliver progressive value within IT and ultimately to the company as a whole.
Darcy Ortiz, General Manager, CIO Strategy Office, Aziz Safa, Vice President, General Manager, Enterprise Apps & App Strategy and David Aires, Vice President, General Manager, IT Operations give us insight into the importance of each layer of the pyramid and how achieving the cumulative effect of all three layers can really drive results for the company and influence the future of IT and the world of the CIO.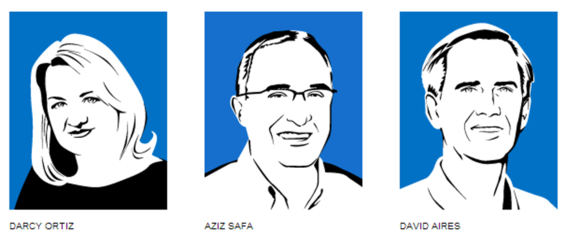 3 Steps to Delivering Progressive Value within IT:
1. Deliver Operational Excellence
Bottom Layer: Operational Excellence

"You can't just focus on the bottom layer in isolation, there are things you have to do - pay attention to the details, have disciplined processes, care about the customer - but you have to also do things because they add value to the business. There should never be an IT project, there should only be business value projects." - David Aires, Vice President, General Manager, IT Operations
At this foundational, bottom layer of the pyramid, IT must prove their reason to exist by delivering operational excellence across all of IT and everything that they do. David Aires is responsible for the infrastructure for all of IT worldwide at Intel. He says this layer is about delivering basic services, quality and reliability of service and user experience to meet the day-to-day needs of the business. But he is quick to mention that this is not just an infrastructure play; it's about making sure that every aspect of basic delivery within IT is done right. "The key is that if we don't do this part with excellence then no one will let us go up this pyramid. If you can't keep the network operational, no one will listen to your ideas on how to improve their business. It is essential to do this operational excellence piece really well just to get a seat at the table for higher level activities," says Aires.
Get back to basics - Aires, who started his career in manufacturing at Intel, says that there are basic principles and methods that are common to all types of industries that IT can apply to achieve fantastic results. He recommends that companies go back to the fundamental things that make a quality process: putting your customers first and having disciplined processes. "A key metric of ours is how many times we disrupt the business, which we drove down by 40% last year just by trying to get people to do the basics," says Aires.
Put the customer at the center - Having clarity of who the customer is, is really important to be able to deliver the value to that ultimate end paying customer. "Whoever you are providing that output to is your customer, but ultimately we like to connect this value chain of all of these customers so we actually get to the true customer - the real, outside of Intel, customer who is writing the check. If all of our efforts don't align to what the person who pays the bill at the end of the day wants, then we won't be successful," says Aires.
To ensure that they are meeting the worldwide infrastructure needs of all 100K Intel employees, a large number of business and all external customers that are depending on Aries' team to do their job well, Aries assigned GMs to be focused on the different lines of business to ensure that IT understands all the internal and external requirements. At the end of day, all of these people that we serve need to feel that they are the customer and are getting the value from Intel's investment in IT.
Focus on measuring and improving user adoption - A huge challenge in such a large organization is user adoption. A fundamental question is, "How do you get people to actually use the IT social collaboration tools that are put out?" If you don't think about the way people do work, or the culture and expectations of a team and how they will communicate, then everyone defaults back to email. "We have to think about how we get people to use new tools and build that into the way we do it and we also need to use the social tools to do the work so people will have to use the tool to be part of it," says Aires.
2. Collaborate with the Business to Deliver Business Value
Middle Layer: Collaborate

"Flawless and repeatable performance and forcing your IT organization to set the bar higher are the keys to being accepted by the business as an ongoing and full-fledged business partner and evolving to that next level where you have the right to transform the business." - Aziz Safa, Vice President, General Manager, Enterprise Apps & App Strategy
Once IT is preforming at a level where they are getting beyond a conversation about the last outage, they are ready to move to the next highest level. The middle layer of the pyramid is about earning the right to influence the business, which is done through collaboration that breeds innovation to achieve business goals. The theme of this middle layer is one of collaboration; sitting down together to understand the business requirements first and then coming up with a workable solution to solve a customer's specific set of challenges and helping to innovate and improve. If at this level IT is still meeting resistance from the business, Aries gives this advice: "Go to your business partners and ask them why they are setting their expectations so low for you."
Partner with the business -The advanced analytics group that reports to Aziz Safa spends a lot of time partnering with marketing to improve sales and customer response time. They have used big data to collect all the information they have about customers and use advanced analytics tools to find data and get insights into what customers might want based on market trends and the behaviors of other customers. "By mining the data to come up with better ideas to engage with customers and looking for opportunities for sales to upsell, we have seen an increase in sales," says Safa.
Understand the goals of the business - To create an environment where IT is viewed as a value added function; you need to work with the business. According to Darcy Ortiz, the business is used to that bottom layer of the pyramid relationship of IT just providing operational excellence. To move the business beyond that relationship, IT needs to retrain their expectations to help them see that IT can add value to the business. This requires relationship building and an effort on the part of IT to understand what the goals of the business are and to align IT goals to business goals. "IT will need to start demonstrating where they can add value and getting their foot in the door, otherwise they will stay at the bottom of the pyramid and the company will really miss out on the value that IT can add," says Ortiz.
Deliver IT solutions tied to real business drivers - The relationship between the business and IT needs to be a strategic partnership. At Intel, IT works hard to not just hand over IT solutions anymore. Solutions are tied to real business results and real business drivers. According to Ortiz, "If we are working side-by-side with the business and understand their needs and deliver capabilities that solve their problems, it's easier to bring them along and have their acceptance." The ultimate goal is that their solution will not even require training, it would just work.

3. Create transformational business value to the company as a whole
Top Layer: Transform

"In order to transform, you need to have to have a solid foundation at the other two layers. You need that core operational excellence and to be able to really demonstrate that you know the business. One of the layers is not more important than the other. The minute you let one slip the pyramid collapses. Each layer is important but it's the cumulative effect that really drives results for the company." - Darcy Ortiz, General Manager, CIO Strategy Office
At the top level of the pyramid, IT has earned the license to decide and this level is about what IT can do in partnership with the business to enable transformation and help the business grow. Intel's CIO, Kim Stevenson, has said that, "IT eventually gains the right to decide how the company should use technology." This happens when IT is deciding to do something, rather than being asked by the business to do something. At Intel, transformation is a reality and as they moved to this system on a chip space there was a need to do things different and faster. IT decided to put social and collaboration tools in pace to make it easier to share information and to not have to re-invent each time, which helps get products to market faster. "At Intel, we are always looking for more of these examples to drive more business results for the company," said Ortiz.
CIOs are in a unique position to exploit their knowledge of business and technology to influence or drive the direction of an organization's transformation, according to the findings of a new Forrester report titled "The CIO's Role in Business Transformation."
Be a change agent - According to Safa, "If you are a company, you are in business to make money, so from an IT perspective, unless you look at it that way you are just a cost added to the business." IT can add value by looking at leveraging the existing infrastructure in IT to solve business problems and help reduce costs and enable the business to move products to market faster.
Make the end goal the business goal, not the IT goal - Delivering the business results that drive transformation requires a change in the mindset within the IT organization. Typically IT projects focus on delivering IT systems on-time, on-schedule and on budget. "We still have to deliver on the IT goals, but we need to make a shift to take the business goals as our goals. The end goal is the business goal, not the IT goal," says Ortiz. At each level of the pyramid, IT has set business goals that require IT solutions, but the end result is the business goal. This is shifting the mindset of the people in IT and helping them to see the value they are adding to the company. "It's about engaging with the business and taking that joint goal with them and knowing we are at the table and we are going to help them achieve that goal for the company," says Ortiz.
It's clear after hearing from these three IT leaders that it's not just having a focus at one level or another, but it's about bringing all three layers together at the same time. By providing operational excellence and collaborating to understand the needs of the business, IT can move into a transformational role and become a strategic and valued partner to the business.
You can watch the full interview with Intel IT executives here. Please join me and Michael Krigsman every Friday at 3PM EST as we host CXOTalk - connecting with thought leaders and innovative executives who are pushing the boundaries within their companies and their fields.