Only a renaissance man can manage a fully functioning farm, practice emergency response, teach at one of the most prestigious universities in the world, and also serve as CIO of one of the top hospital in the world. Dr. John Halamka's 20-year career as CIO of Beth Israel Deaconess Medical Center and its five hospitals has taken him from writing code and doing the basics to make the plumbing work, to his current day-to-day which entails figuring out how to run an agile enterprise with so many single locations and merger activity while keeping the data secure and private. Viewing the job of CIO as a "lifestyle", Dr. Halamka also manages to teach at Harvard Medical School, practice as an ER physician and run a family farm.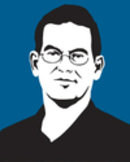 Dr. John Halamka (Twitter: @jhalamka), CIO Beth Israel Deaconess Medical Center
I don't think it's any coincidence that Dr. Halamka was named one of the 50 most influential technologists of the past 50 years and Beth Israel was named the number one technology innovator. In his role as CIO at Beth Israel Deaconess, Dr. Halamka is responsible for all clinical, financial, administrative and academic information technology serving 3,000 doctors, 12,000 employees, one million patients, three petabytes of data, 22,000 simultaneous users, three data centers, clouds and lots of mobile devices.
Healthcare CIOs who are actively champion digital business transformation must carefully watch the recording of our CXOTalk conversation with Dr. Halamka as he talks about navigating the waters of the Affordable Care Act, Meaningful Use policy and big data. His leadership advice garnered from 20 years of experience as a CIO, summed up here, is a must-read for any technology executive.
6 Leadership Tips to Increase Your CIO Tenure:

1. Honesty is the best policy - With CIO tenure being less than five years, it may seem surprising that Dr. Halamka has survived two decades as the CIO for one of the most prestigious healthcare organizations in the world. While most would assume the secret to his longevity must be an error-free IT organization, according to Dr. Halamka that is actually quite the contrary. Make no mistake, he has had his share of mistakes, but instead of trying to cover them up or hide them, he has been uber-honest even to the point of inviting the press in to watch them go through the problem resolution. As a result of his humble and honest transparency, Dr. Halamka feels the industry has been quick to forgive him when he has made a mistake.
"Mistakes are made every day. Mistakes are learning experiences and I don't actually say who is at fault, I ask what was wrong about our process, our strategy or structure that enabled that mistake. I never shoot the messenger. So maybe that attitude makes people understand we're all imperfect and we can learn from each other," he says.
2. Surround yourself with people that are smarter than you - Infrastructure is something we often forget. Let's face it, how exciting is the wiring in the walls? People are focused on getting the sexy new MRI machine, the Google Glass, the iPhone and the Apple watch - but in reality, all of those things are only going to be as good as the infrastructure in the walls. Dr. Halamka's job every year is to advocate to that hidden infrastructure - the storage, the servers, the data centers, the power and the networks that are behind the scenes.
Dr. Halamka believes that his biggest observation is the blind spots that he has had over the years. "In 2002, did I know how to engineer from scratch a Layer 3 network that was resilient to all the evil actors on the Internet? No. The problem was I didn't even know what questions to ask. And so I've been very careful to surround myself with people smarter than me and to ensure the blind spots that I have are filled by others," he humbly admits.
So who are these smart people that Dr. Halamka, an obviously very smart person, surrounds himself with? Other CIO's that share their experiences and enable peer learning and engineers who have deep knowledge of the issues that surround IT and can make important decisions such as what storage platform they should be on.
3. Never go live based on a deadline - Dr. Halamka tells his staff that there is no problem that can't be blamed on IT. Dr. Halamka instructs his staff to under promise and over deliver. He also tells them you should never go live based on a deadline - you go live when the product is ready or the people are ready to use the product because if you go live too early no one will ever forget and if you go live late no one will ever remember. "Having done hundreds of go lives in my life, I know there is no naysayer, there is no pressure, there is no political issue that is important enough to go live too early," says Dr. Halamka.
4. Don't underestimate the importance of data - Data, as with many other industries, is transforming healthcare. What sets Beth Israel Medical Center apart from many other hospitals is, as a learning health care system, they are able to take all the data on all the patients at the Harvard hospitals (three petabytes) and perform queries to find the medication that would be most effective for a particular patient. Using that kind of analytics across multiple institutional data sources enables Beth Israel to treat patients optimally, as opposed to today's healthcare system where it takes on average 20 years from an innovation from one hospital to defuse throughout the country.
Dr. Halamka has a whole department that focuses on data analysis. These data scientists are able to look at structured data and understand the prominence, validity, certainty, quality and integrity of that data.
5.Bust silos and collaborate - Dr. Halamka explains that in the past, in a fee per service world, getting data from hospital to hospital would be like sharing competitive secrets... "Oh my, you're going to steal my patient. I need my patient because more procedures and more care equal more profitability." But in this world of the Affordable Care Act hospitals are actually paid for keeping patients healthy. And if they don't share data and they have silos they'll all go out of business. "So, the alignment of incentives to share data has finally caused hospitals to break down the walls of the gardens," says Dr. Halamka.
As opposed to other industries, healthcare has a unique challenge when it comes to data collaboration because there is not a common language. A doctor might call something high blood pressure, hypertension or elevated blood pressure and it's all referring to the same thing - the patient's blood pressure is 150/90. Another issue is ambiguity and the fact that every doctor has been trained to record information differently. "So the challenge is creating a common language, creating a capacity to send it across silos and firewalls and competitive locations and then keep it safe. Because the other problem is that if I send your data to someone, can I trust that they won't compromise it, because if they do I'll be held accountable. It's tough," says Dr. Halamka.
6. Being a successful leaders is not a job, it's a lifestyle - Dr. Halamka says, "Being a CIO in 2014 is not a job it's a lifestyle. It's not as if there is any separation from life and work, it's all just continuous and it goes around the clock and it is 365 days a year no matter where I am in the world, my office is where my laptop is. So, it's the nature of the game." Between his full-time job as CIO, practicing medicine and tending to his farm of 100 animals, 100,000 bees and 55 different sub-types of apples,
You can watch the full interview with Dr. John Halamaka here. Please join me and Michael Krigsman every Friday at 3PM EST as we host CXOTalk - connecting with thought leaders and innovative executives who are pushing the boundaries within their companies and their fields.