It turns out that I am not the only one who thinks he has the greatest job in the world. Mike Capone, CIO of ADP, the world's largest payroll provider and human capital management company, shares my sentiment. Capone has all classic responsibilities of a CIO, but thanks to his business and technical background, he is also responsible for product development. As both producers and consumers of their solutions, Capone has successfully aligned the IT organization to best serve ADP by defining their success based on business outcomes.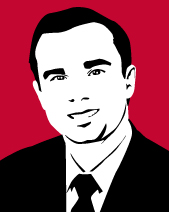 Mike Capone, CIO ADP
Capone has been with ADP, one of the first Cloud providers, for 25 years. Having been CIO for the past five, he says that if you are a CIO today that measures your worth based on IT budget, you are already dead. Today you get measured on outcomes.
Tasked with transforming the mind-set of an IT organization of 8,000 people, Capone offers his advice to CIOs on how to take your IT organization from being IT metrics-focused to business metrics-focused.
4 Steps to Creating an Outcome-Focused IT Organization:
1. Flatter organization leads to improve execution velocity: When Capone first set out to transform the ADP IT organization from being focused on technology and budget metrics to evolve them to focus on the business he used a three-pronged approach:
Flatten the Organization: With around 8,000 people in IT, it goes without saying that there were many layers, putting a lot of distance between IT employees, the CIO and the client. Capone collapsed the structure down to seven layers, which was a dramatic improvement for their large IT organization.
Focus on Clients: Capone created a mandate for all senior leaders that 20% of their time be spent with their customers.
Change Incentives: IT incentives were tied to uptime and IT budgets; Capone shifted all incentives to be based on business performance, such as top line growth, bottom line profitability or reduction in the number of service center calls.
2. Focus on delighting customers: If there is one question that IT could ask it should be: "How will this technology investment help grow the company and delight our customers?" When a company focuses on delighting its customers, the business outcome will naturally be positively influenced. With deep roots as the original Cloud provider, ADP saw running payroll over the Internet as a very obvious alternative to having the payroll function reside on premise at a company that is not in the payroll business. ADP has proved that the Cloud is a very viable means to do business and more and more CIOs have embraced it. Mobility is another focus area in the user experience journey. Capone says that delighting customers comes down to embracing and responding to consumerism. People want everything on mobile and companies today have an obligation to make sure they are easy to do business with and that they can do business the way that their customers want to.
3. Develop a team oriented bias towards results: Building a culture of mutually successful outcomes is dependent on partnering with clients to get the right outcome. CIOs need to measure their personal capital inside the company by how they help others. Capone reminds us that good people trump bad organizational structure all the time. As long as there is a collaborative structure, companies should not get caught up into where stuff reports, but focus time and energy on collaborating to create effective outcomes.
Capone says that analytics and big data present a great opportunity for CIOs and CMOs to work together. This was recently demonstrated when their CMO had the idea to take the information powered by IT and big data to create the national employment report. In working with the CMO to decide how to use the information they had, what may have at first seemed like an "out there" idea (producing a report that would be in addition to the government's survey numbers) turned out to be a fantastic thing with the recent government shut down.

As a CMO I feel that a strong partnership with the CIO is critical to success. I would not be successful without a strong IT organization. Both the CIO and CMO need complementary skills in order to maintain relevance. Capone, who is equal part business person and technologist, is a perfect example of this.
4. Develop your strategy guided by peer collaboration: As a second-generation CIO, Capone has seen the role change pretty dramatically from being "IT for IT" to being all about the relationship you have with senior leaders in the business. Capone believes your whole currency at a company will be how you enable senior leaders and departments to achieve success. The CIO of the past spent a lot of time on technology, and not a lot of time on strategy. Capone spends 80% of his time on strategy and collaborating with senior leadership and he is seeing that most of the CIO conversations today have moved from bits and bytes to being centered on driving outcomes.
For innovative CIOs to fight the tide of "CIO oppression" and gain a seat at the executive table, Capone recommends incubating new ideas. He feels that today's world is a "show-me" kind of culture. At ADP, a lot of innovation IT has driven, including mobile, started out as incubation. When they got it to a point where they were ready to show it, people were impressed and they got permission to take it to next level. To ensure they are always innovating, Capone set up ADP Labs, which is focused on incubating new ideas.
Capone is most excited about the future of human capital management as it pertains to data and analytics. He believes the currency of the future will be data and that he who has the most data and uses is correctly, like capital, is going to win. I believe this is sage advice to all business executives, including CMOs. If you are not data driven you are not going to survive. You need to take the data, gain insight and then use it to drive outcomes by delighting customers.
You can watch the full interview with Mike Capone here. Please join me and Michael Krigsman every Friday at 3PM as we host CXOTalk - connecting with thought leaders and innovative executives who are pushing the boundaries within their companies and their fields.