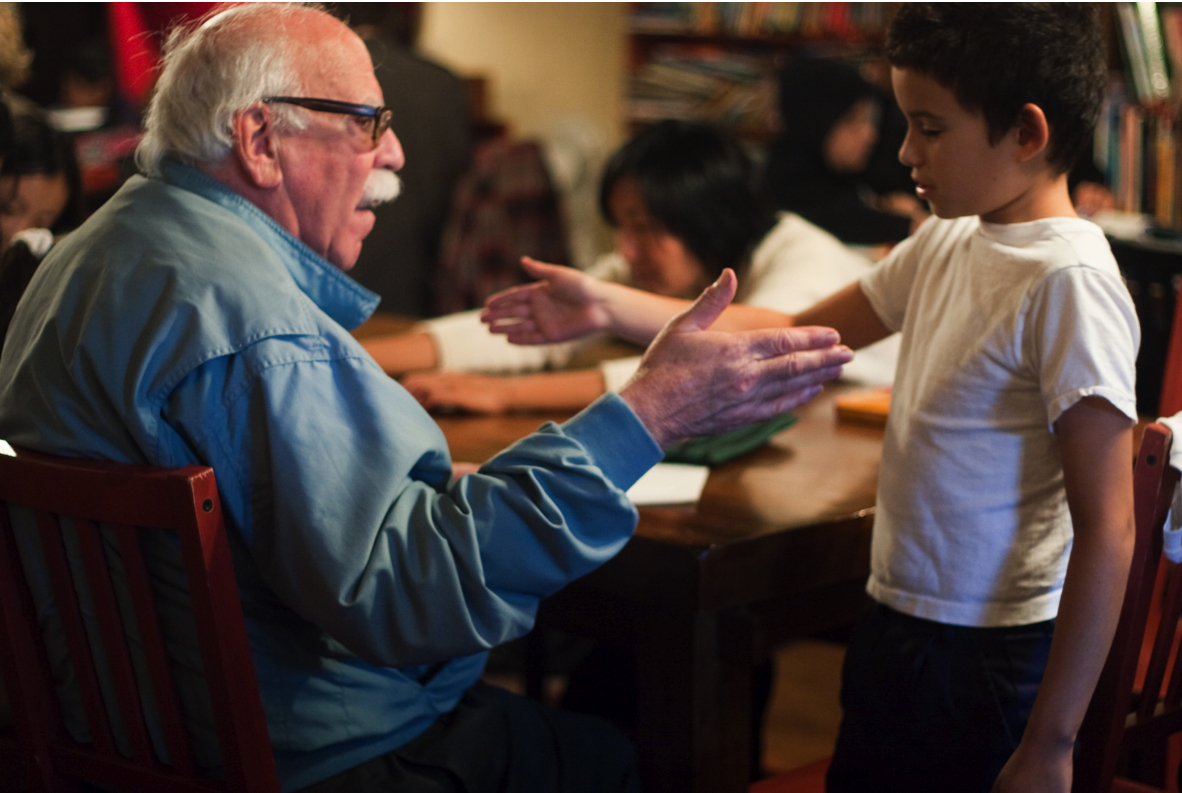 The Valencia Bay-farer is 826 Valencia's only in-house newspaper written for students by students (ages 8 to 13). Our intrepid reporters learn lessons about the various aspects of journalism, from crafting ledes to interviewing to citing sources, and at the end of each five-week workshop, we release a new issue full of articles about the kinds of things you'd love to read if you were a kid. We hope you enjoy these articles.
Major Golf Tournament Comes to San Francisco
By Jacqueline Acosta, age 10
I went to the U.S. Open at the Olympic Club in San Francisco on June 17, 2012 and I interviewed some fans. I enjoyed being at my first golf tournament. But people have different opinions about golf.
Some people don't like it. Mary Qiu from San Francisco, Calif. says, "I don't like golf because I never tried it before. And I think it's too slow." Eujean Doo from Daly City, Calif. says, " I think golf takes too long and I get really bored."
The U.S. Open attracts many golf fans. Michael Acosta from San Francisco, Calif. says, "I like golf because it is fun and relaxing. The U.S. Open is my favorite tournament because it is hard. I feel really good about being [here] and I am excited. I think Graeme McDowell is going to win because he has won before. Adam Scott is my favorite golfer because I like his swing."
David Ohlssen from Pacifica, Calif. says, "I like golf because it is challenging and relaxing most of the time. The U.S. Open is not my favorite tournament because I like the British Open's style of playing. It feels great to be at the U.S. Open. I can hang out with my friends and get to see the best players in the world. I think Jim Furyk is going to win because he is playing really steady this week. Tiger Woods is my favorite golfer because he is real innovative. I like how he plays."
Travis Lindquist, director of Sports Photography for Getty Images enjoys golf because of, "the diversity and beauty of the golf courses." Lindquist also enjoys, "how exposed and vulnerable the players are during competition. There is no place to hide in golf like in some sports. You succeed or fail on your own and publicly. The hours and hours of practice make it look so easy, but it's taken years for them to develop their skills and be recognized as the best players in the world."

During the U.S. Open, an officer guarded the really famous golfers such as Tiger Woods and Phil Mickelson. Phil Mickelson did not do very well. On hole number five, his par putt hung on the lip of the cup. Everyone groaned. It was for a bogey five. On hole number six, par four, 489 yards, Mickelson teed off with his three wood. The ball hit a tree branch short off the fairway bunker. Tiger Woods was not doing very well either. When he approached each hole he did not look very happy. His head was dropped down and he was not smiling.
At first, Graeme Mcdowell and Jim Furyk were in the lead with -1. Then, Webb Simpson was in the lead with +1. They were down to McDowell, Furyk, and Simpson. At the 18th hole, McDowell and Furyk were at +2. They had to make a birdie in order to tie with Simpson. Furyk didn't make the hole. McDowell was down to his last putt but didn't make it either. Webb Simpson came out in first place. McDowell tied for second place and Furyk in fourth. Simpson got awarded a medal and a trophy.
My favorite hole was the fifth hole because it was a long shot and most of them hit it on the green. As a fan of golf, I look forward to going to another major golf tournament someday.
The Bookworm's Guide to Excellent Summer Reading
By Lola Morrell, age 9
Are you bored during the summer with nothing to do? Here are some great books to entertain you. Instead of going to school, why not read about school? Two great recommendations are School of Fear and The Incorrigible Children of Ashton Place, and I have included a third book, too. These are sure to flip your pages!
The Incorrigible Children of Ashton Place is an incredible book about three children living in the woods of Ashton Place, a mansion in England. The mysterious Lord Frederick Ashton, who disappears every full moon, and his flighty, fashion-forward wife, Lady Constance, own Ashton Place. Lord Frederick Ashton finds the children while hunting. However, when Lord Ashton meets them, he discovers they have canine tendencies and seem to have been raised by wolves! Who should teach these children to behave? Here comes our main character, Penelope Lumley. She is hired by Lord Ashton to teach them. Her parents are missing, but she is a graduate of The Swanburne Academy for Poor Bright Females. When Penelope finds wolves raised them, she is shocked, but she takes on the challenge. Do you think she will successfully teach the children?
The Incorrigible Children of Ashton Place is set in the United Kingdom and is written by Maryrose Wood, but School of Fear is quite different. It is set in Farmtown, America at a school where children go to solve their fears. The latest students are Madeleine Masterson, who is petrified of spiders and insects, Garrison Feldman, who is afraid of water, Lulu Punchalower, who is incredibly claustrophobic, and Theodore Bartholemew, who is scared of death. The head of the school is Edith Wellington, who resolves their fears through unorthodox methods. Also, Schmidty, who is groundskeeper of School of Fear, plays a part. He is always by the children's side when he is not tilling the garden or doing Ms. Wellington's makeup. This excellent book is written by Gitty Daneshvari and will definitely  be a good book for anyone who has ever been afraid.

So far, I reviewed the books positively. However, this next book was not my favorite. Many people like Turtle in Paradise, but I didn't think it was so great. It was easy to predict, and there was no suspense. It's about a girl named Turtle during the Great Depression who moves to Florida to her cousins' house in Key West. I didn't feel like I was in Florida at all because the author, Jennifer L. Holm, didn't describe it enough for me. However, Carole Morrell, who read the book, felt differently.  She thought the author explained it well, and said, "It made me feel like I was in Florida." Try reading it yourself and see with whom you agree. Carole said that Turtle was "an amazing main character. She was a normal girl, but smart and brave and stands up for herself." I thought the fact she would stand up for herself made her too snobby, even though that is exactly what Turtle criticizes her cousins for being.
The only character I liked was Kermit, one of the nicer snobby boys. He has rheumatic fever, but is much more modest than any other character. He would have been a great person to put emphasis on, but the author almost just left him in the background. He never got a say in what to do, but if he had it would have made the book much more interesting.
 
All in all, I didn't especially enjoy the book, but the other two really got me hooked and I could never put them down. I hope you feel the same way about these books. Seek out your local library or bookstore and START READING TODAY!
Get the Most Out of a Single Summer Day
By Chloe Kim, Age 10
Looking for a place to go over the summer? Just 211 miles from San Francisco is a place that offers many outdoor activities -- Yosemite National Park! It's a very popular destination. An average of four million people visit Yosemite a year, according to the National Park Service. To reserve a campground, you have to book five months in advance, and to reserve hotel and lodging, you have to book all the way up to 366 days head! That makes it hard to take a last minute trip!
Yosemite Park Ranger Jessica Chamberlain advises, "If you come during the summer, which is when most people visit, come to the park between the hours of 10 a.m. and 2 p.m. to help beat some of the traffic." With that in mind, here are two suggestions for a day trip in Yosemite: Summer in Yosemite can be hot.  If you want to cool off, try rafting.  At the Curry Village Recreation Center, you can rent rafts that hold four adults and come with paddles and personal flotation devices. "Rafting on the Merced River is a fun and relaxing activity," said Brendon Kim, a frequent Yosemite visitor, "On the way, you can stop at beaches to picnic and play in the water." But at the end, do you have to paddle up- stream? No! You can take a shuttle back.
Another popular option is hiking up the Mist Trail to the top of Vernal Falls where you can look down 320 feet to see the cascading water crash at the bottom. Chamberlain said, "In my opinion it is the prettiest hike in the park even though it is a really hard climb, but it's good exercise!" If you would like to do these activities, act fast!  Chamberlain explained that Yosemite's waterfalls will dry up faster this summer because last winter there was less rain and snow than usual. The waterfalls will dry up around mid-July. Most summers the waterfalls would last until August. But, if you don't make it in the summer, you could come another time. Chamberlain says, "It is remarkable how much the park changes season to season, with the leaves turning colors in the fall and snow on the ground in the winter, and flowers blooming again in the spring, that too is worth seeing."
Opinions of Summer School
By Alexis Ngo, age 12
What is summer school? Is it fun? Boring? Just like school? I believe that summer school should be fun, but you must at least learn new things or get better in a school subject. There are things about summer school that are bad and good.  An article titled, "A Round of Vacation" on Infoplease.com says that summer vacation "hurts children because it fragments education and wastes tax money."  The people from the article say overall that children should stay in school and not have a very long vacation, but have short mini vacations many times in the year.  The reason for this is so students don't forget anything they learned in school, but they also have time to do nothing and go on vacation with their family.  So to me, this is a reason to send kids to summer school.
Parents have some opinions about the school year. The website Infoplease.com says that some parents believe that students should have a short vacation and a long school year, but other parents believe that there should be a long vacation and a short school year. Pete Glanting, my writing tutor, says that he disliked and liked summer school. He said that summer school is good because you can catch up in subjects and get ahead, but it is also bad because you need to relax sometimes, too. Summer school is both liked and disliked. It can be very boring, it can even be very fun and it is very important for students.
Should You Watch or Read The Hunger Games? DO Both!!!
By: Erin Louie, age 11
Although The Hunger Games movie has captivated many Americans, the richness of the games lies in the pages. There are many differences between The Hunger Games movie and book. The book contains more details with the first person narrative style, which makes you feel like you're one of the 24 tributes. Even people who haven't experienced the games in print can still relate to the story as they visually watch the games unfold on the screen.
For people who haven't experienced The Hunger Games' brilliant and nail-biting story, here is the gist: In the 12 outlying districts of North America, there is a country called Panem. All the 12 districts are obligated to participate in the annual 'Hunger Games,' which is a punishment from the Capital for causing the downfall of District 13. The 'Hunger Games' is a sporting event in which children fight each other to their death, all for the enjoyment of the people living in the Capital. This movie contains violence, but also romance between the two main characters.
 
Reading The Hunger Games is nothing compared to seeing it on-screen. Many people are concerned about the violent theme of the games, which is kids killing other kids for a chance of survival. Eight-year-old Olivia Louie, who recently saw The Hunger Games movie, said, "I think seeing the visual violence is different from reading the book, because the violence is appearing on the screen.'' With this being said, parents dismiss the movie based on the violent themes only, not really looking into what the movie is about. According to Pat Friman, a psychologist quoted in the Omaha World Herald, "literature can be an important dress rehearsal for real life, presenting children and teenagers with problems that are not their own immediately but help them develop empathy and cope.''
In The Hunger Games book the story is told in the perspective of Katniss, the main character, as opposed to the movie where there is no side narration. Therefore, you do not know what she is thinking or feeling, which can result in a disconnect when viewers interpret the violence of the movie. Gloria DeGaetano, founder of the Parent Coaching Institute, was quoted in the Chicago Tribune article as saying, "If your child hasn't read the book they're not going to understand what Katniss is going through, and might feel distanced a bit from her feelings and emotions about the violence going on around her."
The Hunger Games book and movie are both different and rewarding in their own ways.  People who have read the book can understand and appreciate the characters for who they are, whereas people who have seen the movie are really excited because they can see the story unraveling. Lucky you!!! Now you can enjoy The Hunger Games in print and on film!
Paddleboarding: You Don't Want to Miss This Sport!
By Alyssa Lau, age 12
Are you looking for an easy way to get good exercise and have fun at the same time? Stand up paddle surfing, also known as paddleboarding, is the answer to your question.

Paddleboarding is a sport in which athletes stand on long boards and use paddles to move in the water. This sport is one of the easiest ways to play on the water. You can paddle anything from the ocean to lakes and rivers with minimal equipment. No waves are required. Paddleboarding even offers a full body workout, so it's becoming a favorite training activity for skiers, snowboarders, and other athletes. Also, since you're standing at your full height, you'll enjoy excellent views of sea creatures and the horizon. Some people say that it's like walking on water!

"I went paddleboarding at Pebble Beach in Tahoe during the summer. I was even able to bring a couple's puppy onto the board with me. Overall, paddleboarding was a calming and relaxing experience for me. I would definitely try it again," said Julia Moore, a San Francisco resident who had recently gone paddleboarding.
Paddleboarding began in Hawaii in the early 1960s as an ancient form of surfing. The beach boys of Waikiki used to stand on their long boards and paddle out into the ocean to take pictures of tourists who were learning to surf. According to Wikipedia, that's why another name for paddleboarding is the term "beach boy surfing." Paddleboarding is popular at places with warm and coastal climates, yet paddleboarders have been spotted almost anywhere in the world where the waters are safe. In fact, a group named Women on Water has joined together to paddleboard every Tuesday at 8:30 a.m. in Lake Tahoe, California.
According to Wikipedia, the new sport is rising in popularity because, unlike surfing, it's so easy to learn. Paddleboarders can become comfortable in the water within only an hour. Also, celebrities are beginning to sample the sport. The sport is more popular with women because of their lower center of gravity. They are often more skilled at the sport than men.
Before you start paddleboarding though, you'll need just a few key pieces of equipment -- a stand-up paddleboard, a paddle, a PFD (Personal Flotation Device), sun protection, like sunscreen and sunglasses, and proper clothing which includes a wetsuit or drysuit in cold conditions or a bathing suit in milder conditions. Most surf shops sell and rent paddleboards. Depending on the model you choose, the cost of a board and a paddle ranges from about $1,100 to $2,100, according to Kelly Huffman, the author of How to Get Started Stand Up Paddleboarding.
Huffman offers step-by-step instructions on how to paddleboard: When you're a beginner, you'll probably want to learn to paddleboard on flat, calm water that's free of obstacles, such as boats and buoys. Also, it's easier to start out by kneeling on a board instead of standing on it. Once you're ready, put your paddle on the deck of your board and use it as an outrigger. Stand up on the board one foot at a time, and place them where your knees were. You might even want to bring a friend to wade out with you. Have your friend stabilize the board until you get the hang of standing on it.
After you've practiced balancing on the board in flat water, it's time for the real fun to begin. If you're paddling on the right, your right hand is lower and on the paddle shaft. Your left hand should be on the top of the grip. Push down on the paddle grip with your top hand. Then, plant the paddle by pushing the blade all the way under the surface. Pull it back to your ankle, then out of the water. Try to keep your strokes fairly short and close to the side of the board. There's no need to overpower it unless you're trying to paddle at a very high speed. A small draw stroke will keep you going forward. If you want to go in a straight line, paddle about five strokes on one side, then switch to the other. When you switch sides, you'll need to reverse your hand positions.
Paddleboarding is pretty easy to learn, but you'll probably take an occasional fall as you're gaining skills. When you lose your balance, aim yourself to the side so that you fall into the water and not onto the board. That way, fewer injuries are caused. If you get separated from your paddle and board, get your board before retrieving your paddle.
Once you've mastered the basics, there's almost no limit to the watery worlds you can explore. After all, you can paddleboard in almost any navigable body of water. You can play in the waves, ocean surf, and learn new turns and strokes. You may even find yourself wanting a narrower board as you become a better paddleboarder. Just get out there, enjoy the view, and have an amazing time. Are you ready to paddleboard?