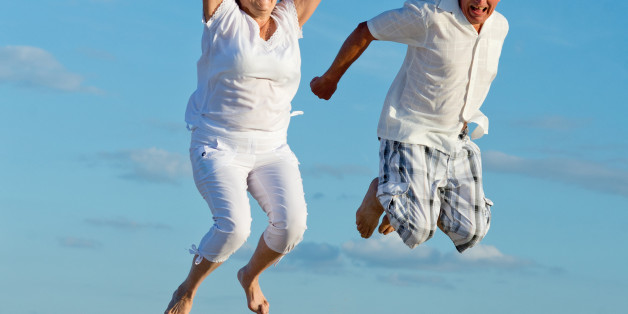 I loved my grandparents. I could call my grandmother at 2:00 a.m. and talk to her about anything, and my grandfather was that old-school advice giver who listened intently then put everything into an absolute right-versus-wrong dictum that you didn't really question. I was incredibly lucky to have them for 29 years. I miss them terribly, and my only wish is that my grandfather had died sooner.
Yes, sooner.
Poppy was born in 1912. He served in Europe during WWII, then returned to New Jersey where he raised three kids, worked at Peterman's (our family's Newark deli), owned a catering company, smoked two packs a day, and played golf nearly every morning. That was his life: family, food, smoking and golf. He was deeply devoted to my grandmother. I loved being around them, just because their marriage seemed so right to me -- a combination of love, need and good old-fashioned sticking-it-out, because that's what you did back then.
Poppy had his first open-heart surgery at 81. It went well, but left him weakened. It also took red meat and ice cream out of his life. (The cigarettes had been given up years earlier.) I'll never forget the look he shot me when Grammy put a plate of sandwiches on the table between us and declared, "It's pastrami made with turkey, and it's delicious." Lest there be any doubt, turkey pastrami cannot accurately be described with the word delicious, especially not to a veteran deli man. In fact, it cannot even be described with the word pastrami.
Aside from pastrami, brisket and roast beef, ice cream was the other noted absence in Poppy's new life. For as long as I can remember, there was always Baskin-Robbins in the freezer (although they called it "31 flavors"). When I would walk in the front door of their house, the first thing Poppy would say is, "Do you want anything?" and I just had to smile for him to start making me a chocolate seltzer. I have yet to find anywhere that makes a chocolate soda anywhere near as good as my grandfather's.
He was 82 when he had the second heart surgery, and that's the one that wiped him out completely. No ice cream, no salami and eggs, and now -- no golf. He just didn't have the strength. That would be his life for the next four years, until the day he got into his car (yes, he still had a car) and pulled into an unregulated intersection and was killed by an oncoming vehicle. We'd all like to think it was an accident, but no one can say for sure, and but for that accident, who knows how much longer he would have lived.
Which begs the question -- would it have been better for my grandfather to eat exactly what he wanted every day and die at 83 than live to 86 on bland food and boredom, too diminished to even clip his own toenails because leaning forward made him so dizzy (a fact that bothered the hell out of him)? What were those three extra years worth to him?
Now, it's happening all over again with another family member and it's making me ill. At 86, a man who was a titan in his day has been moved into a small apartment near his oldest son, which he is not permitted to leave on his own because he's reached that stage of dementia where wandering off is a serious concern. He barely remembers anyone's names, and can no longer enjoy one of his true pleasures in life -- watching movies -- because he can't follow what's happening from one scene to the next. He is essentially a prisoner in a cell, waiting to die, without even his memories for comfort.
All of this is sad, and unavoidable, but the worst part is the strict diet his son has him on. No beef or pork, no fried plantains, no black beans and rice or fried chicken or any of the foods he's loved his whole life, and no desserts, despite his trim figure and legendary sweet tooth. A man who used to pour condensed milk over ice cream now isn't even allowed to eat cake on his own birthday and for what? Seriously, for what? So he can live longer?
When did we become so controlling of our elders, and what is the point of forcing them to live miserably just to stretch the limits of their physical, mental, and emotional capacities? Sure, people can live into their 90s and beyond, but Michael Crichton put it best in Jurassic Park -- "Just because we can, does it mean we should?" If I'm going to be a happy, healthy, spry, mentally alert 99-year-old -- awesome! If my faculties start to go at 78, then please let me fully enjoy whatever time I have left in this world and move on peacefully to the next. That includes rare steak, red wine and ice cream.
There's an old joke about a couple that dies and goes to heaven and it's the most amazing place, beyond their wildest imaginations. The wife gushes and gushes to the husband, "It's so beautiful and peaceful, and my body can do anything and the food tastes amazing and I feel like I'm 20 again!" and he turns to her and says, "Yeah, and thanks to you and your damn turkey bacon, we could've been here five years ago!"
All of the work I do is focused on happiness -- how to increase it, and how to make it easier for people to find in their daily lives. I write about it, I speak about it, and a significant chunk of every workday is spent corresponding one-on-one with people to help them reach their happiness goals. As Aristotle says, "Happiness is the meaning and the purpose of life, the whole aim and end of human existence."
We are all going to die. Our parents are going to die. There is nothing any of us can do to stop that. So if you truly love someone, help that person find the most happiness they can during their time on this plane of existence, even if that shortens it slightly. I'd rather have five good years than eight lousy ones.
And if we're talking about an 86-year-old man with irreversible dementia, for God's sake, let him eat cake.
Valerie Alexander is the author of Happiness as a Second Language, a #1 Seller on Amazon in both the Happiness and Self-Help categories.
To get your free copy of Valerie's "One Day of Fluent Happiness" workbook, click here.