Most of us are lured into gardening by the siren song of plants, in all their fragrant, flowery seductiveness. But plants don't make the garden. They're just one element among many others - paving, furniture, art - that go into creating comfortable and inviting outdoor spaces.
So move your interior design skills out the door this spring to create exterior spaces as inviting as your living and dining rooms. Not only do comfy outdoor rooms extend your living spaces for relaxing, eating, and entertaining, but they make for a lower maintenance garden. Think about it - weeding, mulching, planting, pruning, watering and fertilizing of garden beds, let alone deadheading and dividing, versus a good sweeping of the patio. It's not that plants don't play a vital role in any outdoor room: Grow a few lilies for height and extravagant fragrance, or plant a blooming hedge of escallonia or osmanthus to beautifully divide up outside spaces. Pots of herbs or vegetables might inspire dinner, or at least be handy to pick. Or build an arbor above the dining table and plant it with leafy grapes to shade the dining table, with fruit dripping down so your guests can reach up and pick their dessert.
We tend to think of outdoor rooms as California 50's poolside terraces a la Tommy Church, or maybe hedged and walled English garden rooms mellowed with old brick and antiques. But there are plenty of modern options. Let your imagination go, for you're designing in the open air with clouds overhead and rain, sun and wind to curb any potential perfectionism. My book "The New Low Maintenance Garden" (Timber Press, 2009) is filled with innovative, fun, functional outdoor rooms where every inch of space is used for beauty, utility and/or comfort.
This shady outdoor dining room, designed by Tom Manion, is surrounded by leafiness; the white-flowering mock orange is sweetly fragrant. The burgundy heart-shaped leaves of Cercis canadensis 'Forest Pansy' stand out against all the green foliage.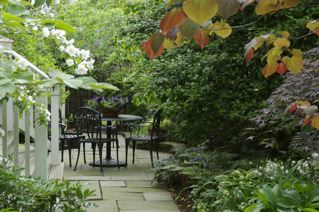 Stucco walls work to retain the slope and contain sleekly contemporary open-air living and dining spaces, designed by Vanessa Kuemmerlee.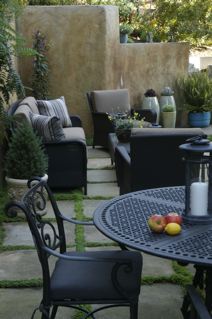 Visit my blog (www.valeaston.com) for a contemporary look at design, cool plants and all things garden.