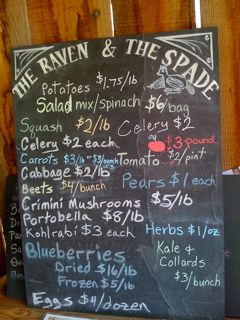 "We've become disconnected from the source of our food, and I hope to change that," says Camille LaTray, proprietress of Raven and the Spade, a two-and-a-half acre organic vegetable garden on Whidbey Island in Washington state.
At her property, which has become both phenomena and destination, LaTray celebrates the connection between garden and kitchen, inviting customers into the garden to explore and pick what they'd like on their dinner table. She's also feeding more than 40 lucky families with CSAs (community supported agriculture). People sign up to get weekly deliveries of produce picked fresh from the garden.
People visit the Raven and The Spade for more than vegetables. While they may stop in for lettuce (red oak leaf, green butter head, red summer crisp, etc.....) they linger to talk about recipes, chat with neighbors, hang out while their kids run through the garden with LaTray's four children.
It's easy to get lost in the garden's sensual pleasures, for fragrant flowers and herbs share space with the vegetables in twelve geometrically shaped beds. Chocolate-colored sunflowers grow up through the pumpkin vines that sprawl widely by late summer. Zinnias, godetia, calendulas, marigolds, lavender and geraniums brighten the edges of the beds.
LaTray grows an impressive variety of edibles in soil so rich and loamy it was her inspiration for making a garden in the first place. Peppers, cantaloupe, eggplants, musk melons, and okra thrive in the full sun of this South Whidbey Island valley. She grows bush beans, five different kinds of pole beans, orange cauliflower and purple carrots to intrigue the kids.
Besides spending twelve hour days caring for all she's planted, LaTray's mission is to inspire her customers to make the best use of the produce they purchase. "I love kohlrabi, but people don't know what to do with it," says LaTray. "It's great in stir-fries, or eaten raw. You can just grate it into a salad."
New this year is a lofty greenhouse LaTray and her husband Brad recently constructed from trusses left over from building their house. "I wanted to make it tall, and why not?" asks LaTray, who drew up the greenhouse plans herself. She envisions starting tomatoes, growing grapefruit and Meyer lemons under glass. LaTray and local chefs teach cooking classes in the new greenhouse, helping eager shoppers figure out what to do with all that beautiful produce once they get it home.
The Raven & The Spade is located at 4785 East Harbor Road, Freeland; Washington.
http://ravenspadefarm.com/