Just after WWII, using a mid-century version of today's "Insider Threat Program," the federal government determined my aunt posed a risk to the United States. For five years, agents stalked her the old fashioned way: face to face interviews, paper trails, phone calls, the Postal Service. They did this without the benefit of digital technology, based on a single, flimsy tip.
In 1949, Aunt Marg was a bookkeeping machine operator in the accounting office of the Army records department in St. Louis. There was nothing remarkable about her job or her life; she punched number keys all day, went about her work without incident, and lived with her two young children in the apartment building owned by her mother.
All that changed October 26, 1950.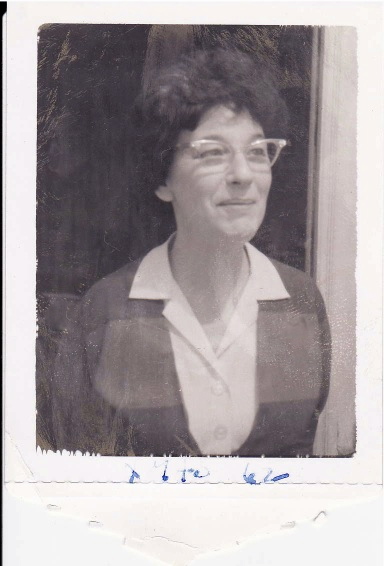 On that day the FBI received what it called "an anonymous typed communication" which alleged that my aunt "has Communist leanings, and may have been a member of the Communist Party at one time."
The office of J. Edgar Hoover, then director of the FBI, instructed the St. Louis office to make a full report on my aunt, including a "summary of disloyal information" on her.
Thus began five years of investigation into this lowly clerk, working in a dingy office, whose annual salary, in today's dollars, was less than $30,000.
The FBI poured resources into this probe; at least a dozen different men worked on my aunt's case, some for years.
The agents made a list of spellings of her name every way imaginable to ensure they'd find every record. They found every place she had worked and every place she had lived from the time she was eighteen years old. They staked out her apartment building and got hold of her mail.
They checked local credit agencies and searched the police department's "subversive and criminal records." They perused newspaper archives and federal government repositories and personnel files. None of this yielded anything incriminating.
Neither did the twenty-plus FBI interviews of my aunt's former neighbors and employers. Not a single person provided anything but positive comments. One said my aunt was a quiet woman and that she and her husband seemed to be good family people and loyal citizens of the United States. A federal employee who had worked with Aunt Marg stated that she would recommend her as "a loyal American citizen and loyal to her job."
All this was happening behind Aunt Marg's back. She had no clue the federal government was dissecting her life.
Meanwhile, the anonymous tipster grew in stature as the investigation proceeded. By the spring of 1951 the FBI was calling him a "confidential informant of known reliability." Reliable? The FBI said he "declined to give a signed statement and is not available for testimony before a Loyalty Hearing Board."
So this entire investigation was based on a tip from a man who didn't have the guts to go on the record. But the U.S. Attorney General had declared that even suspicion of association with the Communist Party was enough to trigger an investigation under an executive order targeting people who might constitute a "threat to our democratic processes." Today's Insider Threat Program does the same.
Aunt Marg learned of the investigation only when she was suspended from her job three years after the probe began. Then she did something almost no one did during that "Red Scare" period: Aunt Marg appealed her suspension. She had no job and little money, but she did have the help of an attorney who represented her for free. After two years of hearings in two different cities, the Department of the Army rehired her and granted her back pay of $234.91.
After taking two years of her life, her savings, and her reputation, the Army never gave Aunt Marg an apology.
It wasn't until she was 92 that she produced a yellowed box with the handwritten words, "Army Case Papers" and asked me to find out more.
The Army, the National Archives, and the FBI, with prodding by the Freedom of Information Act and pressure from a U.S. Senator, finally produced the records I requested.
Aunt Marg called it our "cold case." The results thrilled and astonished her. "I can't believe all that happened and that the government spent all that time and money on it," she wrote in an e-mail (at age 94.)
It didn't matter to her that the records redacted the names of the informant and the agents who followed her. She was proud to know she had stood up to the government.
At least she learned what she was facing. Most of the people the FBI and the NSA are investigating today won't.
Valerie Hyman is a journalism consultant and trainer and former investigative reporter.

The post originally appeared in the Tampa Bay Times.