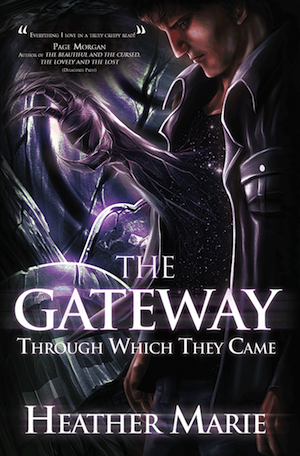 Fall is just around the corner, which means there's no better time to curl up on the couch with a hot cup of coffee and get lost in a thrilling read. Debut author Heather Marie's The Gateway Through Which They Came is a book you need to add to your fall reading list immediately!
Sure to appeal to fans of CW's Supernatural, and Odd Thomas by Dean Koontz, the story follows 17-year-old Aiden Ortiz -- a Gateway through which the dead must pass to get to the other side. But after searching for a girl who went mysteriously missing seven months ago, he realizes things are definitely not what they seem. The story is full of twists and turns and will keep you on the edge of your seat until the very last page.
I was lucky enough to chat with author Heather Marie about her suspenseful debut!
What was the inspiration behind your book The Gateway Through Which They Came?
I've always been fascinated with the supernatural, so when it came to Gateway it was more a random thought than anything else. It started with a weekend full of paranormal investigation shows. The idea of where we go after death has always intrigued me. Yes, I realize that's not exactly the most cheerful thought in the world, but I guess I'm morbid like that.
Anyway... As soon as I pictured Aiden in my mind, I felt like I had something. When it came to him, I just knew him so well. He's a part of me in a way because I've always believed that we all have a darker side to ourselves -- a good vs. evil that makes us who we are; monsters that we either shove far enough down until they no longer exist, or until we unleash them completely.
Tell me a little about yourself and how you got into writing.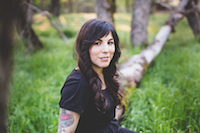 I've been a writer my entire life. Not many know this but I started off with poems. Oh, how I loved writing poetry. Everything was full of angst, of course, but in my heart I knew that words were the key to expressing my creativity. Getting it all out there, and scribbled onto a piece of paper, took so much weight off my shoulders while growing up. And I needed it, believe me.
Eventually those short sentences formed into stories, then blossomed into dozens of manuscripts that are now saved documents on my computer. To write and publish a book was always one of the biggest things I've wanted to accomplish in my life. And now that I have, I hope to write many, many more.
One thing I love about your book is the diverse characters. Was this something that was important to you, and if so, why?
Oh, absolutely. Coming from a Latina background, I've struggled in the past with many types of prejudices. I've watched people I adore get torn down for being who they are--from the color of their skin, to who they chose to love. Writing diverse characters, and seeing them struggle, is my way of demonstrating that no matter who you are, you will persevere.
If The Gateway Through Which They Came was ever to become a movie, who would your dream cast be?
This is a really tough question because I can honestly say I've never thought about it. Mainly because I don't want to put an image in someone's head and ruin what they've pictured. I think we can all name a book-to-film adaptation where we thought: "Him? No. No way. Nope." I'd hate to influence the imagination of my readers.
What is next for you in terms of writing? Any new projects on the horizon?
I have a project in the works that's another supernatural. Definitely different from Gateway, but has that creeptastic vibe to it. It's coming along, though I've decided to take a break from writing for the time being. I'm anxiously awaiting my edit letter for Gateway Two while working with my publisher to set up a book tour. I can tell you that if you've enjoyed all the twist and turns in book one, you ain't seen nothing yet! Gateway Two is gonna be one helluva ride.

If you had to describe your book in one word what would it be?
Deceitful.