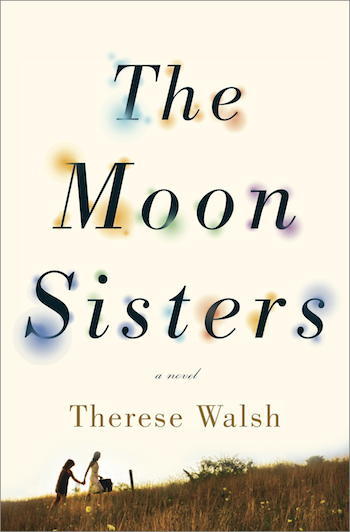 If I had to describe The Moon Sisters in one word, it would be "beautiful." A heart-warming story about life, love, loss and family, the book follows sisters Olivia and Jazz as they embark on a journey following their mother's death. Magical realism at it's best, The Moon Sisters is structured around the stages of grief -- denial, anger, bargaining, depression and acceptance.
The writing is beyond eloquent, and the story has a way of pulling you in and not you letting go. The Moon Sisters is out now, and I spoke with author Therese Walsh to get some insight into her new book.
What inspired The Moon Sisters?
A few years back, while toying with a story I'd eventually abandon, I wrote a scene involving a bog and a blind girl, and a will-o'-the-wisp light. It was one of the few scenes I missed when I decided to tuck that story into a drawer, and so I pulled elements out of it and into a completely new tale.
The story has a more personal meaning for me, too, as my father passed away when my youngest sister was still a teenager. Grappling with death and the very meaning of life has been something my two sisters and I have struggled with, individually and collectively, since that time.
One of your two main characters, Olivia Moon, has a condition called synesthesia. What compelled you to write about synesthesia? What did it bring to your story?
I put an article about synesthesia into a story ideas folder many years ago. It seemed an intriguing topic to explore via fiction -- this notion that sensory areas might intermingle in ways most of us don't experience, so that a person might taste sounds or smell sights.
The character of Olivia Moon evolved out of the idea of synesthesia. I think in many ways her personality reflects some of the aspects of the condition itself: She is colorful, unique, spontaneous and a big proponent of the idea that there are typically at least two ways to look at things.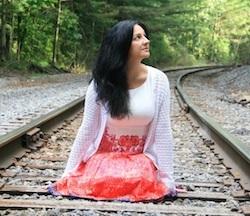 What about the relationship between sisters did you want to explore? Are Jazz and Olivia Moon like your real sisters in any way?
In the early planning for The Moon Sisters, I knew Olivia would need someone's help while on her journey. It was a natural leap to assume this person would be an older sibling -- someone used to being in the "helper" role, whether they liked it or not. I may have considered a brother for Olivia for a full two seconds, but of course it had to be a sister. I know what it means to be a sister, and I understand the push-pull, love-hate blood bond that defines sisterhood; it's a relationship dynamic with layers of conflict that can be rooted in childhood, and evolve and resolve over a lifetime.
Funny, but once I settled on the idea of a sister for Olivia, I didn't fully develop that character until I met her on the page. Jazz appeared, chapter one, scene one, with an axe to grind, and I felt it. It was almost like she reached out of my computer to tell me, the author, "Hey, I'm extremely -- extremely -- important. Don't mess it up." (Except she wouldn't have used the word "mess.")
It wasn't intentional, but there are some similarities between Olivia and Jazz and my actual sisters. My youngest sister is a wanderer like Olivia, and tends to be dreamy and spontaneous like her as well. My other sister is pragmatic and committed to her family, like Jazz, even when that family drives her crazy. (She's also much more inclined to drop an "F bomb" than anyone I know!)
You're the cofounder of a popular writing site called Writer Unboxed. Has being involved with the site affected your writing life at all?
Writer Unboxed is a big part of my life; I manage the site, which has been around since 2006, and I help to oversee a Facebook community of over 5,000 writers. And though it might be said that it affects my writing life the most in terms of the time required for its upkeep, it's more relevant to say that the people involved with Writer Unboxed inspire me continually -- not just via the daily essays on the blog, but through the stories of struggles and triumphs that come through our Facebook group. The writing life can be a lonely one, but a true community of writers makes it anything but solitary.
How did the experience of writing The Moon Sisters compare to that of writing your debut?
I'd always heard that the second book is the hardest to write, and I hate to be typical, but I did find that the five-year journey to complete The Moon Sisters took more out of me than my debut, which I worked on for six years. I honestly think knowledge of the book industry had quite a lot to do with that for me. When you're writing a first book, you may know something about the industry, but you're on the outside of it, and so you have a certain amount of (blissful) ignorance. The second book is written with a full awareness of the industry -- its expectations and realities, for better and worse. In a perfect world, the creative and business sides of a writer's life would be separated, but that's not easily done once you've been published.
All of that aside, I have a fierce love for The Moon Sisters -- a greater love for it than for my debut, probably in part because of the challenge I felt in writing it. It stretched me as an author, and helped to prove something to myself about perseverance and commitment in difficult times. If I never pen another book, I'll be glad that I finished this one; it's the truest thing I've ever written.