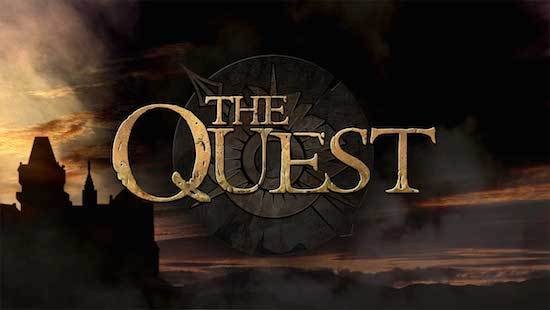 If you've ever dreamed of living inside the magical world of Lord of the Rings, Game of Thrones, or The Chronicles of Narnia, boy does ABC have a treat for you. Enter The Quest: a groundbreaking new fantasy/reality series that is set to change the face of reality television.
Hailed as The Amazing Race meets Lord of the Rings, the show is essentially a scripted fantasy world for unscripted reality contestants -- 12 to be exact -- who will be known throughout the series as paladins. The goal of the show is to find the one true hero who can save the kingdom of Everealm through a series of competitions and "quests."
"It is a reality competition show wrapped in the amazing fantasy world of The Quest," says producer Elise Doganieri.
Producer Rob Eric adds, "We take real people from this world and put them there for a very specific purpose: to help save a kingdom. It fit naturally."
When I caught up with four of The Quest's producers - Mark Ordesky, (Lord of the Rings), Jane Fleming (Lovely Molly), Elise Doganieri (The Amazing Race), and Rob Eric (Queer Eye for the Straight Guy) -- I couldn't help but be in awe of their process, passion, and excitement for this series, which according to them, sparked during the making of a blockbuster film.
"Mark Ordesky and I both worked at New Line Cinema when Mark was producing Lord of the Rings, and during the pre-production, we used to get tapes of all of the actors at horse camp and sword camp and we thought, 'Why do the actors get to have all the fun?''' Jane Fleming explains. "Years later when we started the company (Court Five) that idea of, 'What if we could take real people and give them an opportunity to be in a fantasy realm?' Came back full circle."
"From that point we all came together and we developed this idea off the seed of that thought," Mark Ordesky says. "The Quest is a competition to help determine who the one true hero is, and only the one true hero can help save the kingdom."
And if you love fantasy books, films, and video games, rest assured, Everealm will not disappoint. There are dragons, ogres, castles, and myriad mythical creatures waiting to be discovered lurking in the shadows. With the goal of making The Quest as authentic as possible, the cast trained with swords and horses, learned archery, and acquired various other skills to prepare them to be the last paladin standing.
"Everything you yourself have ever dreamed of in a fairytale, we wanted it to be in this world," Rob says. "We wanted it to be as realistic as possible and we worked really hard to layer a world around them that looked real, that smelled real, that felt real, all so we could truly immerse them into this world."
While the producers strived for authenticity from the very beginning, it was their teamwork and shared vision that helped shape the project into perfection. "We all come from different backgrounds but somehow we magically work very well together," Elise says. "Everyone is so passionate about this project and we all respect each other."
This innovative new series brings otherworldly adventure that can be enjoyed by the whole family. "We really hope that this will span a whole new form of story telling," Jane says. "Get ready to sit back and be transformed into a whole new world. Enjoy the ride!"
Don't miss the season premiere of The Quest, this Thursday July 31 at 8|7c on ABC. And follow The Quest on Twitter for all the latest updates.