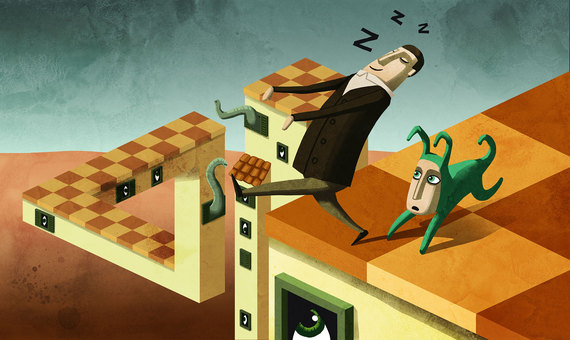 For a gallery of real game play, read the full article on Van Winkle's.
Ironically, if you ask me what video game not to play right before bed, I'll answer Back to Bed.
I mean this as a compliment. Back to Bed, from Danish video game developer Bedtime Digital Games, is creepy, surreal and incredibly addicting. Playing it is kind of like being trapped inside Salvador Dali's "The Persistence of Memory."
Currently available for the PC, Android and iOS — and coming to all major Sony platforms this summer — Back to Bed takes you into a mysterious, dreamlike-world where hats have wings, stairs lead into walls and nothing makes any sense. You play as a dog-like creature named Subob who must steer Bob, a sleepwalking man, back into his bed without letting him fall off a cliff. Subob cannot interact with Bob, but can interact with the world around him.
"It is a puzzle game about saving another person," Klaus Pederson, CEO of Bedtime Digital Games, told Van Winkle's. "Often games are very 'me, me, me' centric, so we wanted to make something different, where you do not worry about yourself, but another helpless character."
We spoke with Pederson about his fascination with dreamlike worlds, and how he came to be in charge of a company designed specifically on games about sleep.
Where did you get the idea for Back to Bed?
The idea was, at first, very centered on the idea of a sleepwalker that is dangerously walking through a cityscape. The game was inspired by old Disney cartoons where Goofy and Donald Duck sleepwalk into dangerous situations, but still survive due to dumb luck. We really liked this theme and started talking about if there was some "force" that saves these sleepwalking characters, and from that came the idea that the player controls this "force" in order to save the helpless sleepwalker.
The game world is a very surreal place that is a mix between the real world and Bob's dream, so things might not be what they look like and physical laws are not the same. The whole game universe is hand-drawn and reminiscent of art by Dali and M.C. Escher.
Why did you want to make a game that was so heavily inspired by sleep and dreams?
At start, it was not a major part of the game idea. But as time went on, it just evolved naturally to fit the idea. It just made sense in so many ways, since dream worlds allow us to create something very strange and surreal, while still hiding a deeper meaning behind the different elements in the game that people can interpret themselves.
How did you design the look of the game?
We wanted to treat the screen as the frame of picture and the game as a piece of visual art. Our goal had been that every level is something that would look great as a picture on a wall, but even more incredible if you could interact with it.
Tell me about your next game, Dream Factory.
It's meant as our spiritual successor to Back to Bed, taking what we have learned from making that game, taking it to the next level and improving on the idea of a hand-painted dream world.
It's not Back to Bed 2. It is its own universe, story and gameplay. It's still filled with puzzles, but it's more of a puzzle adventure game, where the player must explore a larger, connected world.
Why do you make games specifically about sleep?
We really like the idea of the surreal and dreamlike, as it allows for us to create something strange and unique, and often with a deeper meaning that the players will have to figure out themselves. It is awesome to create a game world and story with different layers of depth so that different players can get different experiences.
But even though we like this approach, our most defining design philosophy is creating great game universes and combining them with solid game mechanics. That defines us the most as developers.
Follow Bedtime Digital Games and Back to Bed on Facebook and Twitter.