Fort Collins' favorite son, comedy-rock god Magic Cyclops, first rose to everyone else's attention after his hilarious audition for American Idol -- the bit (which anyone watching could see was HILARIOUS and anyone there on the judging panel obviously didn't get) went viral, and a national treasure was born. Donnybrook's Vanessa Becknell sat down with Magic as he prepared for his first headlining show at the Bluebird Theater this March 1st.
VB: Your career has seen incredible highs and lows, all beginning from your humble roots in Davenport, Iowa. Talk to me about growing up on the mean streets of Davenport.
MC: I was a bit of a shut-in and would make my own entertainment at home because kids can be mean.

You attempted to retire in July of last year, what made you decide to come back? Did you do it for the children?
I did retire, but like a phoenix I have once again risen from the ashes to become even bigger and better than ever and yes thy children have spoken and want magic back to entertain them.
You've met a number of fellow celebs -- what are some of your fave stories? Was anyone a total douche?
Anne Hathaway wouldn't take a picture with me because she is too good for that sorta thing, The Honky Tonk Man was a douche to me along with both Pleasure Dudes. But I recently got to hang out with K.I.T.T. from Knight Rider and he was super nice and drove us around -- probably my favorite celeb I have met yet. No ego.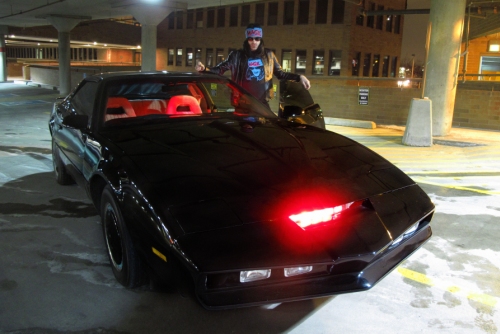 How has Devo's Mark Mothersbaugh reacted to your song "Mark Mothersbaugh Is a God"? Has he come to accept his divinity? (I hope so!)
Yes I think he likes it. I was told they were gonna use that song for the on-hold music at their studio, not sure if they ever did. I did give him a Mark Mothersbaugh is god t-shirt.
You and I have something in common -- we've both tried our hand at panhandling. What led you to the streets of Phil Fort Collins to beg for change? Have you been successful in your efforts?
Hardly successful -- I was broke and didn't get my golden ticket and had just read an article about how panhandlers make like 30k a year being unemployed -- it seemed like a good idea.
You're headlining the Bluebird Theater March 1st -- what can Magic fans expect from your show? Will Magic Roboclops be making an appearance? Can we expect live renditions of "Cracklin' Rosie" and "Margaritaville"? What about "Unicorns in Space"?
Expect the unexpected -- dancers, video -- a tribute to Neil Diamondz , air guitar half time show, some of my rarest air guitars on display, taco bar by Illegal Pete's maybe bust out some keyboard Unicorns in Space if I can relearn it in time?! E.T. will make a cameo, Super Awesome 8 Bit Bros, Mr. Pacman and German dance dudes Total Ghost. Sweet!!!!!!!!!
You've conquered the interwebs, live TV, and are a headlining act -- what's next for Magic Cyclops?

It doesn't feel like I have conquered anything so expect more fun in the future... March is Magic Madness: First headlining show at Bluebird he is going to SXSW do lots of fun crazy things so be on the lookout.
Photo courtesy of Magic Cyclops