Co-Author: Justice Revils, founder of @StuffThangsTWD
Caution: Spoilers if you (still?!) haven't seen The Walking Dead, "Self-Help"
This week tvtag and Justice Revils focus on the biggest reveal of the season so far: Eugene finally admits he isn't a scientist rocking an awesome mullet, he's just a regular guy. Just when I thought Team Mullet finally had its alpha, Eugene up and stomped all over my heart.
#TeamMullet getting things done! #TheWalkingDead http://t.co/PI9pvJKic0

— TWD on tvtag (@tvtagTWD) November 10, 2014
JR: Everyone who read the comics knew this was most likely coming, Eugene does not know the cure. This was an epic moment in the episode, showing why it meant so much to Abraham, and it was probably the right time to say it because Abraham was about to lead them into a death-trap!
VB: Many viewers who haven't touched the comics were suspicious of Eugene from the start, but I think for many of us the focus going forward isn't on how he's going to fare but how Abraham will move on from this.
JR: Now we all know a little bit about Abraham's story and why he cared so much about going to DC and saving the world -- it was the reason he didn't kill himself, the only reason he was staying alive!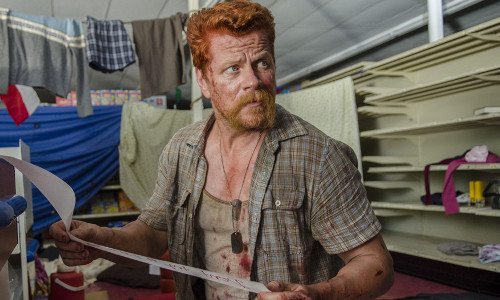 VB: Michael Cudlitz delivered his most powerful performance to date this week. Those quick cuts back to Abraham's past made it perfectly clear how far gone he was before Eugene effectively saved his life. Without this sense of purpose I have to wonder if Abraham's going to be able to keep it together -- could learning the truth that his entire mission has been for nothing cause him to go unhinged again?
JR: It'll be interesting to see what will happen with Abraham, if he'll be able to carry on, if he'll be able to ever forgive Eugene, which doesn't look so good right now, or if he'll just want to die, end it all!
VB: I sincerely hope Rosita doesn't let that happen, she needs her man in tip-top, dolphin smooth shape.
The Walking Dead airs Sundays at 9pm on AMC. Photo by Gene Page, © AMC TV.