For an industry that is known for its obscene expectations of perfection in women's beauty, it may be unusual to turn to Paris Fashion Week for inspiration about feminism. But at the Chanel Ready-to-Wear fashion show, that is exactly what I found.
Model Cara Delevingne boldly starts off the show confidently strutting to the Pet Shop Boys' "I'm Not Scared." The 1988 trumpets and lyrics "Baby, I'm not scared, what Hhve you got to fight? What do you need to prove?" fill the Grand Palais that was staged as a real city for the show. From the puddles of real water that fill the crevices of the fake sidewalk that outline the Trompe l'oeil Beaux Arts building, Chanel designer Karl Lagerfeld set the tone for what will become an unforgettable catwalk.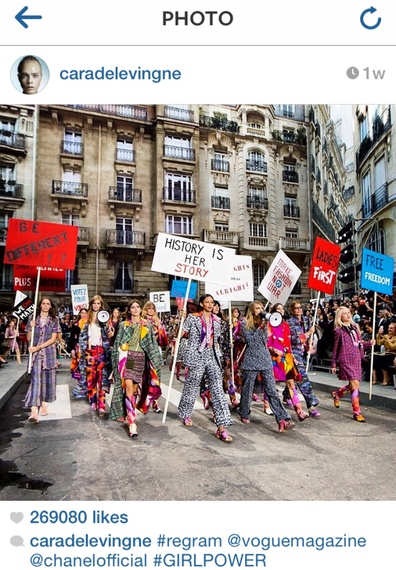 Throughout the duration of the show, the models walked down the runway in clusters and pairs, some even occasionally glancing at each other for small chit-chat. Whether intentional or not, seeing women stick together in an environment as cut-throat and catty as a runway, it was just a shed of light for what lay ahead.
As for the clothes themselves: ravishing. Come on, after all, it is Chanel. From neutral tones to bright, bold fuchsia, Chanel blended various elements from all niches of fashion. Even some daring tailoring and cuts usually found in menswear. "You know you can be a woman, you can be a man but everybody has two arms and two legs and you can play with the elements from the man and from the woman. For the other details you take the decision privately," said Lagerfeld.
The lustful colorful designs were not the only head turner at the end of the show, but a protest led by the fashion world's dearest Cara Delevingne. The models ended the show protesting with signs that read: "Ladies First!", "Women's Rights Are More Than Alright!", "Boys Should Get Pregnant Too!", "Feminism Not Masochism" and "History Is Her Story" along with many other daring assertions.
Aside from learning exactly what to wear if you ever find yourself protesting in the streets of Paris, there is a lot to be learned from the Chanel show. Feminism is not a seasonal trend like crop tops or lace. This concept that the rights of women are equal to those of men is something that needs to be incorporated in all aspects of life, for there to be truly be a difference. Hollywood is on board with Emma Watson's He for She Speech, Karl Lagerfeld and the fashion industry is on board too. Are you?