How many sexy dinners have you ever attended? Dinners that include eating food off of one another, while sipping delicious wines? For most of us, these dinners are ones of our own making. Ones that we put on in our kitchen with very few participants. But what if there was a house you could go to that would give you one of the sexiest dinners of your life? Last Saturday I had the privilege of going to a dinner just like this in a quiet neighborhood in San Francisco.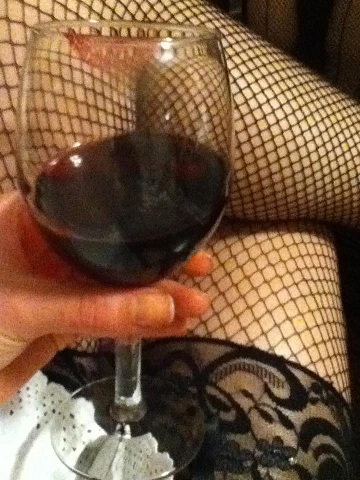 I was asked if I wanted to attend a sexy dinner, and I immediately said yes. The person who invited me had very few details, just that it was an "Our Gourmet Life" dinner. I had heard of these dinners, but I had yet to experience one. We arrived at a private residence where we were greeted by a lovely girl wearing a mask standing by a gate holding a candle. The moment I saw the mask, I knew we were in for an experience. The staff is in character from the second they see you.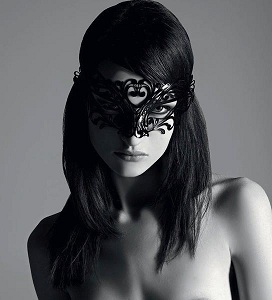 We walked into a typical San Francisco-style house. We were lead into a living room filled with other guests. It's a small city, and I ran into four people I knew from other sexy events. I would say that there were about 16 of us total. We were all given a glass of champagne and asked to talk amongst ourselves. In between meeting and greeting the staff brings you hors d'oeuvres to enjoy. All the staff is in black and white, they all have masks on and they all drip of sex.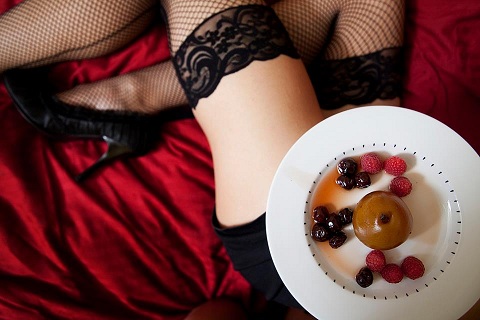 The performance art that the staff puts on is like mime work; at times their movements become adornments in which you're not sure if you're supposed to stare or look away. After the hors d'oeuvres and chatter, a hostess takes everyone to their seat in order to put together a balanced table. During each course the staff not only serve you, they entertain you. The women servers do a very Betty Page slap and tickle with one another. Nothing about it is trashy; it is all done in an exquisitely decadent sensual way. On this night there were eight courses. Pear & Duck Conift Salad with Mixed Greens, Potage Saint-Germaine Soup, Foie Gras with Fig Jam on Brioche Toasts, Caviar, Hanger Steak Vegetables & Horse Radish Foam, Cheese Plate, Chocolate Souffle with Chocolate Sauce and Confiserie.
The caviar course is the interactive part of the dinner. The staff brings around crème fraîche and caviar, and they allow you to lick it off of them, or they lick it off of you. A lot of licking is happening though, I can tell you that. At this point in the dinner the guests have all become better acquainted. Affection at the table between guests began to happen. On this night, one of the guests was having a birthday, and she wanted a spanking.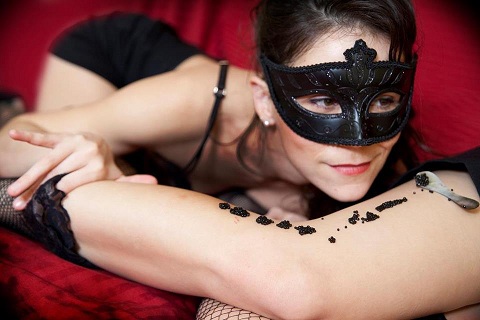 I raised my hand in order to get in on the spanking. They bent this pixie haired creature across the table, and I began to inspect her bum a bit. Giving someone a good spanking has so much to do with making them wait for it. By the time I was done, I had her face down with my hands clenched in her hair. The birthday girl got her licks, and I got to have a bit of fun. How many dinners can you attend where this is allowed?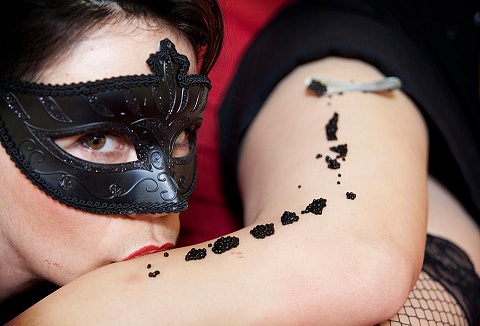 After the birthday girl, a few more folks wanted a spanking, and I happily obliged. It's funny the things you can find out about a room full of people when spanking starts. After this the dessert course was not far away. The dessert was my favorite part of the entire meal. The soufflé was beyond mouthwatering; it was like sex for your mouth, and I loved every second of it. In terms of uniqueness, this dinner wins on all accounts. The food is delicious, the staff is attractive, and the opulence for your eyes is intense. My favorite courses were: the Pear and Duck Confit with mixed greens, the Caviar and of course the chocolate Souffle.
But here is where it falls short just a touch: First of all, they may need a bigger space, or a smaller amount of guests at the table. Moving around the house is not always the easiest thing to do. For the price tag, more wine needs to be included. This dinner was $300 per couple, and for what we got I was very happy, yet I could have been slightly happier. But, these next rounds of dinners by Our Gourmet Life will be even more expensive. They need to up their game just a bit for the price tag to be worthwhile. But, if you are looking to try something different, this is a very safe way to explore your kinkiness with a partner. It's in a beautiful setting, with beautiful people and amazing cuisine. If you would like to know more about these dinners visit "Our Gourmet Life."