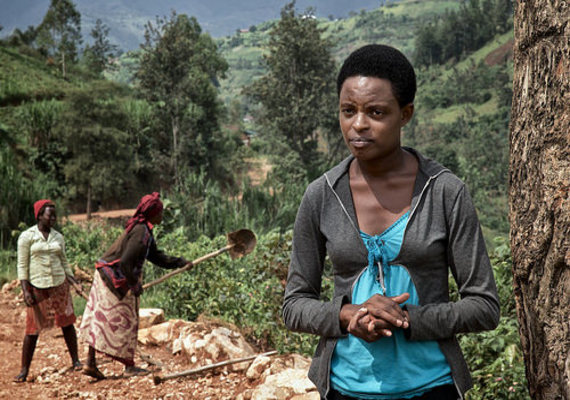 Angelique, 21, daughter of survivor: "Peace unifies," says Angelique, aged 21 from Gatumba. "Without peace, people remain divided." Photo Credit: Carol Ann Storey, May 26 2014.
As the international community grapples with the proliferation of violence, disorder and unrest gripping so many communities across the world, Rwanda is emerging from the shadows of its dark history to become a leader in reconciliation and peace. With September 21 marking International Peace Day and this month opening with International Day of Non-Violence, the work of International Alert in Rwanda is an opportunity to highlight the ways in which communities are mending bridges and building new bonds through their participation in peace clubs. The youth of Rwanda are leading this charge, turning the page on its past to a new chapter full of hope, peace and unity.
Since 1996, International Alert has been working to address the social, psychological and economic impacts of the genocide, which began in April 6, 1994, leaving more than 800,000 dead, mostly Tutsis, after 100 days of catastrophic bloodshed and carnage. Working with USAID, International Alert has overseen the creation of Dialogue Clubs for Peace in Rwanda. The peace clubs are premised on a holistic approach allowing all those affected by the genocide to share their experiences, fears and aspirations and find common ground through their interactions. The primary aim of the program is to ensure that communities start to build on reconciliation, tolerance and understanding in a safe and consensual environment to pave the way for a future of non-violence in Rwanda.
The peace clubs have been vital means of reintegration into society, both for perpetrators and survivors:

The provision of space for individuals to express their fear, anger, shame and guilt as well as hear honestly from those they feel are their adversaries, is essential to any reconciliation and healing process because it allows even severely divergent groups to stand in the shoes of the other, and also see commonalities. The dialogue clubs create that space for many Rwandans. (Gloriosa Bazigaga, country manager of International Alert)
Award-winning photojournalist and UNICEF ambassador for photography, Carol Allen-Storey, has documented the challenges and hopes of young Rwandans who were born amidst and bore witness to the unimaginable horrors and atrocities. More than half of Rwanda's 11 million population were born in 1994 and are now coming of age. Her eye-opening work "The Amahoro Generation" shows the way peace clubs can instil positive social change and allow communities to work together to bring 'amahoro' - peace.
The Kigali School Peace Club exemplifies the success of International Alert's work in Rwanda: the school is based in remote Nyanga and was only formed nearly a year ago but now has over 50 members. This shows significant progress towards youth involvement in peace activities. The turn around is impressive and should be appreciated in a country where the legacy of those 100 days in 1994 left communities fearing the machete-wielding youth of its time. Through their participation in peace clubs, today's youth now have the knowledge and tools to prevent violence and transcend the prejudices that once divided their parents' generation.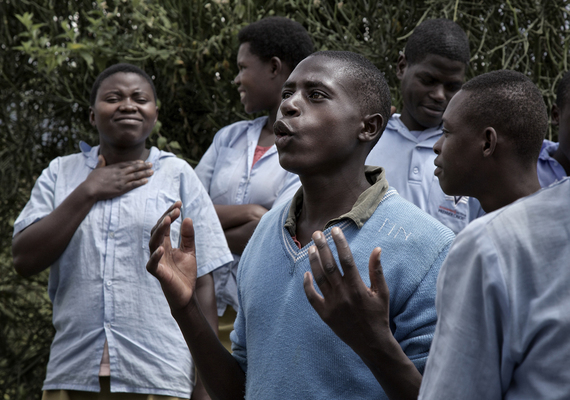 The Kigali School Peace Club in Nyanga: Rwanda, May 29 2014. Photo: Carol Allen Storey
Moreover, Allen-Storey's experience highlights this key but important sentiment:
I traveled the length and breadth of Rwanda ... They all said very simply: 'If we are not united, we will fail as a nation and we will fall back into war... they must learn to forgive, that they must not embrace their parents' prejudices."
International Alert also run the Reconciliation and Reintegration Program that works through local organizations to provide entrepreneurial skills, grants for vocational training and lessons in business and financial management. Participants work together to create business ideas eligible for micro-credit loans. More than 1,300 young Rwandans have already benefited from their participation in the program. It further solidifies the progress made by annexing reconciliation with economic development.
The story of Germiane Mukagasana epitomises the deep-rooted challenges towards fully realising this fundamentally important connection. Rwanda is a country still suffering with widespread poverty and economic disenfranchisement. Germiane was orphaned at the age of one month after her parents were massacred during the genocide. She has recently attended a beauty school sponsored by International Alert. However, her achievements and future ambitions have been put on hold, as she does not have the financial resources for the internship she wishes to attend, therefore making employment extremely difficult. Her story is mirrored in the lives of young Rwandans throughout the country. It is a stark reminder that in order to achieve sustainable peace and consolidate reconciliation efforts, peacebuiding initiatives must be annexed to wider development goals to help lift communities out of poverty. The peace clubs are the important first step in overcoming deep social and economic divides to bring to fruition peace, order and prosperity. Through it all and despite her hardship, Germaine radiates with optimism when she says "Peace means happiness."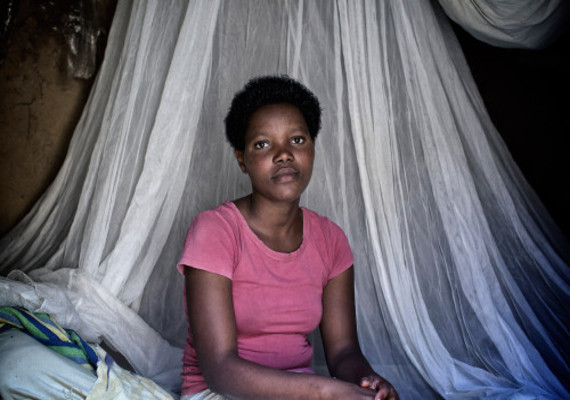 Germiane Mukagasana, Kimironko, Rwanda, May 26, 2014. Photo: Carol Allen-Storey

It is this positive outlook for the future that has helped move Rwandan society forward, so that survivor and perpetrator can share a common space and come to terms with their past. Needless to say, Rwanda still faces a long and challenging road ahead. Today, many communities are still deeply divided and live with the fear that outbreaks of violence are just simmering below the surface of daily life. It is important to remember that the causal factors of the genocide were smoldering long before, with generations reinforcing the hatred, division and stereotypes that culminated on those fateful months in 1994. Peace clubs continue to be a vital resource and haven for Rwanda's youth, providing them with avenues to achieve peace and mitigate future threats of violence.
As the pictures and accompanying narratives show, Rwandan society has already made huge progress towards hope, forgiveness and healing. The Amahoro generation are determined to not let the genocide define their expectations of each other and their future aspirations. Equipped with tools for peace, many have returned to their local communities creating their own peace clubs. Now, they are united in a new fight: to bring the hearts and minds of all people together in the clarion call 'Ndumunyarwanda' - 'I am Rwandese'.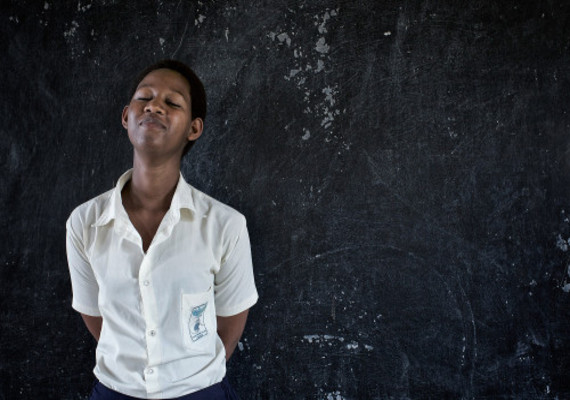 Jeanne, 20, daughter of survivor
Masaka, Rwanda
Obviously the genocide was a horrible time for all Rwandese, but we must not wallow in pain forever, as there will be no future if we cling to the past. We may not be able to change our history, but we can change who we are ... We, the youth, must focus on hope and development.

Law has been my inspiration ever since I was very young. I love justice, fair-mindedness and the law that can create rules for this to happen, especially gender equality. After a successful career, I want to become the first female president of Rwanda.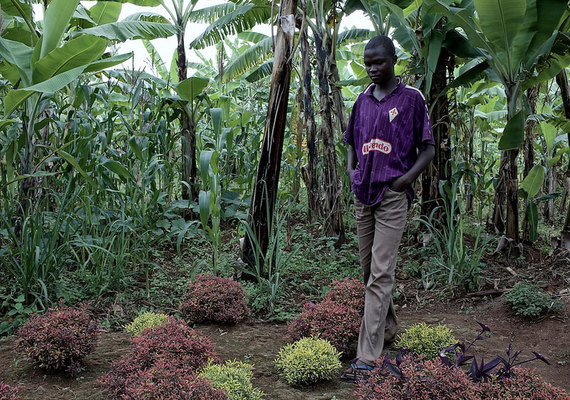 Alphonse, 20, son of survivor and victim
Muganza, Rwanda
I was born in the year the Rwandan genocide war against the Tutsi ended. My parents were of a mixed marriage. My mother Hutu and father Tutsi. Dad was slaughtered and my mother spared. This is the family gravesite where my grandfather is buried; sadly my dad is in a mass genocide grave, because his body could not be identified... The youth of the genocide era played a big role in organizing the killings and butchery. Today's youth should be taught what happened then and encourage everyone to pursue a non-violent way of life.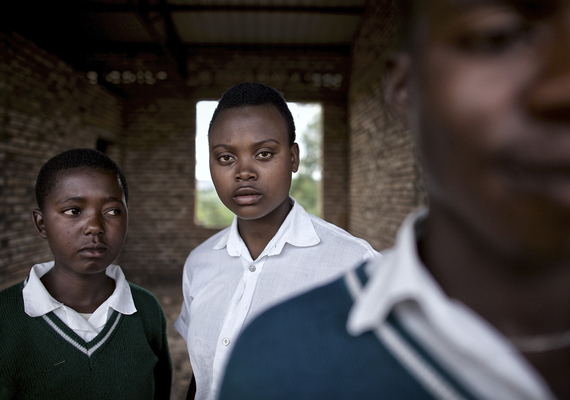 Donata, 21, daughter of survivor
Muganza, Rusizi
My mother refused to answer questions I would ask about my dad... so I began to follow the Gacaca court trials. I discovered it was a Hutu neighbour who butchered my father ... The peace club inspired me to resolve the hatred I felt for my neighbour. A while after the war ended, he came to our home and begged forgiveness. Now, he behaves as a father to me ... The greatest lesson I learned from the peace club was how to forgive.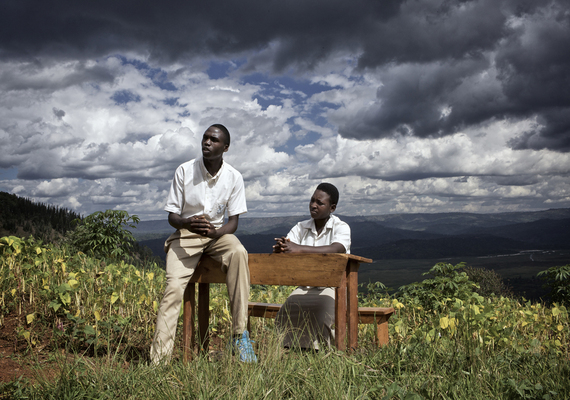 Pictured left to right: Jean-Pierre and Alice
Alice, 20, orphaned daughter of victim
Mukindo, Rwanda

From a very early age my family warned me never to speak to those neighbours who turned on us and committed unspeakable atrocities of terror ... The lesson I have learned from the genocide is that, since the youth then played such a pivotal role in destroying our country, our generation must play an equal role in rebuilding it.

I dream of becoming a playwright, because drama can be used as a powerful stage to spread important messages and to trigger conversation about issues to a wider audience.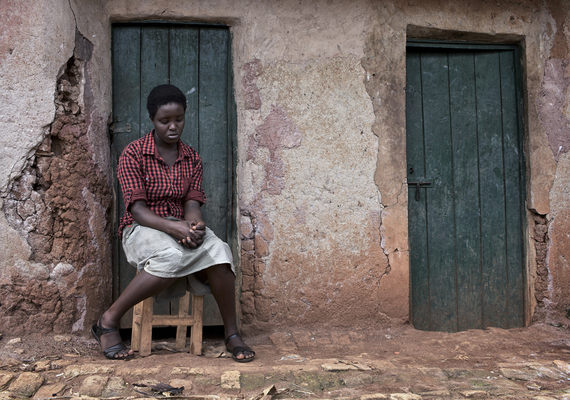 Fideline, 19, daughter of survivor
Muganza, Rwanda
I am a child of a brutal rape during the genocide, which makes me ashamed, especially since my mother abandoned me after she remarried, as her new husband did not want me in their home. I then lived with my aunt and uncle but always felt I wasn't part of their family. Now I live with my cousin, who has a shop where I help out. I had to leave school when I was 11, as there were no funds. My life was ruined because of the genocide. My future is dim because I cannot pursue my dreams.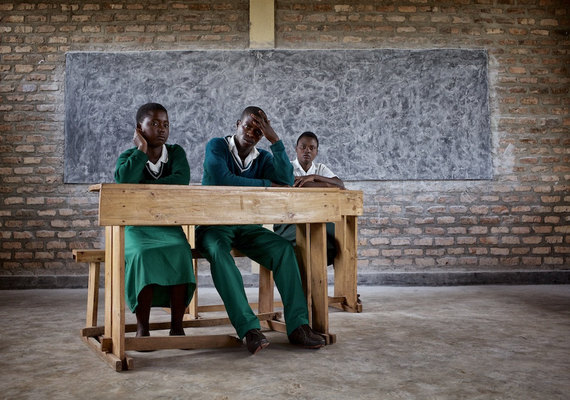 Pictured left to right: Louise, Evaliste and Donata
Louise, 19, daughter of perpetrator
Muganza, Rusizi
My father was a killer during the genocide ... I don't know the details, but he was arrested and sentenced to 28 years in jail for his crimes at the Gacaca court, and he died in jail ... From the International Alert peace club I learned the importance of being united as Rwandese, not warring tribes.

My ambition is to be a high ranking member of the government in the president's office; to be a leader and initiate policy programs to bring clean water and electricity to Rwanda - especially to those living in remote regions.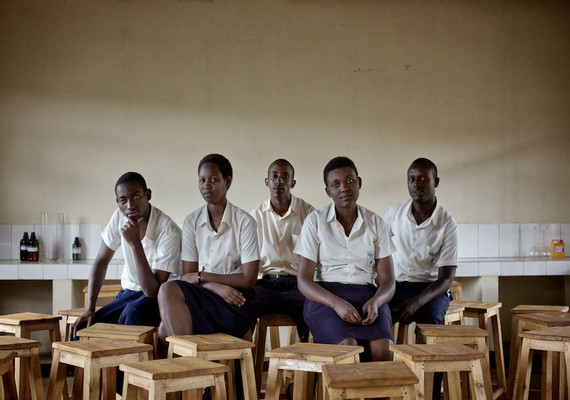 Pictured left to right: Frank, Jeanne, Wyclef, Denise and David.
David, 19, son of survivor
Masaka, Rwanda
The youth of 1994 were known as the butchers; brutal killers. Twenty years on, today's youth will leave a legacy about the positive change they made to build a strong society based on humanity. The youth then were taught hate and division; now we must educate about unity...

Before I joined the peace club, there was a lot of prejudice in our school. In the club we learned how to forgive, live with one another and co-operate for the common good.

I am fascinated about designing and building roads and structures. My dream is to become an engineer.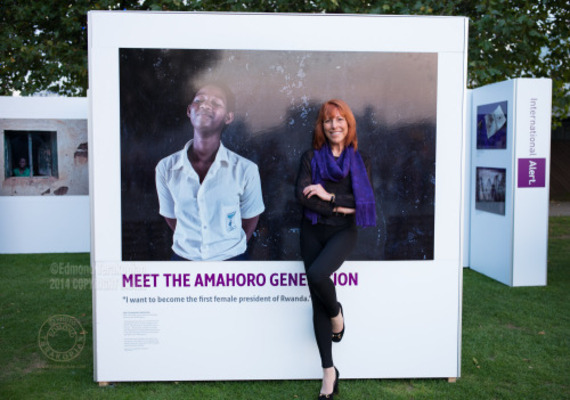 The Amahoro Generation by Carol Allen Storey (pictured) for International Alert. The outdoor exhibition is at the Bernie Spain Gardens, Riverside Walksway (by Oxo Tower Wharf), South Bank, London. September 18, 2014. Photo: Edmond Terakopian.
The Amahoro Generation exhibition is running until November 3, 2014.
International Alert's short video 'Rebuilding Fractured Lives in Rwanda', narrated by Bianca Jagger, highlights International Alert's reconciliation work. Find out more about the project and the people appearing in the video here: http://internationalalert.org/what-we-do/where-we-work/africa/rwanda/projects/5236
If you would like to donate today and help continue International Alert's vital work to enable more people rebuild their lives and a future of non-violence in Rwanda please visit: http://internationalalert.org/donate