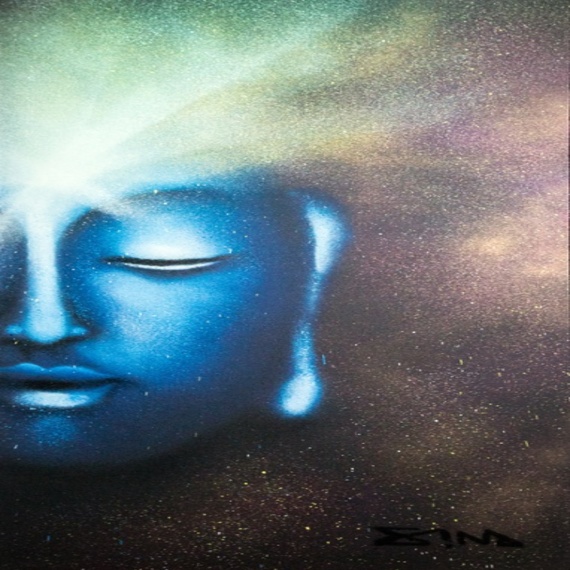 Zina: Peace Comes From Within, 2014
In an increasingly diverse and conflicted world, more collaborative effort needs to be made towards ensuring open community dialogue towards conflict prevention. There are many diverse paths to pursue peace and yet, art is often an underutilised and overlooked tool in peacebuilding. #ART4PEACE is part of International Alert's Talking Peace Festival launched in September 2014, to mark International Day of Peace. The campaign has been created to encourage greater engagement in peace dialogue through art. The success of the campaign exemplifies the power and potential of arts-based civic dialogue to overcome conflict.

Participants have used multiple mediums to create and express their vision of peace. The art has been displayed in various locations around London, which has helped greater community acknowledgement and support around the nexus of art, culture and conflict transformation.
As the images and accompanying quotes indicate, the diversity of artists and their interpretation of peace exemplify the different meanings, experiences and connections that become embedded in the idea of peace. #ART4PEACE demonstrates the importance of this collective inquiry and emotional investment in creating conflict transformation in our society. Talking Peace Festival has opened up civic space for the arts and by doing so paves the way for a more creative and imaginative meeting of the minds for peace.
#ART4PEACE campaign involves more than 30 inspirational and talented artists, including Yoko Ono, Adrián Morales Rodríguez, Victor Ash, Magnus Gjoen, Pure Evil, Kef, Dan Kitchener, Hannah Adamaszek, Tarek Tuma, Andrea Tyrimos, Jim McElvaney, Benjamin Murphy, Pang and 616.
Yoko Ono
Colours of the globe, 2009
"Remember, each one of us has the power to change the world. Just start talking peace and the message will spread quicker than you think."
616
The sun sets on us all, 2014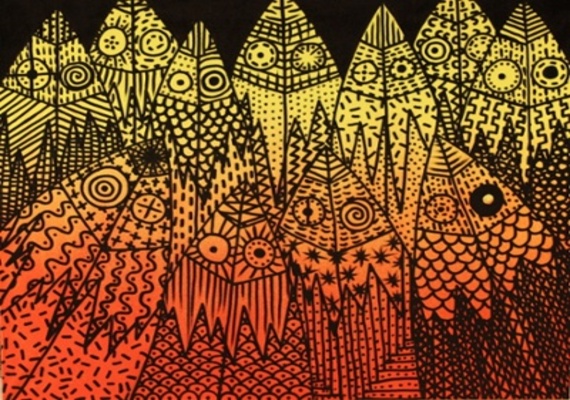 "This piece represents the sun setting on all different types of people. The sun sets on all of us. There is one common thing linking us all - we all look different but we're all the same, we'r e all human.
Once people start talking to each other they can find something in common. Colours unite people - you have all different kinds of viewpoints from different ends of the earth and yet very different people can have the same favourite colour."
Adrián Morales Rodríguez (AdriáNomada)
Panspermia/Terraforming, 2012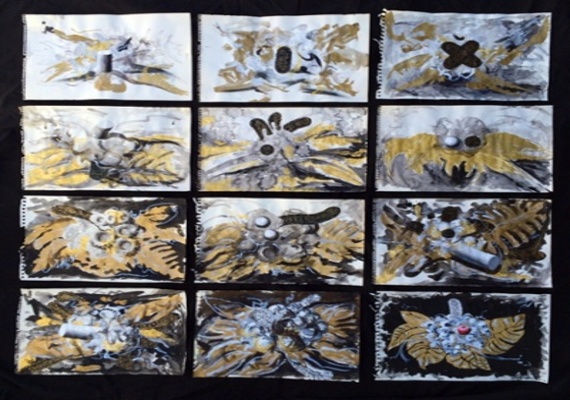 "The world is sick for lack of beauty. I cannot change the world but I can change myself ... 'I' is a city, all cities are geo-biologies. It is impossible to go into them inadvertently, in whose monuments and streets we are constantly directed toward the past, stumbling upon the flesh of their legends 'closed' as the circulation of the blood."
Andrea Tyrimos
Battle wings, 2014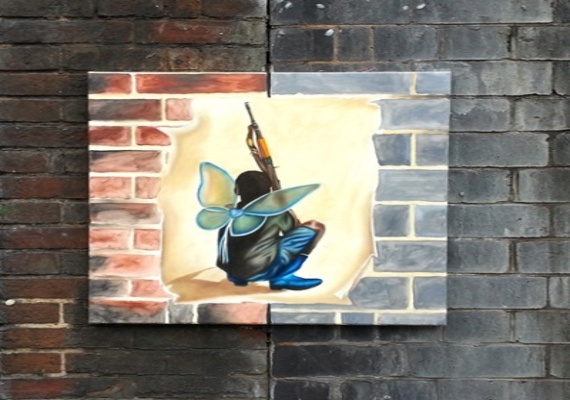 "I think the idea of using art as a mechanism to get people to 'talk about peace' is a great idea. Art can be something very interactive and thought provoking and I'm honoured to be a part of something which will at least get more of us thinking about how peace can be achieved."
Artista
Trippy hippy, 2014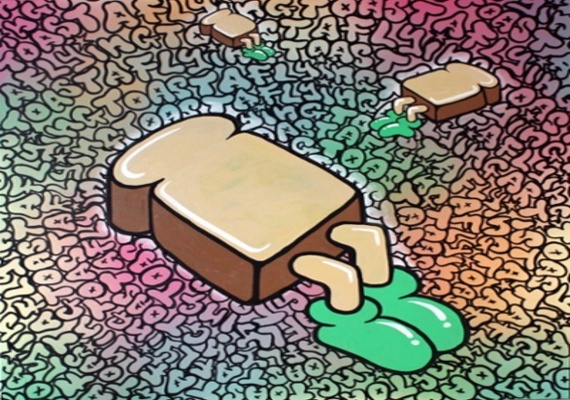 "I liked to take the bitter sweet reality I live in and make it look better through my paintings."
Carolina Maggio
Goddess of peace, 2014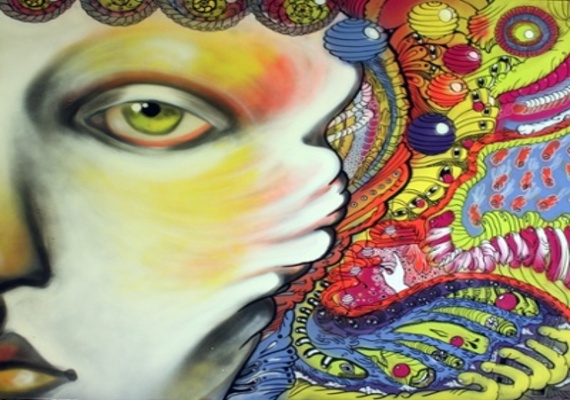 "If I can offer my practice and inspire people to live in peace, I feel I am accomplishing one of the highest expressions of my work. Creativity also shows you the power of lateral thinking. Surely this can contribute to conflict resolution around the world, as well as locally and primarily with oneself. Peace is standing still within, while everything is spinning."
Dan Kitchener
Still life, 2014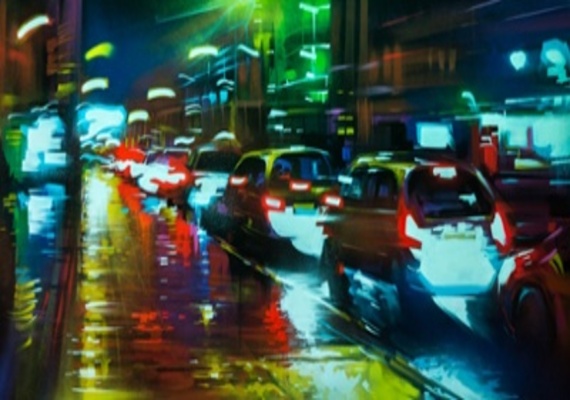 "Positive imagery and bright, colourful, vibrant pictures can spread a positive vibe - it can play a great way of helping you get your message across. This piece is called 'Still life'. I thought it was fitting for the campaign, as for me it's about a state of stillness; utter calm and tranquillity. It's capturing a moment of stillness in time. It's taking the idea of peace and seeing it as a moment in time; a state of mind."
Francesca Love Artist
The sacred and golden letters of peace, 2014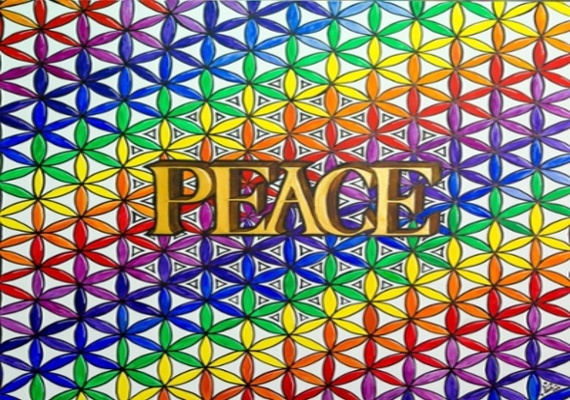 "Peace is golden and a very valuable state of awareness, so that is the main focus of this piece. The background features sacred geometry - the Flower of Life, which is the blueprint of creation, so it's spreading peace throughout all creation. There are also the triangles within the flower of life, which symbolises the unification of body, mind and spirit. Created with intention to bring peace into all the hearts of humanity."
Hannah Adamaszek
Peace, 2014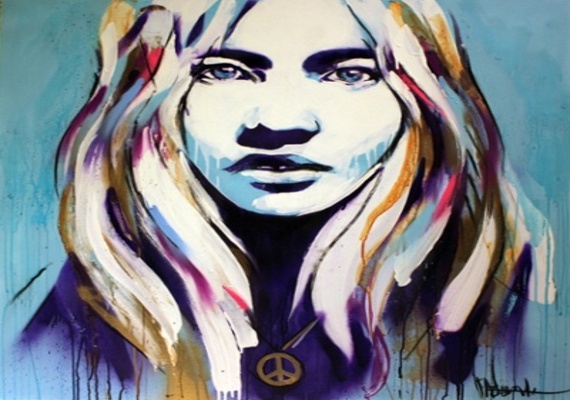 "Both art and peace are about harmony. I was interested in being part of a campaign which celebrates this connection, and hopefully makes people stop and think more about the world around them."
Ibrahim Fakhri
Syria's children deserve better, 2014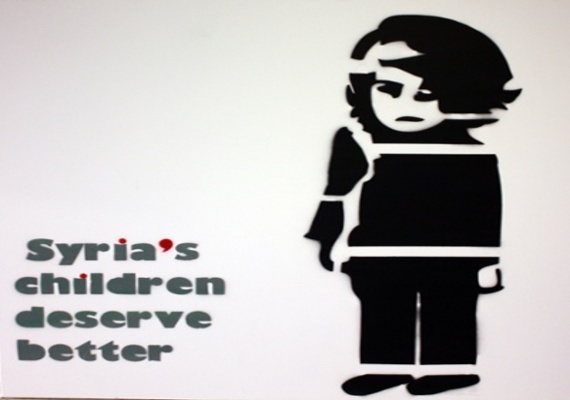 "This piece features a child. This girl was very affected by the bombing on her neighbourhood. Many pictures of children affected by war are in the media. But to show a smile - the humanity of a child - is the main goal of this piece. I would like politicians to see the other side of the story, to put some attention on these kids. Children have nothing to do with what's happening now. To live in peace is their right."
Jim McElvaney
There will be peace in the valley tomorrow, 2014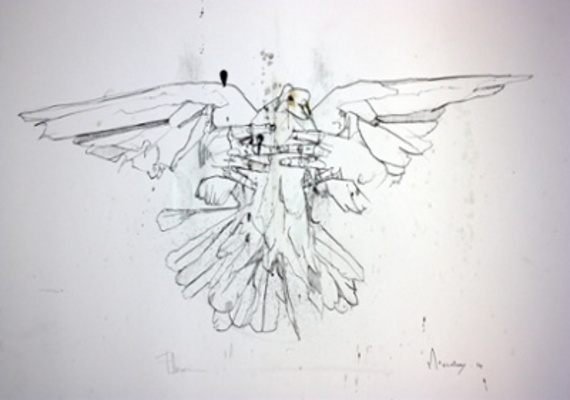 "I think art is a great way to get people thinking about important issues such as peace, as it can cross language barriers and is easily accessible."
Josh Jeavons
Intensions, 2014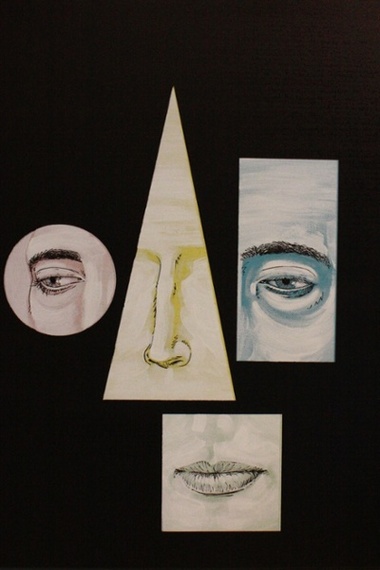 "A friend and I produced a painting on the security shutters of an east London studio at the request of the owner. We intended the work to be a celebration of diversity and multiculturalism in the area. Unfortunately, some young local Muslims misinterpreted the painting to be a depiction of the Islamic anti-Christ, Dajjal. They vandalised the studio and behaved aggressively and violently towards the staff. The media took an interest in the story and eventually it seemed our painting, and the reaction to it, was being used by 'right of centre' and extreme right publications and websites to incite hatred towards Muslims. ' Intensions' is a reclamation of our original shutters painting and aims to nullify the intolerance, hatred and aggression that erupted from it."
Kef
Talking peace, 2014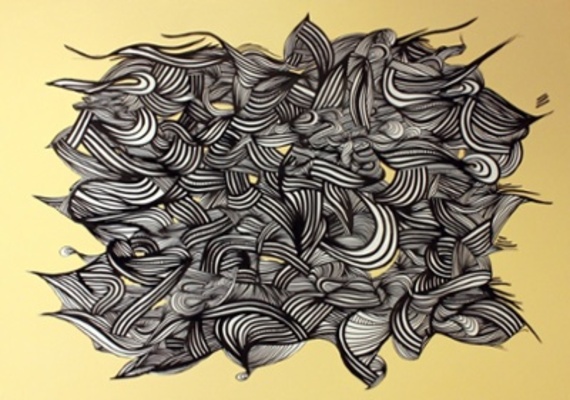 "It came to me that it's important to spread more peaceful feelings in the world. I think my artworks are universal. So it doesn't matter if you are from Israel or Africa, everybody can feel my work. I use a peaceful visual language. I am inspired by nature: I work with organic shapes, rather than geometric. I paint lines because they are very harmonious. People say they get a sense of calm when looking at my work. I try to give my works a sense of balance and harmony."
Lana Alana
I'm a dreamer, 2014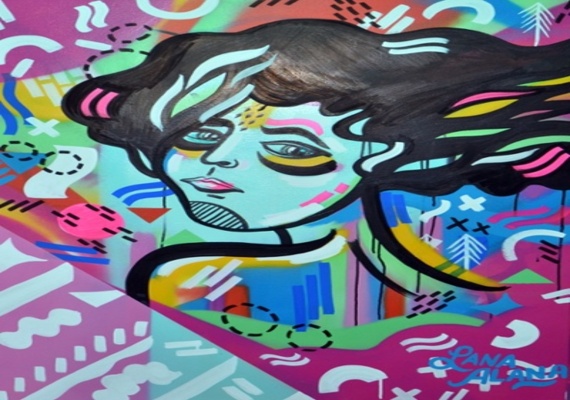 "Using strong visual messages, artists can not only bring people together but get people talking, hopefully helping to spread a positive message of peace or to inspire change. 'I'm a dreamer' is a reflection of the everyday thought of wanting more from life. We are constantly dreaming or striving for something else in our lives, whether that's a small or big change. Everyone dreams of something."
Magnus Gjoen
No time to grieve for roses when the forests are burning, 2014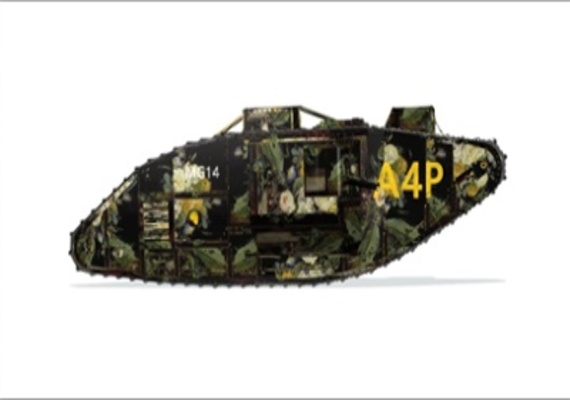 "I chose a tank for this piece as a comment on the machine which stops people facing each other face to face and discussing and solving problems. It is easy to hide within a tank, cut off from reality and feeling invincible. I covered it in flowers to portray something organic and beautiful, but still destructive - as the human mind."
Mr Dane
Snail, 2014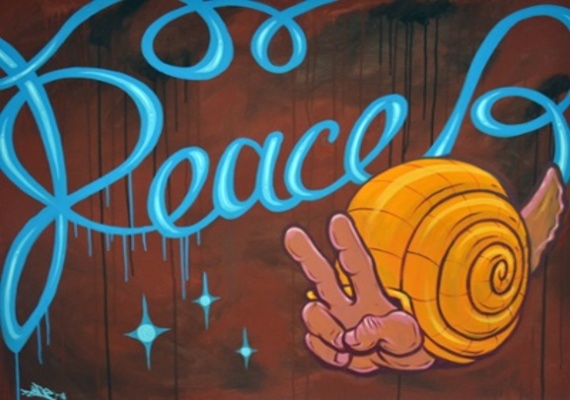 "Peace exists in the common ground between people who are opposed to one another. 'Art' is the language of this common ground."
Mr Shiz
Who cares?, 2014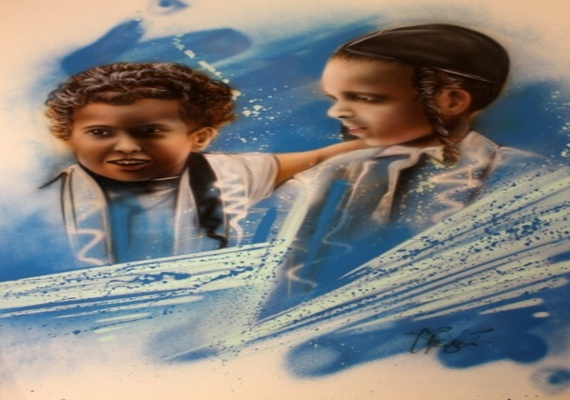 "I offer you a peace of art."
Pang
The original bad idea, 2014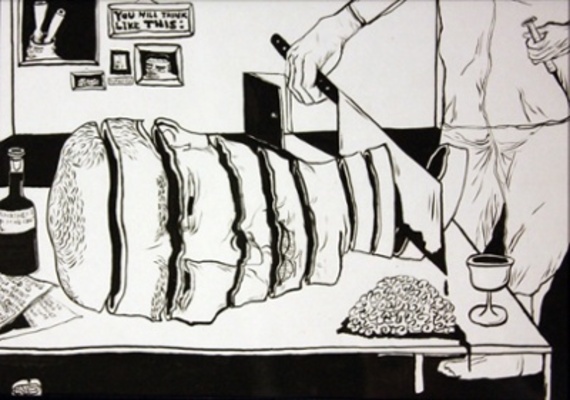 "I thought about the root of conflict for this piece, and the idea of crowd psychology and conflict being linked. Ideas can spread quickly among crowds of people. This piece is a satirical drawing showing a head being opened and the brain being examined or 'cleansed' to depict the origins of certain ideas and basic brainwashing."
Pure Evil
Peace is possible, 2014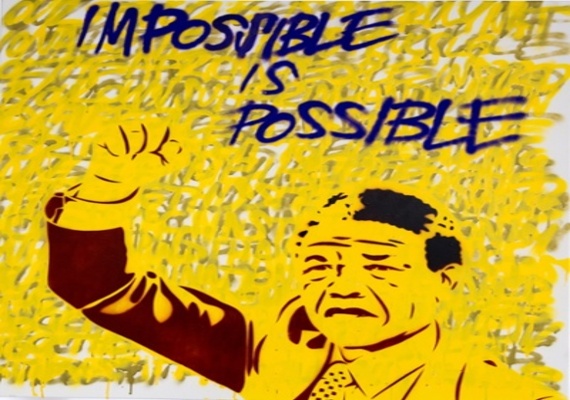 "I believe in peace and I believe art can help to bring about a paradigm shift in people's thinking. If you want peace, make art. Change people's point of view and you can change a vote; change a vote and you can change the world."
Suzko
Dog and dove, 2014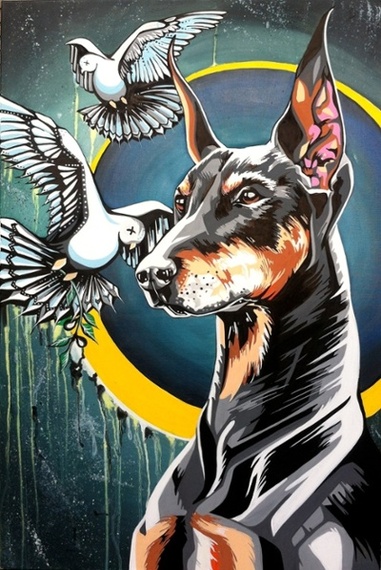 "I believe art is a great way of getting people talking, inspiring different points of view and allowing people to have those contrasting views and emotions without prejudice. There is never a right or wrong interpretation of art, just an opportunity to feel whatever it makes you feel."
Tarek Tuma
Untitled, 2014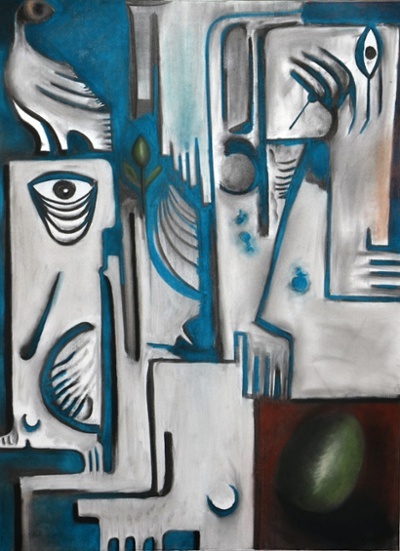 "This piece is an embodiment of hope, peace and love. I think art can be a great force against war. You have the force of destruction represented by wars and atrocities, and you have another force of creation represented by art. In Syria, people are expressing themselves in an artistic way which is very powerful."
Victor Ash
Wolf and tank, 2014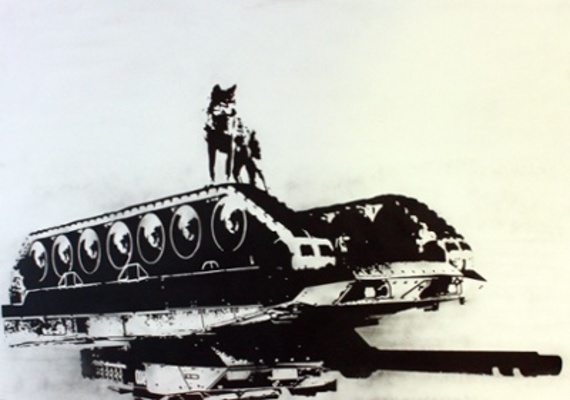 "The best way art can contribute to avoid conflicts is to be pro-peace rather than anti-war."
Zina
Pathway to peace, 2014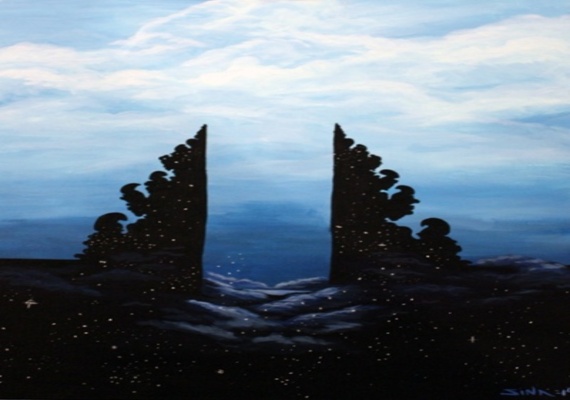 Online bidding has been open since 24 September
Live auction: 3 October (7pm at Hoxton Gallery in London. Telephone bidding available).
Reserve prices may apply.
Find out more about the campaign at http://talkingpeacefestival.org/events/event/street-art-for-peace/
All proceeds go to International Alert, a peacebuilding NGO working since 1986 in over 25 countries helping local people, governments, organisations and companies support and find peaceful solutions to conflict.
Find out more about their work at http://www.international-alert.org