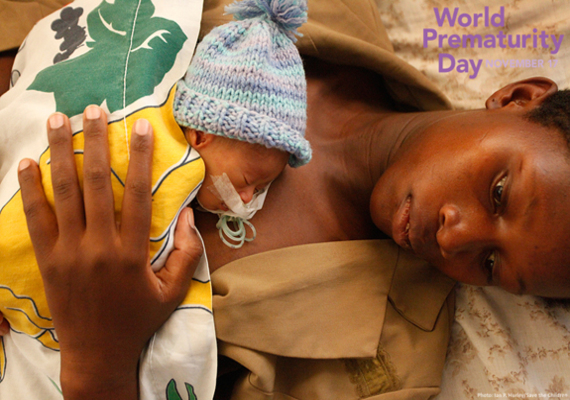 November 17th marks the fourth commemoration of World Prematurity Day. Millions of newborn babies are being born each year, many in complex environments and yet, in many cases these deaths are preventable. Greater momentum must concentrate around newborn survival and health, whilst also delivering on Millennium Development Goal 4 (MDG) for child survival. With greater investment and scaling up in newborn care, more premature babies born today will live and thrive into adulthood.
Preterm births, defined as birth before 37 weeks gestation, is a global problem and should not be defined as a developing-nation-struggle. For instance, the U.S experiences a preterm birth rate of 12.0 per 100 live births, the leading cause of infant mortality, which also ranks it close to Somalia.
However, in the main, the healthcare divide between developing and developed nations contributes to the drastic difference in survival amongst severely premature babies. In developed countries, at least 90 percent of babies born before 28 weeks will survive, whereas in developing countries only 10 percent will live. In 2012, more than three-quarters of the world's newborn mortality occurred in South Asian and Sub-Saharan Africa, with India accounting for more than 25 percent. The map below pinpoints the top 10 countries that contribute up to two-thirds of the total annual premature deaths worldwide.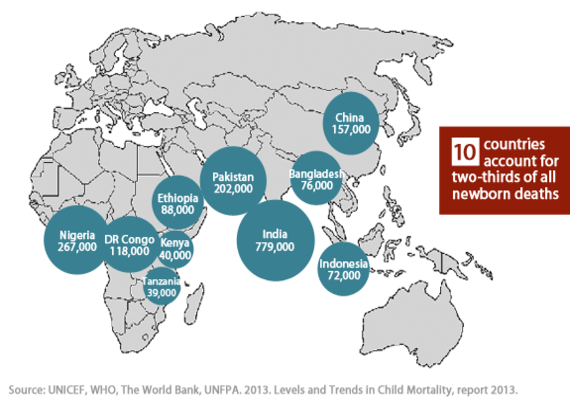 While the global newborn mortality has declined from 4.4 million in 1990 to 2.9 million in 2012, this decline is a third slower when compared to under-five deaths after the first month of life. Overall, this has meant that today premature deaths account for 44 percent, an 8 percent increase since 1990. The 2012 report, Born Too Soon, indicates that globally 15 million preterm babies are born each year, with more than 1 million dying from preterm complications, making up to 15 percent of deaths for children under five.
Preterm babies suffer through a host of complications, including longer hospitalization, illnesses and multiple lifelong complications, including breathing problems, cerebral palsy, and intellectual disabilities. Although little knowledge exists on why prematurity is so prevalent, dealing with its occurrence is the most effective way to ensure survival.
The following recommendations provide an up-to-date guidance on the promotion of newborn survival. Taken collectively, such guidance provides a wider and stronger safety net for preterm babies.

BREASTFEEDING FOR NEWBORNS
Breastfeeding is the best means to provide newborns with essential and natural nutrients they need. In the first few days after giving birth, mothers produce colostrum, which is an immune booster. The World Health Organization recommends exclusive breastfeeding for the first six months of a baby's life, with additional complementary foods for up to two years and beyond. Breastfeeding with complementary feeding offsets malnutrition and in turn saves millions of lives. It is not only cost-effective but also reduces the chance of infection for newborns.

INTEGRATION OF MATERNAL AND CHILD HEALTH TO ACCOUNT FOR NEONATAL HEALTHCARE
The first day a baby is born is the most dangerous day of a child's life. Despite the problems and prevalence of prematurity, there is little understanding as to why so many babies are born prematurely. What is known is that with high coverage of cost effective medical care and early intervention, at least 75 percent of deaths of premature babies can be prevented.
This requires more direct integration of child health and maternal health in order to combat neonatal mortality. The siloing of healthcare weakens and widens gaps in premature healthcare.
This has influenced The Every Newborn Action Plan endorsed by the World Health Assembly in May 2014. The action plan lists five avenues to promote neonatal survival:
Strengthen and invest in care during labour, birth and the first day and week of life
Improve the quality of maternal and newborn care
Reach every woman and every newborn; reduce inequities
Harness the power of parents, families, and communities
Register and count every newborn.
IMPROVING QUALITY DELIVERY CARE
Building on healthcare integration, newborn-specific intervention that focuses on building quality delivery care should include the following recommendations from The Lancet Every Newborn Series:
Ensuring essential newborn care and training in neonatal resuscitation and application of of Chlorhexidine in the umbilical cord.
Introducing and promoting Kangaroo Mother Care (KMC) for premature and low birth weight infants.
Ensure proper management of newborn infection with antibiotics at the primary care levels.
Establish specialized newborn care unit at the sub-district and district level.
The Lancet Every Newborn Series suggests these interventions can be implemented for an annual cost of US$1.15 per person. Together, providing quality care at birth saves mothers, newborns and prevents stillbirths.
BUILDING THE CAPACITY OF SKILLED BIRTH ATTENDANTS
In many communities, especially in rural remote areas, women are unable to deliver their babies with sufficient assistance. Community skilled birth attendants (SBA) provide essential emergency care and provide greater healthcare integration by ensuring referrals to hospitals. The greatest advantage of local midwives is the sensitization and training they bring to child and maternal care, and by doing so, a bridge for neonatal survival.
The Birthing Kit Foundation Australia ,partnering with local NGO's, offers midwifery training programs to educate SBA's and provides birthing kits to expectant mothers to ease the care of newborns in rural and remote regions of developing countries.
Nigeria has launched Saving One Million Lives Initiative that aims to prevent 180,00 newborn deaths by 2015. In 2013, 260,000 babies die in Nigeria in the first month of life, a tenth of global newborn deaths. The initiative hopes to increase the number of pregnant women who attend four or more antenatal care visits from 45 to 80 percent and increase the number of births with skilled attendance from 40 to 85 percent. This initiative exemplifies one of the best pathways to promote greater focus on maternal and newborn health care.
NEWBORN HEALTH IN COMPLEX EMERGENCIES
Save the Children's State of the World's Mother's Report 2014 highlights the critical needs of mothers and children struggling to survive in humanitarian crises. In such environments, mothers and children display higher rates of deaths.
Premature deaths are much higher when women struggle in communities afflicted by high rates of infectious diseases, lack of access to public healthcare, and medical resources. These societies often lack the knowledge and tools to promote premature survival.
The Ebola crisis in Sierra Leone and Liberia has placed unprecedented burden on an already weak healthcare system In Sierra Leone a child has a one in five chance of dying before their fifth year and with women often being the primary caregivers, they are disproportionately affected. Pregnant mothers are struggling to access hospitals, which are now overrun with Ebola inflicted patients. The disease has become a major inhibitor to achieving MDG 4 aimed at reducing child deaths by two thirds by 2015.
The Ebola crisis is one of many emergencies today that requires coordinated response to support fragile health care systems whilst assisting maternal and newborn health. Save the Children has recommended four cores areas of attention that the governments, international community and civil society must address:
Ensure that every mother and newborn living in crisis has access to high quality health care;
Invest much more in women and girls and ensure their protection; Build stronger institutions and promote early action, social protection, disaster risk reduction and strong health systems that provide universal health coverage and provide for the most vulnerable;
Design emergency interventions with a longer-term view and the specific needs of mothers and newborns in mind;
Ensure political engagement and adequate financing, coordination and research around maternal and newborn health in crisis settings.
These recommendations help deliver a continuum of care and greater accountability amongst the global community for preventing neonatal deaths and help provide country and community -level technical guidance, especially targeted towards poor families and communities.
With the rate of preterm births increasing, urgent action is needed to combat this growing problem. Knowledge and outreach is critical in complex environments, especially when children of uneducated mothers are 46 percent more likely to die before age five than children born to mothers who have completed secondary school. Therefore, investing in healthcare for women and children contributes directly to the socio-economic development and security of families, communities and nations. Within a generation, it is possible to bring an end to preventable maternal and newborn deaths with strong and sustained commitment.