by Alex Beggs, Vanity Fair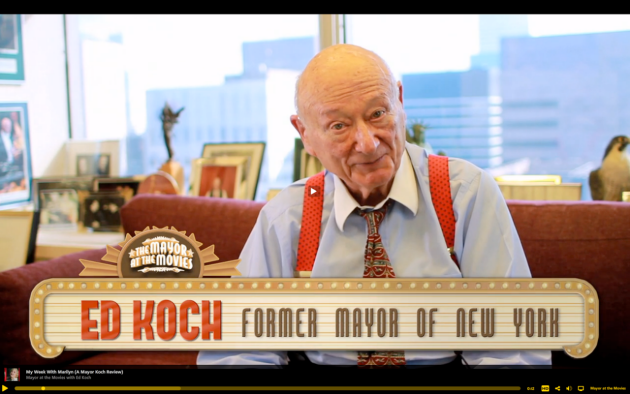 Ed Koch
Amid all the obituaries and remembrances of former New York City mayor Ed Koch, let us not forget his post-political career as an amateur movie critic, first for a small giveaway neighborhood newspaper, The Westside Spirit, and later in video installments on his own Web site, Mayor Koch at the Movies. Everyone has a beloved elderly relative who spouts off delightfully off-key, ill-informed opinions about popular culture, don't they? (A beloved elderly relative of mine recently told me she had seen a really funny wedding picture: Melancholia.) Koch was like New York City's--and the world's--beloved (by some), elderly, off-key, ill-informed uncle.
Here, his takes on Natalie Portman's feet, Ryan Gosling's good looks, the ugliness of the sisters in The Fighter, and Cher's absolutely astonishing amazingness . . .
On J. Edgar: "With respect to the rumors of cross-dressing . . . the cross-dressing takes place with his finding his mother dead. It doesn't make sense to me. . . . See the movie, but it doesn't deserve you seeing it. I give it a negative."
On Ryan Gosling in Drive: "Looks like Brad Pitt looked when Brad Pitt was young. Brad Pitt is now middle-aged."
On The Tree of Life: "Brad Pitt is someone who I think is a fine actor. Sean Penn, also in the movie, fine actor; the others in the movie, quite good; people I never heard of, but quite good; and several juveniles. . . . So, what's the movie about? Got me. It's got great photography. . . . A substantial part of the movie relates to the cosmos and understanding it--didn't actually make it understandable to me, but that's the intent. . . . The story of the cosmos is better told at the Rose Planetarium at the Museum of Natural History. . . . It didn't do well with me, but to be truthful about it, the audience at the end of the show applauded. And I thought to myself, Am I the little Japanese boy who said [Koch does an impression of a young Japanese boy here], 'But the king is naked!' Sorry, the emperor. Of Japan. Naked!"
On Bridesmaids: "It's too gross. Now, this is sexist of me. I've been to the frat-boy movies where they engage in shtick and potty humor and it doesn't offend me. But when I woman defecates in a sink in a bathroom because all of the women all have food poisoning, it's a little much."
On Limitless: "Then there's a Russian--he has a steel tooth so you know he's Russian . . . and other mannerisms."
On The Lincoln Lawyer: "His car is a Lincoln Town Car--very comfortable car."
On Annette Bening in The Kids Are All Right: "She does a brilliant job as a lesbian, makes it very natural."
On The Social Network: "Such a complicated film, but so superbly directed so that it all makes sense. It could've been a swamp!"
On The Way Back: "It's boring. Unbelievably boring! Why? I don't know. The actors are O.K., not particularly wonderful, but it isn't their fault. It's the plot. You see the same old terrain, and sometimes it's hot and sometimes it's cold."
On The Mechanic: "They said it was a movie that did not reach its potential. Believe me, it was far, far from any potential. It's a terrible movie."
On Country Strong: "The audience was comprised of 80 percent women, and that normally means that the film is perceived by the public as a 'chick flick.' The guy sitting next to me said to me, when the lights went up, 'I thought this was going to be a terrible movie when I read one of the reviews, but I loved it. I sobbed!' Well, I wouldn't go that far."
On Blue Valentine: "There is some very explicit sex in the movie. Oral sex. I think Clinton said that's not sex, but I don't think we agree with him."
On The Fighter: "They have a mother. Her name is Alice. She's played by Melissa Lee [sic]. She does an excellent job. She's a harpy. Has seven daughters who like seven witches out of Macbeth. I mean, they are so ugly it's impossible to describe. Does that make me a misogynist? I hope not. I think I'm just being open and truthful."
On Carlos: "Killings, and shootings, a couple of sex scenes too, because he was filled with testosterone!"
On The Tourist: ". . . has great trailers and TV commercials. But if I were you, I would do what most audiences have done--not go!"
On Black Swan: "I read somewhere that Natalie Portman actually did the dancing herself, but she's not a ballet dancer . . . so they didn't concentrate on her feet. They concentrated on her chest, and her face."
On Burlesque: "I love Cher. Nothing she can do can be wrong. Then there is the aspiring singer-dancer Christina Aguilera [pronounced "A-goo-lera"], who I'd never seen before, that I can recall. She is a woman of charm and ability. I don't think she's so beautiful! I mean . . . features, but all together she does a very incredible job."
More from Vanity Fair:
25 Years in the Life of Model Kate Moss
Lady Gaga, Angelina Jolie and Jennifer Aniston: Vanity Fair's Classic Nude Portraits
Vanity Fair's Exclusive Freaks and Geeks Reunion Photos
Photos: Jennifer Lawrence's Fiery Fashion Evolution