By Bennett Marcus, Vanity Fair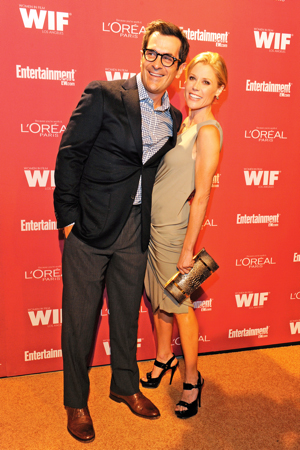 Ty Burrell and Julie Bowen of Modern Family
Despite having watched a vampire-human baby tear itself out of Bella Swan's womb -- not to mention the horror of having to call said baby "Renesmee" with a straight face -- Ashley Greene found that doing a comedy for the first time, in Butter, was "terrifying." "If you're not funny, people don't laugh at you, they boo you, and I think that's mortifying," Greene told VF Daily at the Cinema Society's New York premiere on Thursday. "So it was very scary." She stepped outside her comfort zone as the teenaged daughter of Iowa-based butter-carving champions played by Jennifer Garner and Ty Burrell. Yes, butter carving is a thing. "I read the script and was amazed that someone could come up with an idea like this. I just thought it was brilliant," Greene said. "And then, of course, I Googled it and realized that this is a big deal. A lot of people do it." Her character didn't have to sculpt dairy products in the movie, but she's dying to try it now. "I'm going to go on some show and convince some poor TV host to butter carve with me, because it seems very fun," she says. (Jimmy Fallon, this sounds like a job for you.)
The cast was given butter-carving lessons. "I did attend the training day, which was one of the funniest days of research I've ever experienced," Olivia Wilde said. But apparently nobody really mastered the art. "My character didn't have to be a great butter sculptor, so I didn't have to learn anything too complicated," Wilde added.
"I didn't learn because I'm not good at it," Garner told us at the post-screening party at the Double Seven. "But I did spend a lot of time with the butter-carving guy, and I did learn what he does with his hands, how he uses his tools, and I did, at least, really enjoy faking that stuff," she explained.
Even though butter is a fattening product, fashion companies like RentTheRunway.com and Forevermark helped pull off the evening. The movie -- out October 5, but already on iTunes and On Demand -- features a heated carving competition, and the seemingly mild-mannered Ty Burrell tells us that he's always played a lot of sports and does, in fact, have a deeply competitive streak. "I got over the tantrum aspect of being competitive, but I still, if I'm really losing badly at something, I can get very, very quiet," the Modern Family star said. "I can get very quiet," he repeated ominously.
But Burrell laughed when we mentioned Eric Stonestreet's diss at a pre-Emmys party.
"I loved that!" he said. "I was also rooting for Jesse, Ed, and Sofia, because it would be great to spread it around," he said of the cast's multiple nominations. "But it was really awesome to see it stay in the family."
To celebrate their Emmy wins, the whole gang went to a bunch of parties on Sunday night. "We kind of texted each other and told each other where we were going to be, and then we all ended up at Jimmy Kimmel's party at the end, dancing with all 20 of Sofia's family members," Burrell said. "It was fun."
Who danced the most, and who drank the most? "It seemed like the drinking was pretty even across the board, a lot," he said. "And the dancing would probably have to go to Sofia."
More from Vanity Fair:
Photos: Inside the White House with President Obama
The 2012 Vanity Fair International Best Dressed List
Kristen Stewart Gets Glamorous
5 Things You Don't Know About Kate Middleton