By Julie Miller, Vanity Fair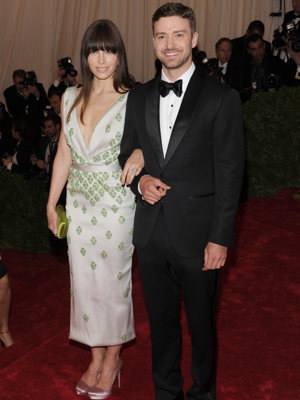 Confidence-wrecking news, husbands everywhere: Just minutes after becoming a married man, Justin Timberlake out-husbanded you. According to several reports, the Grammy winner surprised his bride, Jessica Biel, by performing an unreleased song that he dedicated to her at their wedding reception in Southern Italy on Friday. And if we know Justin like we know Justin--very peripherally--he did not just hop onstage in medieval-wear and perform a Katy Perry song a cappella while a man inexplicably dressed as Scooby Doo cleared tables in the background (cue the YouTube video: youtube.com/watch?v=Vaut4rEyjjc). No, J.T. probably performed with a live band made up of several Grammy-nominated musicians on a studio-grade stereo system, clogged with Clint Eastwood as an encore, and then made a point of speaking with all of Biel's family members, even the annoying ones, after.
Making Timberlake's reception number even more impressive: J.T. reportedly performed it even though "he wasn't feeling well." The wedding venue is now being ID'd as the Borgo Egnazia resort in Puglia, "the ideal place to plan and organize any kind of event," its Web site boasts. Photo evidence of Exhibit A may be provided later in the week by People, which is said to have paid $300,000 for exclusive rights to the couple's wedding pictures.
More from Vanity Fair:
25 Least Fashionable Films of All Time
Kissing Celebs: Candid Moments from 2012 Vanity Fair Oscar Party Photo Booth
Lady Gaga, Angelina Jolie and Jennifer Aniston: Vanity Fair's Classic Nude Portraits
Best James Bond Moments in the Last 50 Years