By Julie Miller, Vanity Fair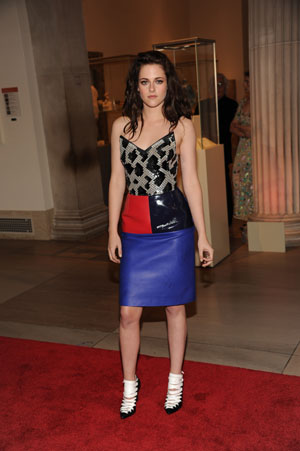 With only two weeks until the Twilight franchise premieres its final film, recently reconciled stars Kristen Stewart and Robert Pattinson are in full Breaking Dawn -- Part 2 promotional mode. On Thursday the pair discussed such wide-ranging topics as $3 Halloween costumes and the pottery scene in Ghost with MTV before meeting reporters in Beverly Hills to discuss the series' grand finale. Particularly, what they did to commemorate the Twilight conclusion. For Stewart, that involved selecting a few keepsakes from the set, including her character's rings, which the actress said were "really important to me." Among them: a moon ring given to Bella from her mother because, Stewart said, "it fully and completely reminds me of [Twilight director] Catherine Hardwicke," as well as the engagement ring given to Bella by Pattinson's character, Edward. "Yeah, I have that too," Stewart said. "I held onto that one."
In other news, Stewart has also constructed the classiest possible answer to the question that will surely be repeated hundreds of times over the next year: Is she glad that the franchise--which has made her a press-hounded public persona--is finally over? "I'm so happy that the story is told," Stewart told reporters on Thursday. "You have no idea."
More from Vanity Fair:
25 Least Fashionable Films of All Time
Kissing Celebs: Candid Moments from 2012 Vanity Fair Oscar Party Photo Booth
Lady Gaga, Angelina Jolie and Jennifer Aniston: Vanity Fair's Classic Nude Portraits
Best James Bond Moments in the Last 50 Years