by Julie Miller, Vanity Fair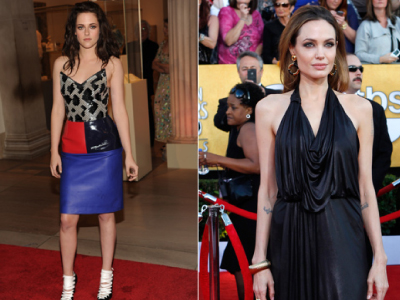 Shortly after tabloids published photos of Kristen Stewart romantically entangled with her married Snow White and the Huntsman director, Rupert Sanders, a second paparazzo captured, in industry terms, another money shot. Specifically that of a cargo van leaving the gated Spanish colonial that Stewart reportedly shared with her boyfriend, Robert Pattinson, in Los Angeles. The photo was followed by conflicting reports about who may have moved out, as well as more general questions about the nature of celebrity moves and privacy. Namely, when you're being monitored around the clock by members of the tabloid-press corps and even the contents of a trash bag can make news, how do you securely open up your house to strangers, evade paparazzi and safely transport your valuables across town?
For the answer to that question and others, we spoke to Laura McHolm, co-founder of NorthStar Moving, an "eco-luxury" moving company in Los Angeles that has relocated celebrity clients including Angelina Jolie, Shirley MacLaine, Anthony Hopkins, Eva Longoria, the Jonas Brothers and Diana Ross. McHolm told us how her company responds to a range of niche Hollywood concerns, from paparazzi stakeouts and stealth celebrity breakups, to Academy Awards that need packing.
How to evade paparazzi
Especially in the past few years, McHolm says, her staff has had to take extra precautions to protect clients from the prying lenses of ever-lurking photographers. "We send out people ahead of time to look on-site and see what kind of problems we think we're going to need to deal with. Is the house staked out with paparazzi? Then we're probably going to need a decoy truck. Is there a way that we can move when the celebrity is out of town so that the paparazzi go with them? We try to work out a schedule that works with both the celebrity and the entourage. We can do it in the middle of the night if that is what will work best for the client. The more aggressive the paparazzi are, the more resourceful we have to get."
How to move Angelina Jolie
One client that NorthStar has moved in recent years was Angelina Jolie. McHolm recalls, "Paparazzi were, of course, hounding her. They were literally trying to bribe our movers to just take a peek inside her boxes. 'I'll give you a thousand dollars if I can just take a peek inside the boxes.' I'm so proud of our staff, because they were offended by that. We used a series of decoy trucks that would head off at the same time in opposite directions, kind of like in The Italian Job but without Mini Coopers.
"I'm pretty sure she used picture-perfect packing [a service offered by NorthStar], where we would photograph the inside of her house, how things looked, and put it back exactly the way she had it already [in the new home]. Most of the time, a celebrity will just walk out of their house with their coffee cup, and they will just go wherever they need to go while we pack and move. Sometimes they will be there or they will have someone there to direct the move from inside, but they don't have to lift a finger."
How to respond to strange requests
"No request is too odd or bizarre or too out of the box, literally, for us. We've gotten requests from a celebrity who was literally walking around naked in front of the movers to not look at her children. And our movers were looking at the children rather than her because they were so embarrassed. How odd is that? We had a phone call at about 3:30 in the morning to pick up and move, from one room to another, a dining-room-type chair. And we went and we did it in the middle of the night."
How to handle bad breakups
McHolm recalls moving one half of a celebrity couple, who asked that the other half be kept in the dark. "The woman did not want him to see any evidence that the move was actually occurring. So her assistant would literally walk into the room [whenever the boyfriend was approaching] and say, 'He's coming in.' The movers would pack everything up and wait outside for him to walk through the room. When he was done walking through the room, the assistant would come back through and say, 'It's O.K. to start up again.' Every time he would walk through a room, they would have to clean up and stop."
And if you've ever suffered through an on-again, off-again relationship, NorthStar Moving has experienced them tenfold. "We will get a phone call that he wants her to move out. We will send the trucks over to their home. Mid-route, we'll get a phone call that they made up. So the truck will turn around and come back. Then a day or two will go past, and we'll get the call that he wants her to move out. The truck will be on its way and almost get there and, again, we'll get a phone call that they made up."
How to pack the real valuables
When Oscar-winning clients need help transporting their statuettes, McHolm says a classic moving material is all that's needed: "Bubble wrap!"
More from Vanity Fair:
The 2012 Vanity Fair International Best Dressed List
Kristen Stewart Gets Glamorous for Vanity Fair
Lady Gaga, Angelina Jolie and Jennifer Aniston: Vanity Fair's Classic Nude Portraits