by Julie Miller, Vanity Fair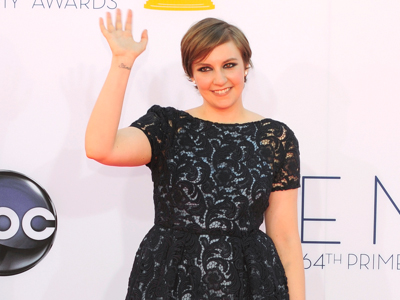 Critical darling and comedy wunderkind Lena Dunham plans to extend her pop-culture reach beyond television and indie film with a book preliminary titled Not That Kind of Girl: Advice by Lena Dunham. In a proposal obtained by Slate from Dunham's literary reps, the Girls actress/writer/show-runner pitches a collection of candid essays that will address, among other subjects, her loss of virginity, her obsession with death, her attempt to eat well (with possible diet journal), ways to stay focused at work, and "the most awkward date ever with an older director." Dunham's literary agency is said to have set a bidding floor of $1 million for U.S. rights to the book.
While our favorite nudity-favoring, New Yorker-published comedienne awaits offers, she's also been keeping busy by hypothesizing on Twitter about how she might die, wearing polarizingly pants-less ensembles to red-carpet events, and counting down until the second season of her HBO hit, Girls, which premieres in January.
More from Vanity Fair:
Seth MacFarlane on His Oscar Hosting Duties
Lady Gaga, Angelina Jolie and Jennifer Aniston: Vanity Fair's Classic Nude Portraits
What Katie Holmes Didn't Know about Tom Cruise and Scientology
50 Years of James Bond