By Julie Miller, Vanity Fair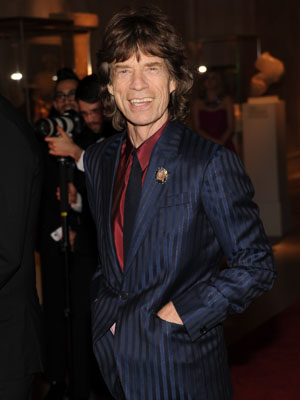 You may not be the subject of a love letter written by Mick Jagger, but after December 12, you could be the owner of an amorous note sent by the Rolling Stones front man and famed romantic conquistador. Next month in London, Sotheby's will auction off 10 letters written by Jagger to Marsha Hunt -- a former Vogue model, the inspiration for the Rolling Stones' single "Brown Sugar," and the mother of Jagger's first child, Karis -- in the summer of 1969. In addition to shedding light on the rock legend's secret relationship with Hunt -- Jagger was dating Marianne Faithfull at the time -- the notes provide context for events of the era, such as the moon landing, the Isle of Wight festival, and Jagger's feature-film debut as an actor in Ned Kelly, which he was shooting in Australia at the time the letters were written.
As for the reason why Hunt -- who reportedly met the Rolling Stones when they asked her to pose for the cover of their "Honky Tonk Woman" single, an offer that she declined -- is selling her Mick Jagger mementos now: "I'm broke," the 66-year-old told the Guardian. "Someone will protect them [the letters] and someone who protects them will protect me because I will make enough money from the sale to repair my house in France and if I fall down tomorrow with a stroke, which is happening with several of my friends, my daughter doesn't have to say 'what are we going to do about mom?''
The lot of notes, which a Sotheby's manuscript specialist has trumpeted as the "best letters by Jagger to have come up at auction," is expected to sell for between £70,000 and £100,000 (approximately $111,000-$158,700). When asked whether Jagger supported her decision to sell the notes, Hunt coolly responded, "I don't think so but they're not his."
More from Vanity Fair:
25 Years in the Life of Model Kate Moss
Paris Jackson Rocks T-Shirts with Dad's Face
Lady Gaga, Angelina Jolie and Jennifer Aniston: Vanity Fair's Classic Nude Portraits
Best James Bond Moments in the Last 50 Years