By Julie Miller, Vanity Fair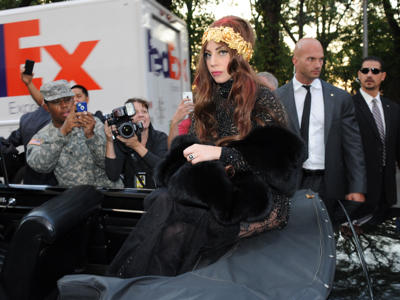 After lowering herself over a champagne bucket in the name of performance art last month, Lady Gaga lent her artistic services to the high-fashion world during a recent Thierry Mugler runway presentation in Paris. The Grammy winner re-wrote and re-recorded lyrics to her single "Cake Like Lady Gaga" specifically so that the song could be used as the soundtrack to Mugler's Spring 2013 collection debut. In the runway remix, Gaga digitally lowers her voice to sound like a man, mentions her recent weight gain, and makes a dig at New York Times fashion critic Cathy Horyn, Gaga's sparring partner in an ongoing feud. For those unfamiliar with said feud, fashion, and provocative runway slang, read ahead for a loose translation of the lyrics, some history on the feud, and a video of the controversial presentation.
The lyrics (which can be heard in the video of the runway show, below) read: "Mugler's show, I'm Lady Gaga. Bad bitches gonna walk the runway, walk bitches like Lady Gaga." Easy enough. "Bad bitches" equals "fierce models."
Gaga adds, "Ortenberg, you can suck my dick, walk bitch, you ain't Lady Gaga." Ortenberg is Horyn's boyfriend, Liz Claiborne founder Art Ortenberg, who once wrote in to Women's Wear Daily in defense of his girlfriend. In the same message, he also advised Gaga to "grow up."
Gaga adds again, "Nicopanda got style, trick, Cathy Horyn your style ain't dick. Walk a mile in these foot-high heels, I run in these you ain't running shit. You chew beef, I wear meat - I'm getting fat and so is my bank. From a sold-out world tour, bitch." Per The Hollywood Reporter, Nicopanda is an online gaming character created by Gaga's designer friend Nicola Formichetti to model his virtual fashions. "I'm getting fat" likely refers to her semi-controversial weight gain. The world tour is her recent "Born This Way Ball."
The feud either began when Horyn publicly railed against Donatella Versace for lending Lady Gaga pieces from the Versace archive for her Edge of Glory video -- ("Be choosier, Ms. Versace," Horyn wrote at the time) -- or when Lady Gaga stole Horyn's boyfriend, Horyn retaliated by feeding Gaga high-calorie nutrition bars she swore were diet, and then Gaga re-retaliated by releasing an incriminating burn book at school. Sadly for Horyn, this is not the critic's only fashion feud in Paris this week: she was not invited to the Saint Laurent show by designer Hedi Slimane. After viewing video of the presentation, Horyn wrote in her New York Times review that "Mr. Slimane's clothes lacked a new fashion spirit."
More from Vanity Fair:
Suri Cruise's 20 Most-Fashionable Moments
25 Least Fashionable Films of All Time
Lady Gaga, Angelina Jolie and Jennifer Aniston: Vanity Fair's Classic Nude Portraits
Kissing Celebs: Candid Moments from 2012 Vanity Fair Oscar Party Photo Booth