By Bennett Marcus, Vanity Fair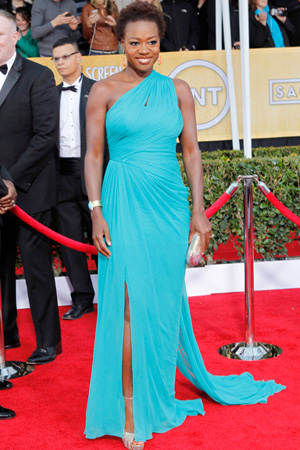 Viola Davis.
Emmy Rossum's Beautiful Creatures character Ridley, a dark "caster"--the preferred term over "witch"-- is something of a siren. "The character is all about her manipulation of men, and her allure, so she dresses up and channels different Old Hollywood movie stars, like Marilyn Monroe in River of No Return, or Rita Hayworth in Gilda," Rossum said at a Cinema Society screening Monday. "So there are lots of moments that are almost carbon copies of the way those actresses looked in those films, so it was really fun to re-create."
Wearing those dresses on a plantation in the Deep South, where the film was shot, presented its own set of problems. "It was very hot, 105 degrees, and we were in big dresses," Rossum said. "And one day when I took off my hoop skirt--Emma Thompson and I were in, like, this big, air-conditioned tent in the middle of Louisiana to take off all our skirts at the end of the day, and a massive, hairy spider crawled out of my crinoline. And I immediately just freaked out," the Shameless star told VF Daily, shuddering anew at the memory. "Even though I didn't have a bite on me, it still was freaky."
She actually dieted for the role and so was happy that her character had to eat a lot in one scene, of which there were many takes. "My character has an oral fixation, especially in the book--she eats a lot of lollipops, very Lolita--so in the movie we had her eating lots of succulent fruit, and macaroons, and lots of sweets," Rossum said. "She's very indulgent."
Viola Davis, who plays a seer with a different kind of power, has more contemporary costumes in the film and had to learn how to drive a motorboat through a swamp full of alligators. "I literally had to meet with the alligator wrangler. There were probably, I don't know, five or six of them, on speedboats around me, and alligators coming out of the swamps," Davis told VF Daily. "And I was in a low boat. That's a crazy thing."
While Rossum said that the old plantation house was kind of spooky, she definitely does not believe in supernatural spirits. Her co-star Davis, however, firmly does.
"I grew up with it," Davis said. "You know, I was born in St. Matthews, South Carolina, Singleton Plantation. We believed in haints, witches riding their broom. And they took over your spirit when you were sleeping, so when you woke up, you couldn't move," she added. Davis is aware that this sounds strange. "Listen--I know. But I believed it since I was a kid, and I can't shake it," she laughed.
Ivanka Trump, Alex Karpovsky, Sandra Lee, and Rachel Roy were among the attendees taking a welcome break from the madhouse that is Fashion Week in New York. After the Dior Beauty-sponsored screening at the Tribeca Cinemas, everyone dashed through the rain to the new restaurant Cole's Greenwich Village, where there were lots of spirits--but not that kind.
More from Vanity Fair:
25 Years in the Life of Model Kate Moss
Lady Gaga, Angelina Jolie and Jennifer Aniston: Vanity Fair's Classic Nude Portraits
Vanity Fair's Exclusive Freaks and Geeks Reunion Photos
Kissing Celebs: Candid Moments from 2012 Vanity Fair Oscar Party Photo Booth