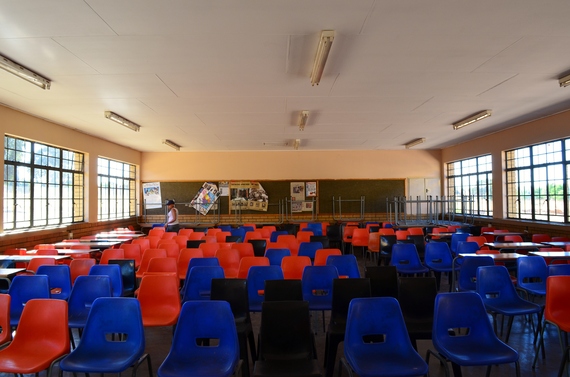 If over 50 percent of learners drop out of school, and a further 22 percent fail, can I really believe that the education system is catering for the majority of South Africa? On the Tuesday morning that the 2013 public school were released, I had a civil on-air disagreement with Basic Education Minister Angie Motshekga over whether the 78.2 percent grade 12 pass rate meant anything. I maintained that we could not celebrate a system that lost roughly 50 percent of each cohort to start grade 1 in our public schools. She maintained that the dropout rate should not be discussed alongside the matric pass rate. It was unfair, said the minister, because so many other things contributed to the dropout rate. That is both perfectly true and perfectly disingenuous.
There are a few reasons that the minister cited:
Disengaged parents
Disengaged youth
Youth criminality
Youth drug abuse
I would like to add a few more to this mix:
low socioeconomic status
living in a single-adult or child-headed home
changing schools at non-traditional times
being held back in school
having older siblings who dropped out
negative peer pressure
having a physical disability
having a learning disability
speaking a different home language
What the minister and I have fleshed out are a number of factors that make up the description for something called "At-Risk Youth," the definition used for learners who are statistically more probably to fail academically and/or drop out of school. Where the minister and I differ, is that I think that the education system should definitely be catering for these young people.
The current system either neglects or deliberately excludes them, despite the fact that children experiencing several of the listed risk factors are probably quite numerous in South Africa. Some of the larger concerns include disabled learners, children with learning disabilities like dyslexia, learners with behavioural and psychological problems, learners in extreme poverty, learners from child headed households. Additionally there are widespread concerns about deliberate culling in grade 10 and 11.
On the subject of culling to improving the pass rate
education expert Professor Jan Heystek notes
schools also do not want a poor pass rate so pupils who did not pass Grade 12 are not welcome back. If they do stay on, it will make the minister and the provincial department's statistics look bad.
In a status quo so appalling for at-risk youth, what sort of change would be ideal?
The first thing is data: dropouts are so widespread that the push and pull factors differ from rural to urban area, in different earning brackets, family situations and for different genders. There is a fair amount of data indicating who is likely to drop out, but we do not have enough data that asks why.
Once we know why, school-based intervention programs can be designed. These would have to differ based on the most prevalent risks and on how many learners are affected. For example, planning a safety net system for a school where the majority of children would qualify for socio-economic risks would be very different than the remedial program designed to assist learners with learning disabilities.
The designed intervention systems would have to target two groups: at-risk youth who have already dropped out and at-risk youth who have yet to drop out. Several other countries have created and continue to improve similar programs, suited to their particular risk factors. Based off of the wealth of existing information, government could run pilot programs until they know what works best. Those programs can be rolled out in the areas that correspond with the prevalent risk factors. It will not be an easy process but it is the right thing to do.