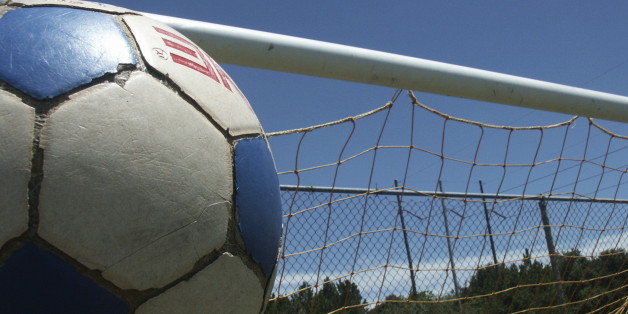 Miss your flight to Brazil? No worries! There are plenty of great places to watch the World Cup right here in New York City. Use the World Cup as an excuse to watch the game in a new part of town. Afterwards you'll have a great reason to walk around and explore the local culture that is unique to each borough, experiencing the true World Cup spirit.
Grab some great food, find new art, and see your city from a new perspective.
Queens:
Studio Square: 35-33 36th St, Astoria
If you want a giant screen, you'll get it at Studio Square where you'll be surrounded by Team USA fans. In the area, you can check out the famous Kaufman Studios (where Sesame Street was filmed!) and The Museum of Moving Image. Nearby, you can also catch great food and chachkas at the Astoria Flea on Sundays.
Tortilleria Nixtamal: 104-05 47th Ave, Corona
With a special World Cup breakfast menu, you can be sure to have great food while you celebrate the game. While you're in the neighborhood, you can catch the panorama of New York for a breathtaking view or attend a free monthly concert at the Queens Museum of Art.
Brooklyn:
Upper 90: 359 Atlantic Ave
If you RSVP, you can attend a free viewing party at the Upper 90 soccer store and get free beer along with stadium seating. Check out the new BRIC Arts Media House around the corner where they host all kinds of free events. Alternatively, you can catch a film during the Spike Lee retrospective at BAM.
Woodwork: 583 Vanderbilt Ave
You can catch all the games at Woodwork, where futbol is taken very seriously. Between everyday specials and diehard fans, you might as well call this place home. If you need a break (it can get crowded), you can catch the B45 for a short ride to the Brooklyn Botanical Gardens for a nature reprieve. If that isn't enough, just stroll Vanderbilt Ave. and find plenty of great places to eat and hang out.
Manhattan:
11th St. Bar: 510 E11thst, NY
Even though England is out of the lineup, 11th St. Bar is still a great place to watch the games. Not only can you get your fill of the World Cup, but you can also hear live music as well. Before the game, you can walk on over to the Ashok Jain Gallery to see their new exhibit CLAY/PAPER or check out A Gathering of Tribes where there are always free performances.
The Football Factory: 100 3rd Ave., NY
Home to almost 40 Supporters Clubs and a giant space, the Football Factory ensures you won't be deprived of die-hard soccer fans. If the crowd becomes too much, you can always check out Koreatown, just three avenues away for amazing dumplings or test your puzzle-solving skills at the Escape the Room exhibit.
Bronx:
Bronx Alehouse: 216 W. 238th Street
If you are looking for more than your standard bar fare, you can get a real meal here while watching the games. The pairing of quality food with the friendly atmosphere makes for a cozy way to cheer on your team.
Papaye: 2300 Grand Concourse
Check out the heart of Little Ghana and see if Team Ghana makes it to the next round. Find yourself in Ghana's cultural hub while still in NYC.
If you are in the Bronx on the first Friday in July, you can catch a free screening of the indie film They Are We as part of the African Film Festival at the Bronx Museum of Arts. You can also check out the Rebel Diaz Arts Collective.
Staten Island:
If the weather is nice, take the ferry out to SI to check out these places. Not only will you beat the crowds, but you will also find great deals.
Victory Cantina: 1736 Victory Blvd
A lively Mexican bar that is also accessible by public transit. You can be sure to get great food and a nice variety of craft beer, without gouging your wallet.
Play Sports Bar: 2 Sneden Ave
While you watch the game you can play some of your own. Play Sports is equipped with pool tables and dart boards, and they host events every night of the week.
If you aren't usually in the area, its worth it to check out the Snug Harbor Cultural Center and Botanical Garden. You can also visit the 5050 Skatepark, which is close to the ferry and is NYC's only indoor skate park.