Culinary mastermind Jean-Georges Vongerichten is forging a new path. The James Beard Award-winning chef has already made his mark across the globe with a number of Michelin-starred restaurants in the U.S., including New York hotspots ABC Kitchen, Jean-Georges and ABC Cocina. He's also the proprietor of Jean-Georges and Mercato in China and JG Tokyo in Japan.
His upcoming New York venture, ABCV, will be his first completely vegetarian restaurant, and has already garnered a lot of curiosity and hype, not just in the U.S., but the world over. Sumati Menda, the founder of vegetarian blog Veggiebuzz, has been to several of Chef Jean-George's restaurants and is one of many foodies who are eagerly anticipating the opening of ABCV.
She recently had the opportunity to sit down with the three Michelin-starred chef, who was in Dubai for the opening of two new restaurants: Jean-Georges Dining Room and Jean-Georges Kitchen. The both of them join Dubai's fast-growing list of celebrity chef restaurants, which feature the work of luminaries such as Gordon Ramsay, Jamie Oliver and Wolfgang Puck, among others.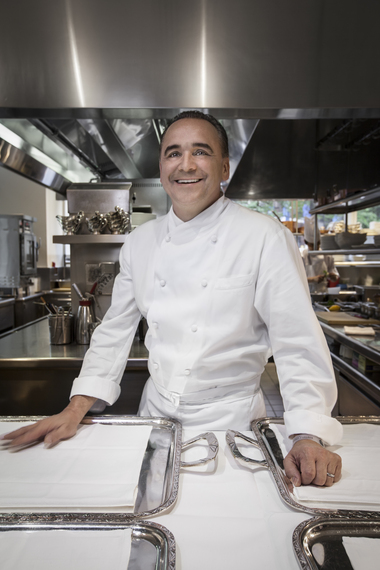 Photo credit: Francesco Tonelli
Chef Jean-Georges talked about ABCV, his general thoughts on vegetarianism and how that factored into his cooking and his restaurants.
ABCV was, of course, the biggest topic of discussion. The restaurant, which will draw inspiration from cuisines around the world including India, China and Japan, is expected to open in September. It will highlight vegetarian, vegan and raw foods, and the superstar chef has been working closely to make sure that every detail is absolutely perfect. "People are getting impatient, as we have already delayed our opening by almost 8 months now. We are taking our time as we want to get it right," he said.
He also touched on his upbringing in the Alsace region of France, mentioning that his childhood meals were primarily vegetable-focused. "When I started working on restaurants in New York, meat was always in excess," he said. "Over time, I started adding more and more vegetables and vegetarian dishes to my menus."
While a lot of the vegetables at his New York restaurants are locally sourced from nearby farms, that hasn't been the case so far in Dubai. According to Chef Jean-Georges, "The trend at most Dubai restaurants is to use imported produce but I think that is going to change." He is hopeful that, in spite of Dubai's hot climate, some workarounds can be found to facilitate the use of more local and seasonal produce in the region.
Dubai looks set to be another feather in the cap for the master chef, and he has found himself becoming more attuned to the needs of the vegetarian consumer. In his own words: "Vegetarianism is definitely the future."
Veggiebuzz is excited about Jean-George's Middle Eastern expansion and is keenly looking forward to what's lined up for the menu at ABCV. Hopefully, other chefs from around the world will be taking notes!
More from VeggieBuzz.com:
The full interview with Chef Jean Georges Vongerichten
Follow VeggieBuzz on Instagram: instagram.com/veggiebuzz