New York has always been known as the city that never sleeps - there's always something going on no matter the hour! But in recent years, Dubai has been working to make its own claim to that title. A number of 24-hour eateries have popped up, serving up everything from cheap eats to five-star dining!
So here are 7 of VeggieBuzz's favorite places to eat in Dubai that are open at all hours!
Located in the lobby of the Dusit Thani Hotel, Maison Mathis is a cozy little café with a relaxed ambience and some fun kitschy décor. A sign at the entrance tells you to slow down to 'Belgian Time', so you can just sit back and soak in the atmosphere.
The focus is on progressive European cuisine, offering healthy and innovative dishes such as the delightfully tangy Roasted Beetroot with Yogurt and the Tarte Flambées, which are like delightful thin personal-sized pizzas. Their breakfast dishes will keep your appetite satisfied at all hours, including goodies like Eggs Benedict and Brussels Waffles.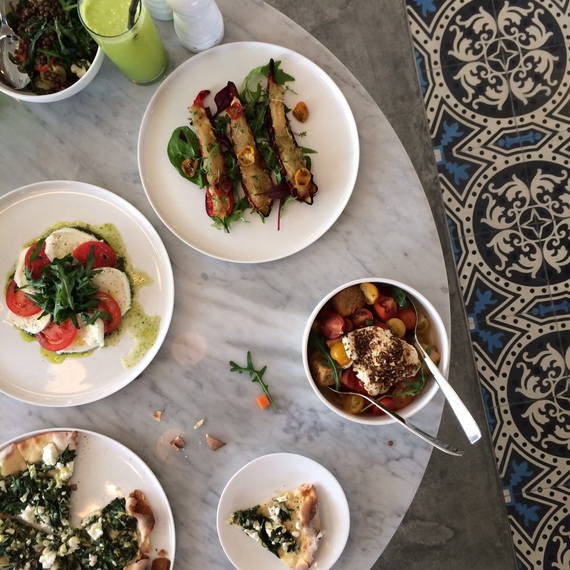 2. Park Central
A café with very simple but comfortable interiors, Park Central is part of the Park Palace Hotel Apartments on Sheikh Zayed Road, Dubai's most frequented highway.
We've already given them a nod on our list of Seven Shisha Hangouts, but even if you're not up for shisha (hookah), you can tuck into some tasty multi-ethnic cuisine, including crepes, burritos, burgers and pasta. We had singled out the Gandhi's Helper burger in our other list, but the "I Shot The Sheriff," one of their signature burritos, is pretty tasty too (being veggie bloggers, we had ours without chicken).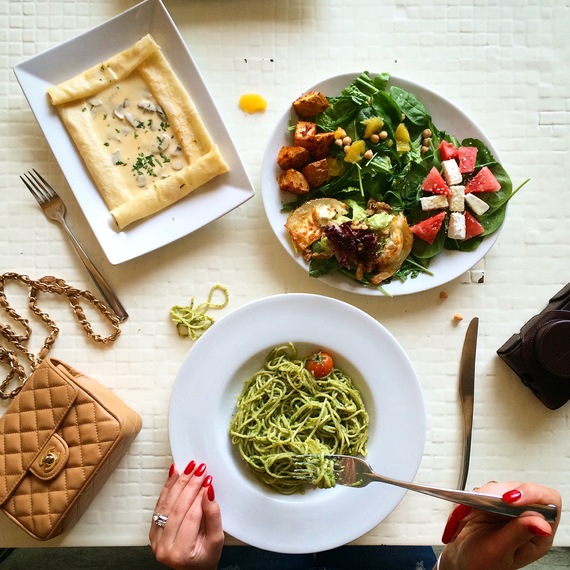 3. Sloane's
Dubai has a number of creek and harbor areas with restaurants by the waterside, with Dubai Marina being one of the most popular spots. Late night cravings can be indulged at Sloane's in the Grosvenor House Hotel. This elegant looking restaurant is perhaps best known for its extensive buffet. A wide range of cuisines including East Asian, Indian and Continental are covered, providing a plethora of choices.
Alternatively, they've got a good selection of pasta, risotto, paninis and curries on the menu that you can order à la carte. The open show kitchen, where food is cooked 'a la minute' by expert chefs, is also worth checking out. Sloane's has terrace seating with a gorgeous view of the Marina, which makes it an ideal place to enjoy breakfast at sunrise or a dinner at sunset.
4. La Farine
The dark gray walls and lime green chairs of La Farine at the JW Marriott Marquis create a stylish and vibrant interior that is given a touch of playfulness by the mirrors lining the walls. So here's a fun fact: La Farine has exactly 247 mirrors, a nod to the fact that they're open 24/7!
Take a French culinary voyage with a Camembert Sandwich, Mushroom Vol-au-Vent or Ratatouille. One of the more unique aspects of the menu is the 'potato' section, covering everything from the staple French fries, to the more creative Pommes Lyonnaise and Pommes Anna, which is like a layered potato cake. Their award-winning Afternoon Tea puts you in the care of a Tea Sommelier, who guides you through several refreshing flavors before you make your pick.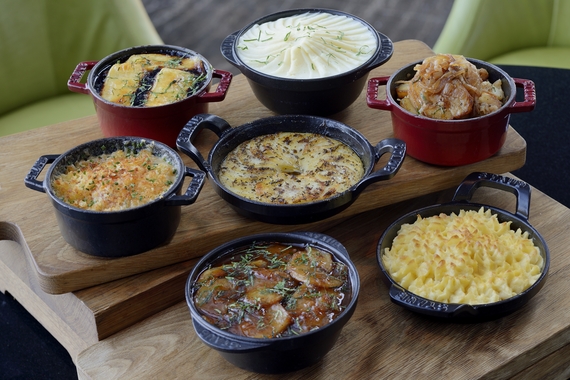 Pic courtesy of JW Marriot Marquis Dubai
5. Aroos Damascus
Along a busy street in Deira, which is one of Dubai's older areas, sits Aroos Damascus, a simple Syrian restaurant that is remarkable for the massive space it takes up along the sidewalk, and even more so for the crowd that occupies all of it.
It's considered one of the best destinations for Arabic food in the area, gaining its reputation through word of mouth alone. Mezze is always a popular choice, including classic dips such as hummus, moutabbal and mohammara. Fatteh (pieces of toasted flatbread mixed with yogurt or olive oil), a Syrian delicacy, can be enjoyed alongside mashed fava beans and pastries stuffed with vegetables or cheese.
6. Elevation Burger
There are a few Elevation Burger outlets in Dubai, including shopping malls like The Dubai Mall, but their main outlet on Sheikh Zayed Road is the only one that's open 24/7.
Known for its organic approach to burgers, Elevation Burger has become a familiar sight along the East Coast and opened its doors in Dubai two years ago. It has since become one of the most popular places for those seeking a late night snack with a little less guilt. And we sure love their veggie burger (click here for other great veggie burgers in Dubai)!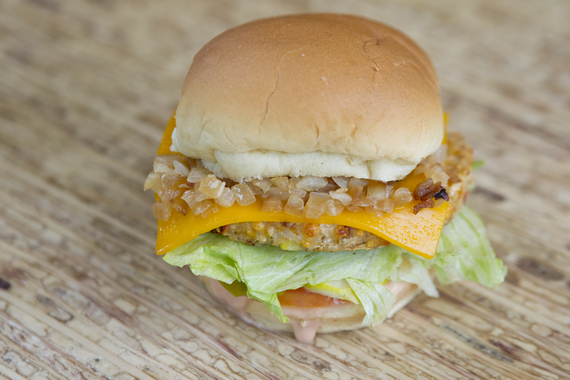 Pic courtesy of Elevation Burger
7. Al Reef Lebanese Bakery
One of the oldest Arabic bakeries in Dubai, Al Reef also has a few outlets spread out across the city, and each one of them bakes up hot and fresh goodies at all hours, which is a boon for late night partygoers!
Their signature item is the manakish, which is like a flatbread pizza, with cheese being the most popular topping, but there are plenty more to choose from, including zaatar (a herb mix with thyme), spicy tomato and spinach. If that's not enough, you could choose from their selection of sandwiches such as spicy potato, halloumi and falafel, as well as sides such as mezze and stuffed pastries.
With its buzzing and vibrant nightlife, Dubai is fast becoming a contender for the title of 'City That Never Sleeps'. Popular clubs, restaurants and bars stay open well into the late hours of the night, and others have stepped up to provide round-the-clock service. So if you're in Dubai and looking for an early breakfast or a post-clubbing snack, you can rest assured that you'll never go hungry.
MORE FROM VeggieBuzz.com:
The Veggie 7 Series: ways to jazz up your hummus!
A simple vanilla chia pudding to play with
Follow VeggieBuzz on Instagram: instagram.com/veggiebuzz