It was a blip, really. For the briefest of moments, Michael Moore, filmmaker and champion of the underdog over big corporations, on Tuesday went unrecognized in Zuccotti Park in lower Manhattan, where Occupy Wall Street protesters are calling attention to many of the same issues Moore does in his documentaries.
The 20-something young man whose job it was to make sure only journalists entered the designated media area in the park stopped Moore to verify that he was in fact a member of the media. Journalists streaming after Moore, hoping to get a quote from him, assured the young man that Moore passed muster.
The scene was hectic and the media gatekeeper had a lot to keep track of, but his failure to recognize Moore, who wore his signature Detroit Tigers baseball cap, was a sign of how a new generation had taken up the protest banner. Another protester made that clear when he called on the crowd to join the next day's union march and show "this is not Woodstock II."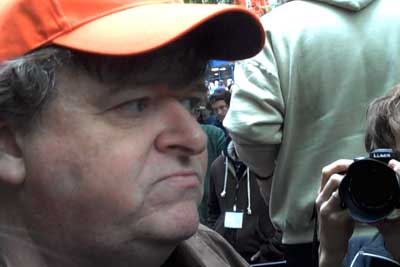 (Filmmaker Michael Moore talks to journalists at the Occupy Wall Street protest on Tuesday, Oct. 4, 2011. Photo by Vera Haller)
Many of the protesters in the park and those arrested last weekend on the Brooklyn Bridge likely were born in the late 1980s and early 1990s when Moore already was making movies that questioned the practices of big business. In Roger and Me (1989), Moore tries to track down General Motors CEO Roger Smith to ask why the company was closing plants in Flint, Mich., putting autoworkers out of work.
Campers in Zuccotti Park are asking a broader range of questions, about taxes paid by the wealthy, how banks treat the middle class and poor and how college students can bear the burden of tuition.
Moore made it clear that he supported the new movement. To the television cameras gathered around him, he criticized a cable news report that he said made light of the protesters.
"People here have lost their homes. People here have no health insurance. Students here are going to be saddled with incredible debt for the next 20 years of their lives. To come down here and ridicule them -- why not just report what you see?" he asked.
"I am a citizen and a participant in this," he said. "I am an equal with everyone here."
And while the news crews treated Moore like a celebrity, most everyone else who was camped out in the park went about business as usual. Several weeks into the protest, a certain routine seemed to have taken hold.
(At the Occupy Wall Street protest on Tuesday, Oct. 4, 2011. Photo by Siemond Chan)
At a food station, volunteers handed out slices of pizza and other donated food. Other protesters lounged on sleeping bags (one couple had an air mattress) or sat cross-legged on the pavement, writing slogans on pizza cartons like "Make Wall Street Pay! Tax the Rich." Someone played a banjo, another thumped a bongo.

All through the park conversations hummed -- reporters interviewing protesters, tourists sharing points of view and most of all, young people talking among themselves, energized and excited, to be part of this movement.