Sometimes you just need a little art in your life. It provokes conversation, provides visual stimulation and can be a defining moment of inspiration in an otherwise run of the mill day.
I recently encountered four large scale wooden sculptures that sit in Washington D.C.'s Golden Triangle Business Improvement District (BID), that reminded me of the refreshing impact art can have on our day-to-day routines.
The Golden Triangle is a neighborhood in the heart of downtown D.C. (it runs from the White House to just south of Dupont Circle). I discovered that local artist Foon Sham created the pieces that sit in four rain gardens at 19th and L Streets NW. He designed the sculptures to resemble vessels used to collect water; they are symbolic of the function of the rain gardens.
"In such an urban setting, with so much activity, we need inspiration...we need visual stimulus to rejuvenate us. But they still have a simplistic beauty to them and the natural color of the wood is maintained," he explains with pride.
The pieces are breathtaking in their shape and scope; they look like they could have sprouted from the ground. Each ring contains a dozen pieces of wood from the Pacific Northwest; the shape is achieved by varying the length of the pieces; no two pieces of wood are alike. The sculptures range from 876 blocks (the smallest) to 1,068 blocks.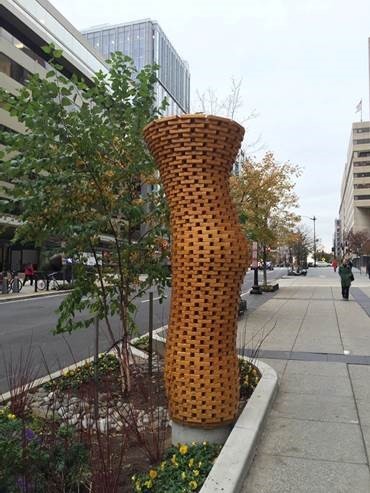 The artist points out that when the sun hits them, they give off almost a golden yellowish look, perfect for the Golden Triangle.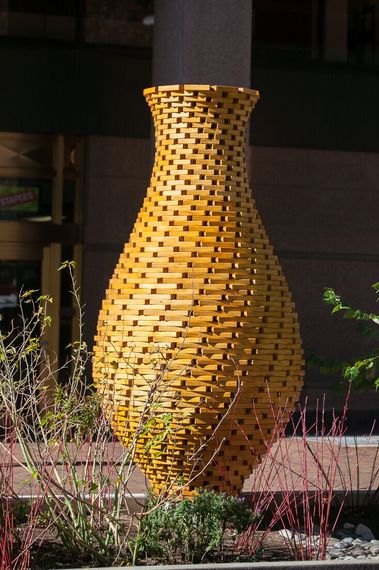 Sham's work is also on display in Mexico, Australia and Hong Kong.
The new sculptures are not the first public art pieces in the Golden Triangle; the BID continuously adds color and texture throughout the neighborhood. Past projects include artistic lights along the Connecticut Avenue median, art on the walls of the entrances to the Farragut North and Farragut West Metro stations, six artistic bike racks throughout the neighborhood, and most recently, light art at Murrow and Monroe Parks.
We should all be thankful to Foon for sharing his talent with all of us. Just don't forget to look up and appreciate it on your way.