As you may have noticed, we're doing a lot of eating here in this Oasis of ours, and most of it is thanks to Tal Ronnen, the Executive Chef and Founder of Veg Advantae and Lex Townes, Chef.
Before I post all the drool-worthy photos, I wanted to take a minute to share with you some of their thoughts on vegan food, relaxation, and home-made ice cream.
Tell me a little bit about your company?
Lex: Veg Advantage is a select group of chefs who broker innovative new vegan products. We create new vegan dishes for food service professionals, including universities, corporate dining halls, and special events. We've worked with Yahoo! Corporate Dining, Disney, AOL's café, Whole Foods, NYU, University of Texas, Yale, Johns Hopkins, and the Mayo Clinic.
We empower food service professionals to create and freely express new innovative vegan dishes. We go in and teach them how to create these things themselves. Our real work is to empower other chefs to do this.
And we have a slightly different approach than most vegan chefs. Instead of coming from a traditional vegan / vegetarian perspective, we try to come from a classic French perspective and then make it our own.
You spent the last month working with and cooking for Oprah while she was on her infamous fast - what was that like? What was her favorite dish?
Tal: The first time I worked with Oprah was on her 21-day cleanse with Kathy Freston, which was not only vegan but also gluten-free, sugar-free, and wheat-free. So that was a little more challenging but it was a great experience. I did a take on oysters Rockefeller, but called artichoke and pyster mushroom Rockefeller. And instead of using oyster shells, I used the artichoke leaves, and then I used the mushrooms, pan-friend with nori so it had a seafood taste. She really liked that.
How do you unplug / recharge? What do you do to reduce stress?
Lex: I work out. I work out, meditate. Eat good food - that's also a great, great stress reliever. Food that is really nutritious.
And what are those delicious faux-chicken satays made out of?
Tal: Gardein, which is a garden grown protein made of vegetables and grains like soy, wheat, peas, beets and carrots.
Lex: And it's great because a 4 oz serving has 26 g of protein -- which is about 6% more than chicken. And its more readily absorbed because it's in long chain amino form versus an animal protein form. And the best part is that It doesn't come seasoned or breaded or anything, so it lets chefs really cook with it.
What's your favorite thing to eat? Are you both vegan?
Tal: We're both vegan. At home I stick to whole grains, soy foods like tofu and tempeh, lots of fresh produce, and lots of green.
What's your favorite treat food?
Lex: I spin my own ice cream, made with coconut milk, agave nectar, and maple syrup. Then, I'll make cinnamon, apple pie, chocolate, and strawberry flavors from that.
***
And on that note, here are some of the delicious snacks we've been eating all day...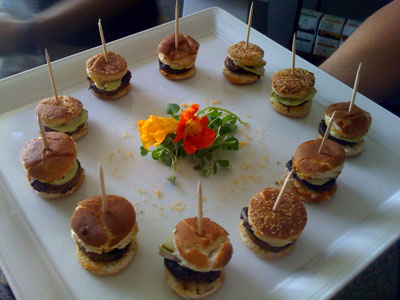 Cajun-Seared Portobello Sliders With Acovado Cream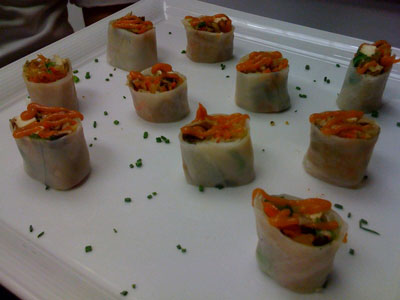 Ponzu-Glazed Tofu Spring Rolls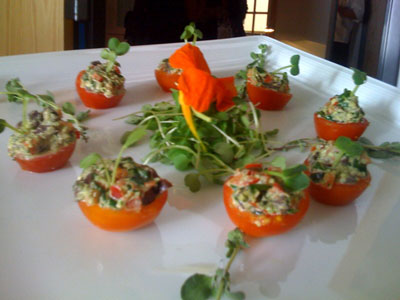 Pine Nut and Spinach Tomato Cups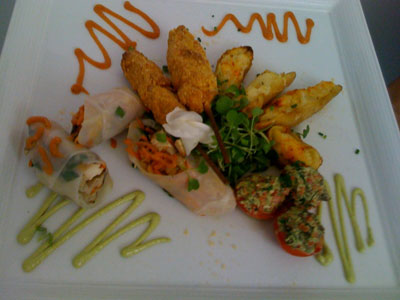 Clockwise From Bottom Left: Tomato Cups, Spring Rolls, Twice-Baked Fingerling Potatoes with Horseradish Cream and Smoked Dulse, Cornmeal-Crusted Gardein Chicken Satay with Ancho-Chilli Sauce