The Decemberists make for a particularly twee-tolerant type of fan. If you like them, it's likely you've made peace with the somewhat self-indulgent (which is not to say unwarranted) baroque lyricism and folklore narrative-as-album frame technique. And there's even a certain level of pretentiousness that one comes to expect (and often value) from this Portland-based ensemble; references to mariners, dirigibles, and the ghosts of babies birthed in dry ravines are not only par for the quirky course but also part of what makes the band so lovable in the first place.
So it should come as no stretch nor any real surprise that The Decemberists' newest album, The Hazards of Love takes the form of that vaunted exercise in musical construction: the rock-opera.
[Before we get any further, let's clarify: I've heard of Tommy and "Pinball Wizard" has a recurring place an almost all of my party playlists but the rock opera is a musical genre with which I have very little experience.]
The 17-track album is good, definitely, and left me with the sneaking suspicion that in the (hopefully) long and future history of rock operas this particular one will go down as a success. But that doesn't mean the album isn't without it's extraneous eccentricities. The three-plus minute long instrumental and organ-heavy "Prelude," while undoubtedly a useful scene-setter in performance, feels a little unnecessary on the album itself and is likely to become a full-fledged annoyance when trying to lazily set the iPod on shuffle. In the same vein, the children's choir on "The Hazards of Love 3 (Revenge!)" is a discordant and over-indulgent choice that could and should have been avoided.
The story itself is typical Decemberist fairytale -- starring two star-crossed lovers, an injured white fawn, the vengeful rake and the audibly terrifying queen -- with guest stars Becky Stark (from Lavender Diamond) and Shara Worden (from My Brightest Diamond) -- two bands I have never heard of! -- voicing Margaret and the Queen, respectively. And the lyrics make the liner notes a worthy read, though you can certainly enjoy the album without following the storyline.
Once again, though, it's what frontman Colin Meloy did so well on past albums -- marrying an infectious melody with his lyrical and instrumental peccadilloes -- that makes this album listenable and loveable. Singable standouts are: "The Wanting Comes in Waves" (both "Repaid" and "Reprise"), "The Rake's Song", "Annan Water", and "The Abduction of Margaret", while "A Bower Scene" gets extra points for it's soaring rock opera crescendos and "Margaret in Captivity" for Meloy's lyrical and alliterate genius that is perfectly encapsulated in the line "limber limbs akimbo." Swoon.
I suspect strongly that The Hazards of Love is a wonder to behold in performance, which is a good thing because I've got tickets to their June 10th show at Radio City Music Hall.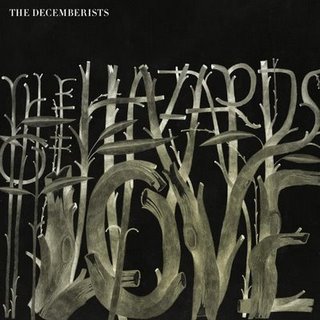 The Decemberists' fifth studio album "The Hazards Of Love" comes out today, March 24th.