Four years ago, I decided to get involved with UNICEF, the humanitarian organization responsible for helping save more children's lives than any other. What UNICEF cared about then -- and what UNICEF still cares about -- are the world's most vulnerable children, many of whom miss out on a quality education or die needlessly from things we rarely have to worry about in the United States.
When I began working with UNICEF, I learned that 26,000 children under the age of five were dying every day because they didn't have access to vaccines, decent medical care, proper nutrition or clean water. Today, that number is 19,000.
Like UNICEF, I believe in a world where zero children die unnecessarily and where every child has the chance to thrive. That's why I began designing the décor for the annual UNICEF Snowflake Ball. It was a way that I could lend my talents to help the world's kids. Subsequently, UNICEF invited me to become an Ambassador, and to this day I consider it one of the highest honors ever bestowed on me.
A couple of months ago I had the opportunity to see UNICEF's work firsthand in Mongolia, where many children face adult-sized challenges. Insufficient nutrition, inadequate sanitation and running water, and limited access to proper medical care and vaccines have resulted in a startling under-five mortality rate of 31 per 1,000 births. That's nearly quadruple the child mortality rate here in the United States.
I began my visit to Mongolia in the capital of Ulaanbaatar, where thousands of families have arrived from the countryside with very little money or sufficient skills to make a decent living. Often, children subsist on only one nutritionally vacuous meal a day and become stunted, which means they will never reach their full physical or mental potential.
Because of overcrowding in Ulaanbaatar, some of the poorest children must attend classes in shifts to accommodate this sudden population influx. As you can imagine, disease can spread rapidly in tightly packed schools without proper sanitation and running water. In response, UNICEF is installing indoor plumbing in many of these public schools and is teaching children proper hygiene techniques. During my visit to one of these schools, children proudly showed me how they wash their hands in the bathroom and clearly understood why hygiene was important to their health.
In the countryside, the problems are different but no less complex. A long history of herding and nomadism means that much of Mongolia's population lives in difficult-to-reach areas without good access to medical care, safe water or education. In fact, many of Mongolia's children leave their rural homes at the age of six to live in the dormitories of centralized schools. With herding families spread out over a vast terrain, it's simply too costly for people to travel great distances with any regularity, so children often go months without seeing their parents. Families make this sacrifice because they know that education is key to a better life.
While leaving their parents at a young age is hard enough, kids also face the challenge of living in crowded dormitories without indoor plumbing or adequate heat. These children endure refrigerator-like classrooms during the day and freezer-like dormitories at night when temperatures drop below zero . In one school I visited, the unheated and unlit toilet facilities were located half a football field away from the classrooms and dormitories. Imagine a six-year-old having to cross a frozen field in the middle of the night to use the bathroom.
Despite these difficulties, there is no question that these kids and their families are dedicated to learning and to creating a better future for themselves. I met smiling children who were eager to share their aspirations in impressive English. Through poignant art work, they communicated their hopes: heated dorm rooms, computer labs, jobs that would allow them to eat regularly and support their families.
With the end of the year rapidly approaching, most of us are focused on celebrating with family and friends. This holiday season, I'm thankful for my beautiful family, my two healthy children, and the many lessons I learned from the kids I met in Mongolia. When I turn on my faucet or slip into my warm bed, I think of them. I'm much more appreciative of everything I have in my life and less apt to take the basic things I enjoy for granted.
These children have even inspired me to finish my holiday shopping ahead of schedule. Instead of ill-fitting sweaters, I'm buying UNICEF Inspired Gifts -- lifesaving items that are shipped to Mongolia and other developing countries where kids need them the most. This #GivingTuesday, I encourage you to get involved. Purchasing an Inspired Gift means access to water where there previously was none, vaccines for children who would suffer without them, or even a temporary school during an emergency or natural disaster.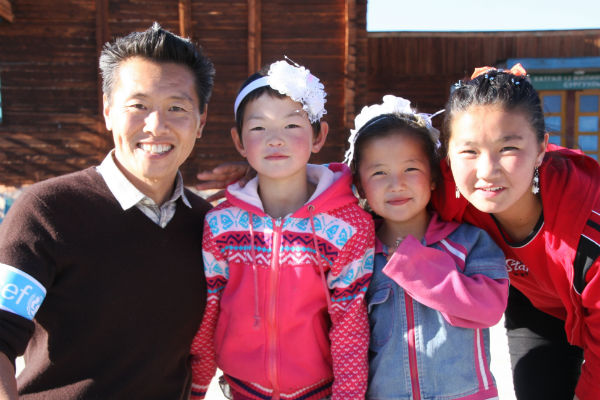 Photo: U.S. Fund for UNICEF. UNICEF Ambassador Vern Yip is all smiles with students at a dormitory school in Khuvsghul province, Mongolia.
With your help, I know we can reach a day when all of the children of Mongolia -- and everywhere around the world -- will get to live to their full potential.
This blog is part of our #GivingTuesday series, produced by The Huffington Post and the teams at InterAction, 92nd Street Y,United Nations Foundation, and others. Following Black Friday and Cyber Monday, #GivingTuesday -- which takes place for the first time on Tuesday, November 27 -- is a movement intended to open the holiday season on a philanthropic note. Go to www.givingtuesday.org to learn more and get involved.