The Swiss artist Jean Tinguely is considered as one of the main protagonists of kinetic art. The artist was born in 1925 in Fribourg, Switzerland, but grew up in Basel and belonged to the Parisian avant-garde and the Nouveau Réalisme (New Realists) as an adult. Since 1996, the Museum Tinguely showcases a large collection of his work, including paintings, drawings, sculptures, machines, installations, and videos.
In the past 16 years since the opening of the museum the collection has grown considerably, and an update of the catalog was urgently needed. The new catalogue has since been published, accompanied by the first extensive exhibition of the Tinguely Collection in many years.
With this retrospective exhibition entitled Tinguely@Tinguely the museum also takes the opportunity to present a revised view of his oeuvre. As the director of the museum, Roland Wetzel explains:
"We show all the Tinguely from 1954 to 1991, but we want to focus especially on the young Tinguely, the very innovative one that created new kinds of art, especially his self-destructing machines or his machines that made drawings, or his early reliefs that put abstract art through movement into a new state."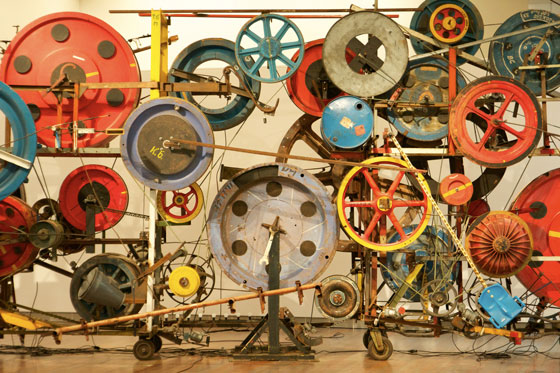 Jean Tinguely: Fatamorgana, Méta-Harmonie IV (1985)
Consequently, Tinguely@Tinguely presents the artist as a major inventor and innovator of post-mid-twentieth-century art. The show presents the groups Méta-Herbin, Méta-Malevich, and Blanc sur Blanc, the first drawing machines, and the Volumes Virtuels. Videos show his performance pieces and auto-destructive art works such as Study for an End of the World No. 2 (1962), which was realized in the desert outside Las Vegas and specifically designed to be broadcast and publicized in the media.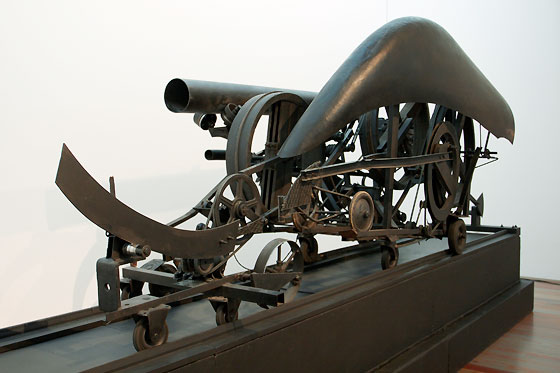 Jean Tinguely: Hannibal II (1967)
Among the numerous works on display are sculptures that he created with artist friends such as Niki de Saint Phalle, Berhard Luginbühl, Daniel Spoerri, and Eva Aeppli, as well as his sculptures that deal with his passion for motor racing, and two of his complex large-scale sculptures that touch the senses by the use of kinetic, optical, and acoustic means. As the curators of the exhibition state:
"Tinguely was one of the most radical and subversive artists of the twentieth century. His work deals with many fundamental questions of our human existence: how we relate to machines, the collaborative art work, the beauty and uselessness of movement, sound, noise and music, shadow play, lightness and heaviness, dissolution and emptiness, and the elements, as well as generally questioning the roles of art works, their originators and their beholders."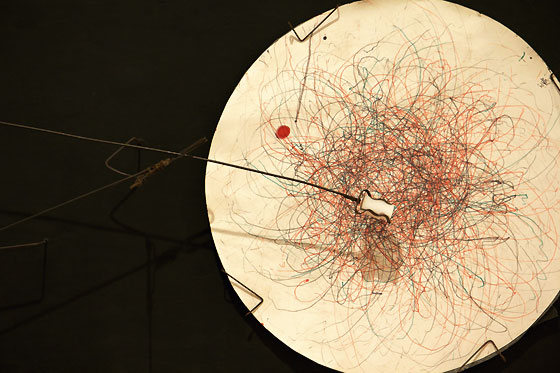 Jean Tinguely: Machine à dessiner No. 3, Relief méta-mécanique (1955)
For more videos covering contemporary art and architecture go to VernissageTV.