On February 23, 2012, the British actress Joanna Lumley unveiled the new temporary artwork for the Fourth Plinth in London's Trafalgar Square. Conceived by the artist duo Elmgreen & Dragset, the work is a 4,1 meters high golden bronze sculpture that portrays a boy riding a rocking horse. The sculpture is titled Powerless Structures, Fig. 101 and stands in striking contrast to the motives of historical heroes and proud equestrian statues on the other three bases.
The Fourth Plinth is one of four bases that stand at the corners Trafalgar Square in central London. The two smaller southern plinths carry sculptures of Henry Havelock and Charles James Napier; the northern plinths were designed to carry equestrian statues. While the northeastern plinth was completed with a statue of George IV, the northwestern plinth, originally intended to hold an equestrian statue of William IV, remained empty because of insufficient funds. Built in 1841, the Fourth Plinth remained empty for over 150 years.
Michael Elmgreen and Ingar Dragset have finally added the missing equestrian statue to the Fourth Plinth, but their boy astride his rocking horse doesn't commemorate a glorious history, but is rather a symbol for the future, and puts the past in a different perspective.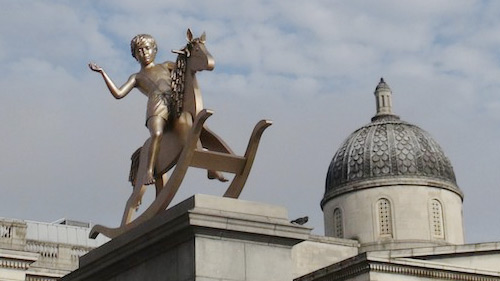 Elmgreen & Dragset's sculpture for the Fourth Plinth
Elmgreen & Dragset follow Mark Wallinger (1999), Bill Woodrow (2000), Rachel Whiteread (2001), Marc Quinn (2005), Thomas Schütte (2007), Antony Gormley (2009), and Yinka Shonibare (2010) to occupy the Fourth Plinth. In 2013, Katharina Fritsch's commission Hahn / Cock will be unveiled. The Royal Society of Arts (RSA) initiated the use of the Fourth Plinth for contemporary art in 1998. Today, the Mayor of London with support from Arts Council England funds the Fourth Plinth Programme.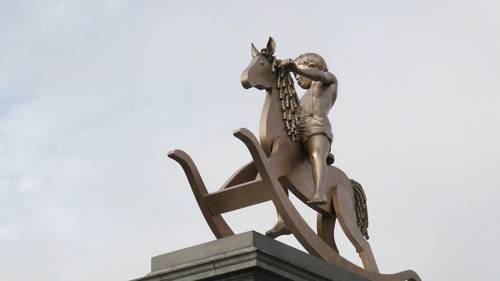 The new kid on the block
Joanna Lumley Unveils Fourth Plinth Statue, Elmgreen & Dragset's Powerless Structures, Fig. 101. Trafalgar Square, London / UK, February 21, 2012.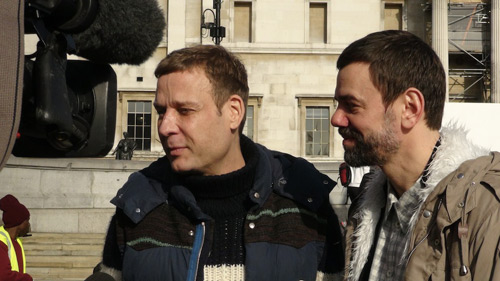 Michael Elmgreen and Ingar Dragset
PS: Click here for more info and videos on Elmgreen & Dragset. For more videos covering contemporary art go to VernissageTV.