Musician and artist David Byrne, best known as frontman and founding member of the band Talking Heads, created a site-specific outdoor installation under New Yorks High Line at 25th Street. The work is titled Tight Spot and inaugurates a space that has recently been acquired by The Pace Gallery.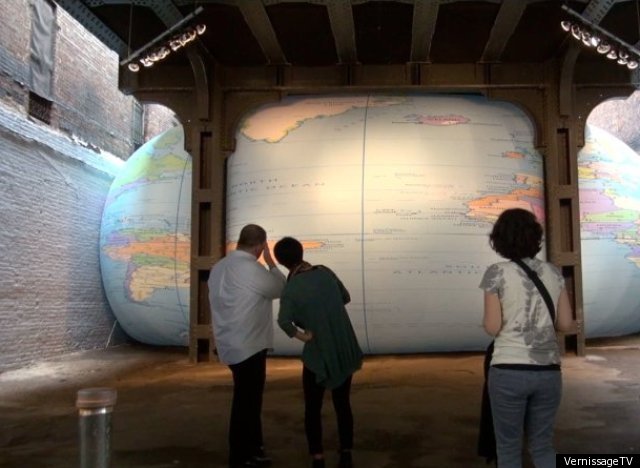 Tight Spot is a huge inflatable terrestrial globe that is squeezed in the space bordered by the High Line bridge above and the brick walls at the sides. The globe emanates a low-frequency sound that can be heard from the surrounding streets and the High Line Park - provided there's not too much competing noise from the cars and trucks in the streets. (To hear the sound in this video, adequate speakers or headphones are required).
The globe David Byrne created is based on the type used in primary schools. The inflated "world" is wedged within the confines of the space, thus becoming deliberately distorted. Speakers placed deep within the globe produce the sound that is emanating. Byrne didn't use any instruments or synthesizers to create the sound, but simply made them with his voice, which filtered and processed until it was unrecognizable. Tight Spot is on view until October 1, 2011. After that, Pace's fifth gallery space in New York will be built here.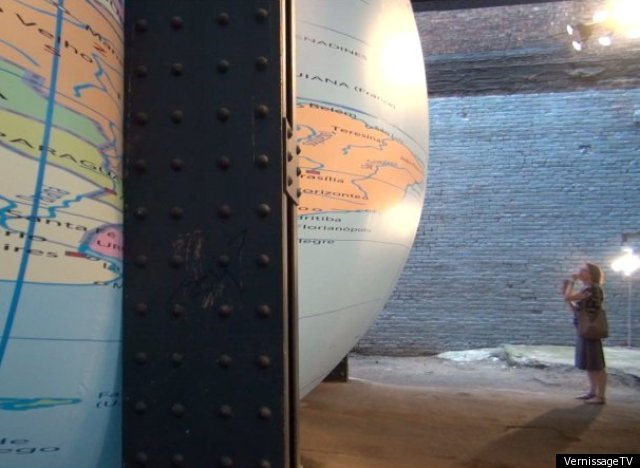 David Byrne was born in 1952 in Dumbarton, Scotland. He studied at the Rhode Island School of Design and the Maryland Institute College of Art. Since the mid-1990s David Byrne has exhibited his work in major solo shows and public art projects around the world.
For more videos covering contemporary art go to VernissageTV.