Fujiko Nakaya: Veil is a site-specific installation that enters into dialog with the Glass House, the iconic building that was designed American architect Philip Johnson and completed in 1949. The Japanese artist Fujiko Nakaya is known for her fog sculptures and environments. With Veil, she wraps the Glass House in a veil of dense mist that comes and goes, hiding the Glass House, and making it visible again. Inside the house, the fog seems to turn the huge glass plates of the structure into white walls, producing an opaque atmosphere in the otherwise extremely transparent building. Visitors can make this experience for approximately 10 to 15 minutes each hour, until November 30, 2014.
In this video, we attend the opening reception of Fujiko Nakaya's Veil installation at The Glass House in New Canaan (CT, USA). More videos covering Fujiko Nakaya's fog installation and Philip Johnson's Glass House, including interviews with Fujiko Nakaya, Henry Urbach (Director, The Glass House), and Irene Shum Allen (Curator and Collections Manager, The Glass House) are coming soon.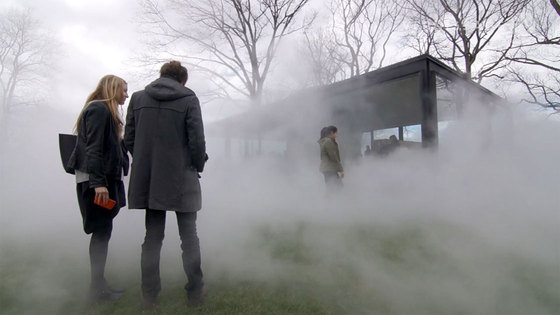 Fujiko Nakaya: Veil.
Fujiko Nakaya: Veil coincides with the 65th anniversary of the Glass House and its 2014 tour season. It's the first site-specific artist project to engage the iconic Glass House itself. For the installation, Fujiko Nakaya uses water that is pumped at high pressure through 600 nozzles installed on three sides of the Glass House. The fog that is created by this installation makes the wind and the air streams visible, which surround the Glass House. As Nakaya explains: "Fog responds constantly to its own surroundings, revealing and concealing the features of the environment. Fog makes visible things become invisible and invisible things -- like wind -- become visible."
For more videos covering contemporary art and architecture go to VernissageTV.