In this video, Taiwanese artist Mia Liu tells the story of how she used 60,000 tickets of New York's Guggenheim Museum to create a large-scale trompe l'oeil artwork. Titled Guggen' Dizzy, the op art-triptych presents itself as three large slowly rotating disks with colorful drawings. The piece is made of museum tickets from the Guggenheim Museum in New York, and colored masking tape, plywood and electric motors. Mia Liu translated geometric designs into three-dimensional wheels of color by using colored masking tape to stick the edges of the tickets together. In this video, the artist talks about the inspiration for this piece, how it is technically done, and her work in general.
Mia Liu was born in Taipei, Taiwan in 1980. She graduated from the San Francisco Art Institute in 2007, and in the same year, she enrolled in CUNY Hunter College's Graduate School of Art. Major exhibitions include CODA Paper Art, CODA Museum, Holland (2013); A Contemporary Art Exhibition Across the Strait, National Taiwan Museum of Fine Arts / National Art Museum of China, Taichung / Beijing (2013); Taiwan Calling: Phantom of Liberty / No Man's Land, MűcsarnokK / Ludwig Museum, Budapest, Hungary (2010).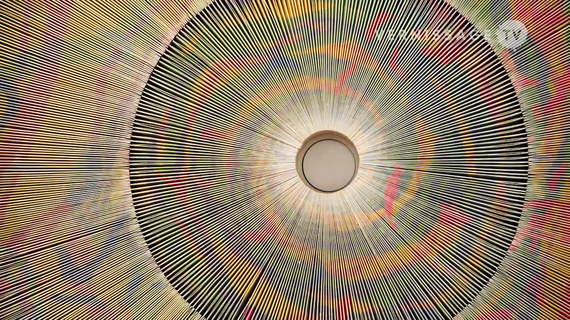 For more videos covering contemporary art and architecture go to VernissageTV.