What began in 2003 in one school as a campus-wide energy conservation competition to raise awareness about energy consumption is now being used as a successful tool for schools and entire districts to meet strict energy savings targets. This year, a record 430 schools worldwide participated in this year's Green Cup Challenge (GCC), a program managed by the Green Schools Alliance.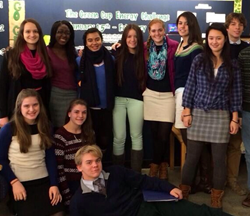 Photo: The Canterbury School Library served as the Green Cup Challenge HQ. Students created an Info Board where they posted GCC updates.
The Green Cup Energy Challenge included 314 schools, making it the largest electricity reduction competition for K-12 schools in the world, and saved 1.5 million pounds of CO2 from entering the atmosphere. From India to Illinois, this gamified program brought together students, faculty and staff from around the globe in a common effort to track their electricity use and make improvements to operations and facilities while also cultivating sustainable behaviors and student engagement. The Green Cup Recycling Challenge boosted school recycling efforts, saved hauling expenses, and increased awareness about resource conservation and consumption. "Students learned that when everyone works together, small, individual actions really can translate into significant, tangible change," says Peg Watson, president of the Green Schools Alliance.
The New York City Department of Education incorporates the program into their strategy to help reduce their own energy use. So much so that they Award $100,000 to the top ten energy-saving DOE schools, because that's on average how much the school saved the city in one month (25 percent of the municipal energy bill is schools -- 1800 of them). Con Edison sponsors the GCEC so that public schools can compete for free. 190 public schools participated in the Challenge and achieved an impressive 11 percent energy savings. "Involving the entire school community was a key strategy to achieving significant savings," says Enio Tom Vega, Custodial Engineer at I.S. 66, winner of the New York City regional challenge. Additionally, schools in the Boulder Valley School District participated in this year's challenge to promote energy savings district-wide, with the top 2 schools in each of the high school, middle school and elementary school categories receiving cash prizes.
It's time for other towns and cities to realize the value of the Green Cup Challenge and help incentivize participation in this friendly competition which unites the school community (students, teachers, custodians and administrators) to save money, reduce CO2 emissions and conserve resources. It's a win-win for towns and schools when a program like this receives the sponsorship and underwriting it needs to scale. With additional support, schools would have the collective ability to cut emissions by the gigaton, aggregate their reductions and savings, and further inspire the rest of our institutions to step it up and make energy reductions a priority. For more details about the Green Cup Challenge, click HERE.