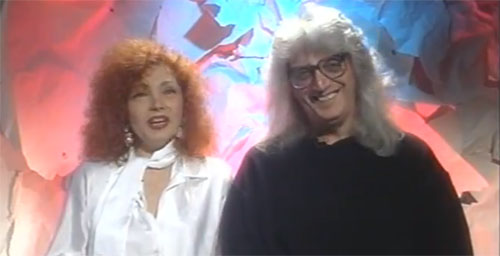 It's a special moment in the course of history when something unbelievably stunning, once lost or forgotten, is rediscovered. Like the Titanic, King Tut's Tomb, the Dead Sea Scrolls... or dusty tapes of a twisted QVC-style public-access show from early '90s New York City.
We proudly present you with the coolest show you never knew existed: At Home with Allan & Suzi.
Owners of the first-ever designer vintage boutique in the tri-state area, Allan and Suzi opened their first shop on 80th and Amsterdam in 1987. Surrounded by the fashionable and creative, the duo began a public-access show to sell their rare merchandise, which aired from 1992-1995. The show is available here for the first time since the original air dates, in all their gritty, betamax glory.
Featuring characters as rare and magnificent as the clothes that they model, every second of Allan & Suzi (and we have about 300 hours of it, that will eventually all be digitized) is solid gold.
Just as exciting as this rediscovery is the forthcoming VFILES-produced resurrection of At Home with Allan & Suzi, featuring the iconic hosts themselves!
So clear your schedule, 'cause you're gonna be busy for the next few hours -- and in you're in NYC, stop by their newest location at 237 Centre Street.