The ATL. A-town. Hotlanta. Whatever you want to call it, Atlanta is known for many different things: its diverse musical heritage (John Mayer got his big break in Atlanta, as did Ludacris and Usher); its Southern hospitality; its sports teams (the Braves, Falcons and Hawks, to name a few) and Hartsfield-Jackson International Airport, 'the world's busiest passenger airport.'
While Atlanta seems to be an open book (Gone With the Wind, anyone?), however, here are 10 things that you may not know about Atlanta.

Atlanta is the fifth city to be the capital of the state of Georgia.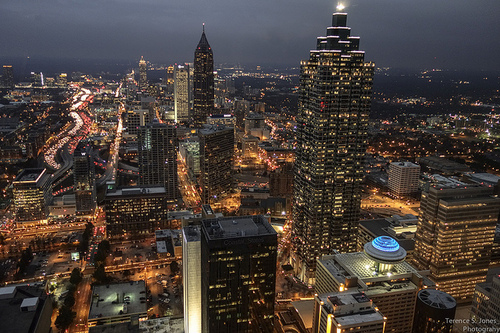 Photo credit: Terence S. Jones via
Flickr
.
Georgia's government operated from Savannah in 1776, when the state was founded. However, when the British captured Savannah in 1778 during the Revolutionary War, the government was moved to Augusta. When Augusta was deemed 'too far east' for some folks, the capital was moved to Louisville in 1796. Still unsatisfied (and with reports of malarial symptoms cropping up in Louisville), a new capital was constructed in Milledgeville in 1807. The government remained in Milledgeville until 1868, when Atlanta became the fifth -- and final -- capital of Georgia.

Almost all directions in Atlanta include the phrase: 'Go down Peachtree.'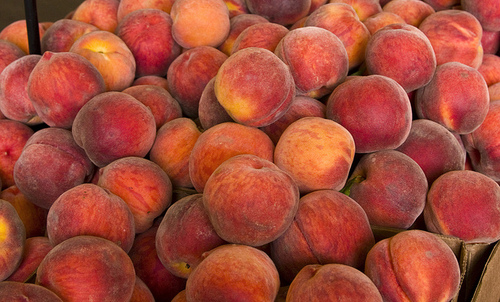 Photo credit: liz west via
Flickr
.
That's because there are more than 70 roads with the word "Peachtree" in their names. Peachtree doesn't have anything to do with peaches, though. Creek and Cherokee Indians inhabited the site where Atlanta stands today; one of the major villages was called 'Standing Pitch Tree,' which later became 'Peach Tree.'

If you don't feel like driving down Peachtree, try running down it.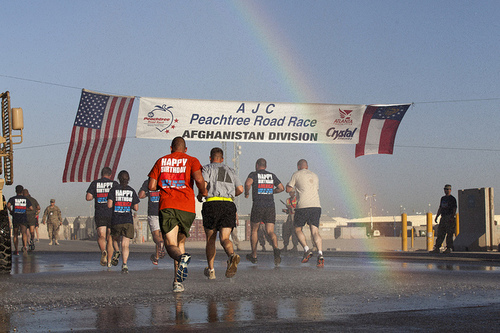 Photo credit: DVIDSHUB via
Flickr
With 60,000 of your closest friends. The Peachtree Road Race, which takes place every Fourth of July Weekend, is one of the largest 10K footraces in the world. Participants register in a lottery system to win an entry and competition is fierce. Runners who have participated for consecutive years are called 'streakers.'

Atlanta is known as the birthplace of the civil rights movement in America.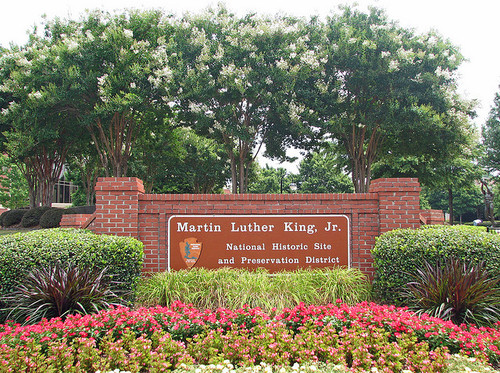 Photo credit: southbound_07 via
Flickr
.
Home to many of the civil rights movement's key leaders and organizations, Atlanta played a critical role in this period of American history. Visit the Martin Luther King, Jr. National Historic Site to learn more about Nobel Peace Prize winner's childhood and too-short life. Admission is free and most of the park can be explored with a self-guided tour.

You can walk, bike ride, in-line skate, skateboard, horseback ride or run from Atlanta to Alabama on the Silver Comet Trail.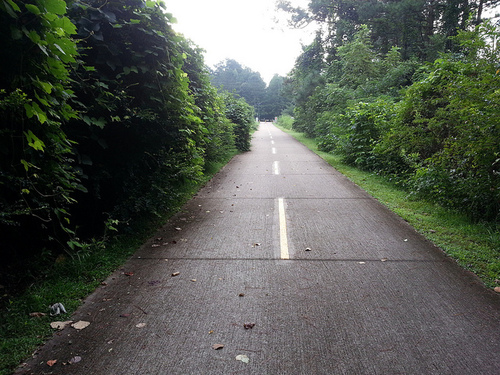 Photo credit: atlbike via
Flickr
.
This fully paved trail is built over old railroad trails and spans 61.5 miles over railroad trestles and under mountains from the Mavell Road Trailhead in Smyrna to the Georgia/Alabama state line. Once in Alabama, the trail joins the Chief Ladiga Trail, which runs for another 33 miles.

Atlanta is the only city in North America destroyed by a fire as an act of war.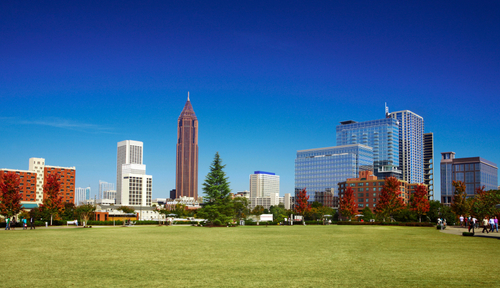 During the Civil War (otherwise known as the 'War Between the States' according to some old-timers), General Sherman burned the city on his infamous 'March to the Sea.' Following the city's surrender to Sherman in November of 1864, only 400 structures remained standing. However, like the mythological phoenix, Atlanta rose from the ashes stronger and more beautiful. As a result, the city's symbol is the phoenix.

Ask a local for direction and you may hear 'ITP' and 'OTP.'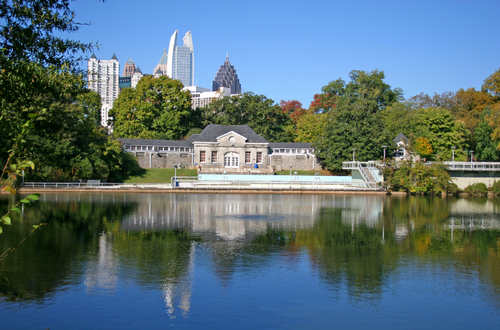 It's not a reflection on you. Rather, ITP and OTP stand for 'inside the perimeter' and 'outside the perimeter.' Interstate 285, a more than 60 mile length of highway that encircles the city, is the 'P' part of the equation. OTP is considered Outer Mongolia to many ITP residents.

The largest Hindu Temple in the world outside of India is located 10 miles OTP of Atlanta.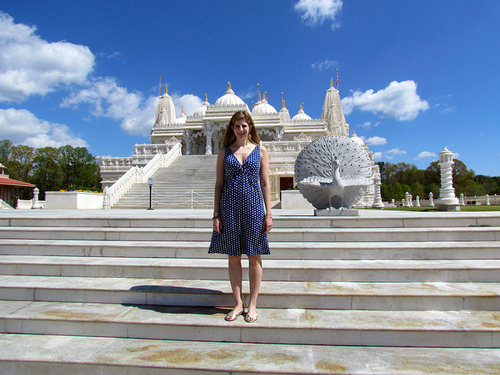 Photo credit: David Berkowit via
Flickr
.
As a result of the city's continuously growing international population (one in 10 people in metro Atlanta was born outside the United States), Atlanta is home to more than 1,000 places of worship including churches, synagogues, mosques and both Hindu and Buddhist temples.

The Capitol Dome that you see glinting in the Atlanta skyline is layered in 43 ounces of pure gold.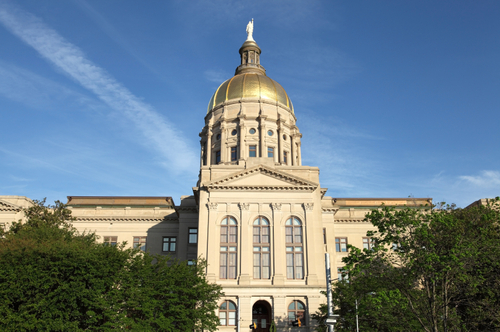 In 1958, the original tin-covered dome was gilded in pure gold that was mined in Dahlonega, Georgia, the site of America's first 'Gold Rush' in 1829. The Georgia Capitol Dome is one of 10 state capitol domes that is covered in gold leaf and is one of the largest along with Iowa's.

The world's largest drive-in restaurant is located in Atlanta.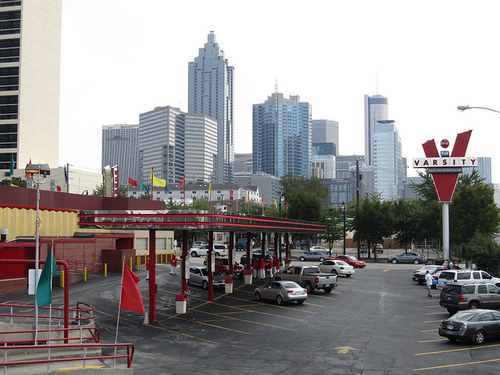 Photo credit: Ken Lund via
Flickr
.
Housed on more than two acres in Downtown Atlanta, the Varsity has been an Atlanta institution for more than 75 years. Able to accommodate 600 cars outside and more than 800 people inside, the Varsity makes two miles of hot dogs, 2500 pounds of potatoes, 5000 fried pies and 300 gallons of chili from scratch daily. It's necessary when Georgia Tech plays at home: more than 30,000 people visit the Varsity on Yellowjacket game days.
Want to eliminate hassle at the airport and start the fun in Atlanta immediately? Consider a
private airport shuttle from Hartsfield-Jackson International Airport
straight to your hotel. Want to explore the city without breaking your budget?
Consider an Atlanta CityPASS
 and you can save more than 40% on  Atlanta's top attractions.
--Katie Coakley for Viator