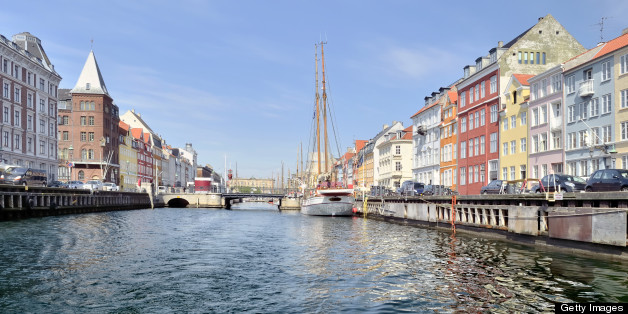 Copenhagen is one of those cities that just works. I'm not the only one who thinks so; it always rates highly on those coveted "Best in the World" lists for livability, environmental friendliness, and various other desirable traits. And the shopping is pretty sensational. Packed with palaces and castles, littered with gardens and snaked by pretty waterways, I can think of countless reasons to suggest a visit to the Danish capital. Here are 10 of them.

#1 Thing to Do in Copenhagen: Rosenborg Slot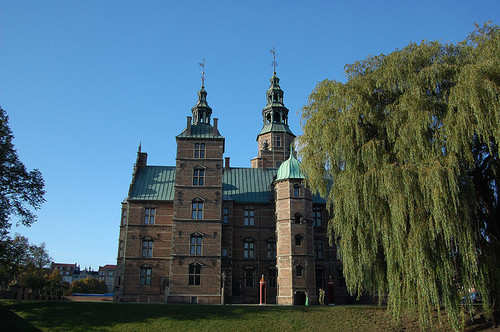 Photo credit: KLMircea via Flickr.
Of all the gems to visit in central Copenhagen, this 16th-century palace one was far and away my favorite. Located in the Kongens Have (or King's Garden) just north of the city and with entry fairly priced at 70DKK per person, it is a must-see (it's also included in this Copenhagen grand city tour). The royal residence until 1710, these days Rosenberg houses a magnificent collection of royal artifacts over three floors (plus an armory and treasury underground where the royal jewels are kept), in several dozen faithfully maintained rooms. The feeling is that you've been granted entry into an oversized royal dollhouse. A big fan of real life fairytale majesty, everything from the antique weaponry to the mountainous displays of royal China impressed me.
My favorite room, however, is the Mirror Room, so named because its walls, floor, and ceiling are completely reflective, furnished to satisfy King Frederick IV's opulent Baroque fancies. No bad hair days allowed back then, folks.

#2 Thing to Do in Copenhagen: Frederiksberg Slot and Gardens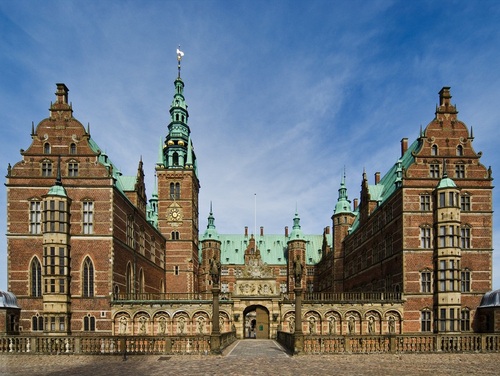 The grand Frederiksberg Slot, another star in the impressive galaxy of royal residences, is only open to the public on the last Saturday of each month. Its magnificent gardens, however, are open daily and are the ideal place to go on those long lazy Scandinavian summer's afternoons that stretch on and on. Locals flock here to walk, jog, ramble and lounge. Right next door to the Copenhagen Zoo, it is a good place for families to escape the buzz of the city while staying close to the centre. Or you can board a boat on the lake and be rowed about for twenty minutes. Lie back, close your eyes, and pretend you're royalty...
Get around easily on a Copenhagen Hop-on, Hop-off tour

#3 Thing to Do in Copenhagen: Vesterbro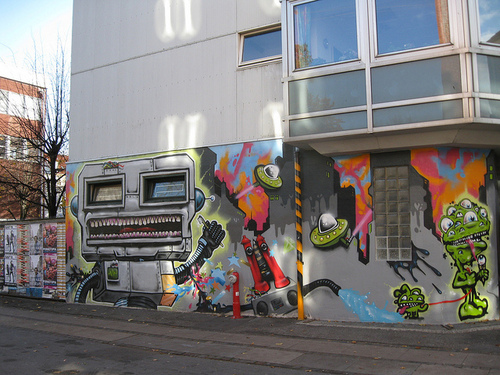 Photo credit: Andrea Lai via Flickr.
West of the city center, Vesterbro is Copenhagen's boho zone, where an influx of creatives, students and immigrants has seen this former red light and meat-packing district transformed from tired to desired. While still a bit sleazy in patches and unadvisable for lone women travelers at night (the stretch of Istegade between Rewentlowsgade and Oehlenschlagersgade, for example, is nothing but sex traders and drug dealers), the remainder of Vesterbro comprises wonderful boutiques, design studios, eateries, and bars. But, of course, you need to know where to find them.
If you're not sure where to start, try cruising Istegade, Vesterbrogade, Fredericksberg Allé, and the surrounding back streets on a rented bike (a good way to zip through the bad bits). Alternatively, pop in to the City Museum on Vesterbrogade and rent an audio walking guide of the area. Complete with MP3 player and headphones, there are six tours to choose from, ranging from 16 to 38 minutes, all told from the perspective of a local artists or writer.
After all that wandering, visit one of the many restaurants and bars. Sticks n Sushi on Istegade is great if you're after a Japanese fix. Or Klubben on Enghavavej is the place for Danish classics like frikadeller (meatballs), wiener schnitzel, and smorrebrod (open sandwiches).

#4 Thing to Do in Copenhagen: Eat in Vaernedamsvej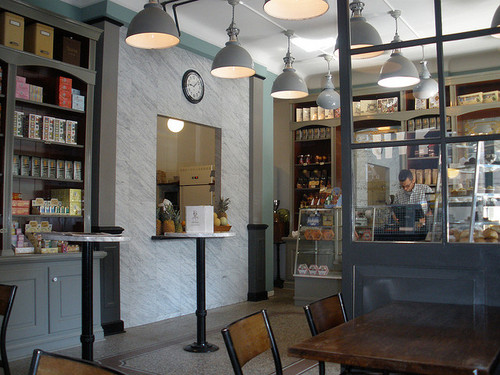 Photo credit: Aaron May via Flickr.
While we're on the topic of food... there are those among us for whom the quest and consumption of fine food is a reason for travel in itself rather than just a means to keep weary feet marching forward. If this is you, look no further than Vaernedamsvej (or Little Paris as it is otherwise known). Located in north Vesterbro, it is home to cafes and restaurants as well as specialist cheese, fish, wine and chocolate shops. It's worth the wait for a table at Granola, a popular brunch spot (Danes take their brunches very seriously). But remember to have a ready supply of cash as many of the stores only accept Danish cards.

#5 Thing to Do in Copenhagen: Changing of the guard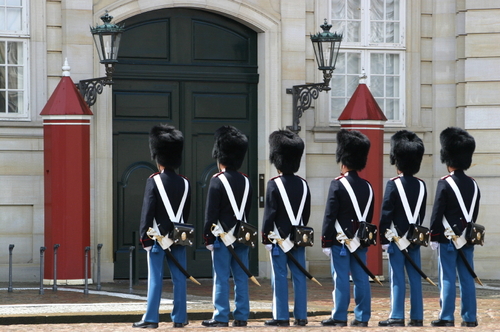 With the royal flag at Amaliensborg Palace sporting a crown insignia to indicate that the "Royals Were In", I swung by in the hope of popping in for a cuppa and a Danish with Princess Mary to swap anecdotes about our shared Australian expatriatism. That plan was soon abandoned when I realized that I was just in time for the midday reshuffle of the royal guard.
Dressed like Andersen's Steadfast Tin Soldiers (all navy-blue nutcracker precision), they percussed their way across the cobblestones in an elaborate six-man routine which boiled down to one bloke clocking off and another clocking on. One part of the ritual baffled me. The retiring soldier left his snazzy red overcoat in the guard's booth. The new man on duty had the perspicacity to check behind it, but not to hand it over to his departing colleague.
I was left to ponder... a post-GFC money-saving scheme of jacket sharing perhaps? Further investigation revealed that it was in fact a hangover from olden times when guards would sneak girlfriends into the guard box for company. Thus the coat check was a search for hidden paramours. Adorable. As one of the few free offerings in Copenhagen, this charming military display is highly advised.
Visit Amaliensborg Palace on a tour

#6 Thing to Do in Copenhagen: Tivoli Gardens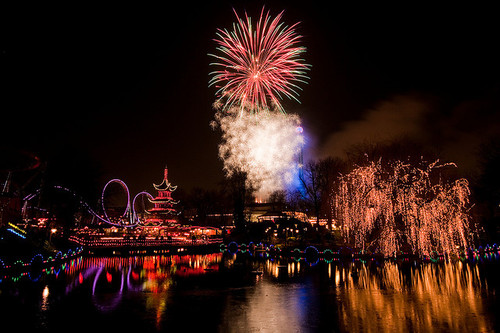 Photo credit: Stig Nygaard via Flickr.
Tivoli Gardens, an antique amusement park in the centre of Copenhagen, is the world's second-oldest (the top gong goes to another Danish leisure relic, Dyrehavsbakken in Klampenborg), and was the place that inspired Walt Disney to build Disneyland. Or so the legend goes.
Opened in 1843 and still flooded daily with tourists and local fun seekers alike, the two jewels in its well-worn crown are its wooden roller coaster and its carousel, the tallest in the world. All the usual suspects are there too - zero-G shockers, vertigo thrillers, and skill testing parlour games, as well as an aquarium, a theatre, and a concert hall. It's not a cheap day out with admission at 85DKK for anyone over the age of 12, and ride tickets costing 20DKK each or 200DKK for an unlimited rides pass. But if you're traveling with children, what's a few squillion pesos to put smiles on their little faces? (You can also get a discount on admission to Tivoli Gardens with the Copenhagen Card.)

#7 Thing to Do in Copenhagen: Hire a bike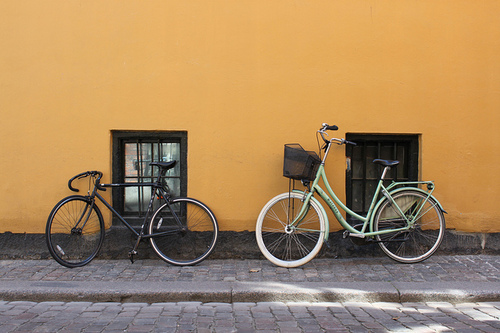 Photo credit: Nick S via Flickr.
Bikes go with Copenhagen like cream cheese on Danish rye. That is to say very, very well. The terrain is flat and easy to navigate, the roads are set up with dedicated bike lanes for greater cycling safety, and it's a cheap and green alternative for getting around a very pretty city. Most hotels rent bicycles for reasonable rates, or you can pick up a free city bike at any of the 110 dedicated bike-stands in the city centre.
Simply deposit 20DKK, ride away, and retrieve your deposit when you return the bike to any free bike stand. Note that these bikes are only for use in the central zone, so if you intend to venture a little further afield into Vesterbro or the bourgie area of Norrebro, you're better to pay for a day's rental.

#8 Thing to Do in Copenhagen: The Little Mermaid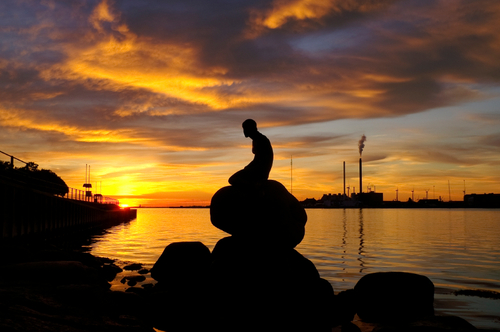 At the mouth of the Copenhagen harbour sits a modest statue of the Little Mermaid, the central character in the Hans Christian Andersen story of the same name. Despite her unimposing appearance, she attracts nearly 1 million visitors annually.
It's little wonder given Andersen's local hero status. Author of such children's classics as The Ugly Duckling, Thumbelina, The Emperor's New Clothes and countless others, Hans Christian Andersen is considered one of the true Great Danes. Unlike the 1989 Disney version of The Little Mermaid, Andersen's original fable was darker, a cautionary tale about unrequited love and being careful what you wish for.
Take a moment after a busy morning of sight-seeing to sit with the mournfully beautiful statue and reflect on what she represents. And make sure you do so before May 2010 when she is scheduled to leave Copenhagen for the first time in her almost 100-year history. For six months she'll be a special guest at the World Exhibition in Shanghai. Not bad for a wee water nymph.

#9 Thing to Do in Copenhagen: Carlsberg Brewery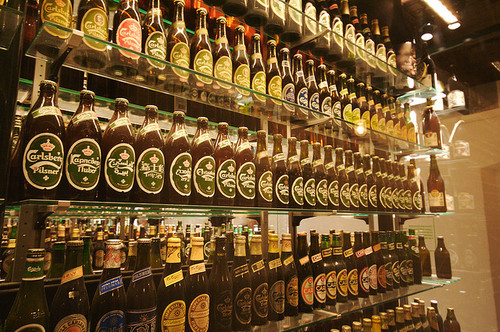 Photo credit: olgite via Flickr.
For beer-lovers, this is as close to hops heaven as you can get. For 60DKK, you can gain entry to one of Scandinavia's oldest brew houses and join a guided tour which will introduce you to the magic of beer brewing and the story of the Carlsberg brand. And yes, samples are included in the price. If you're a beer aficionado, no need to limit yourself to the Carlsberg tour. Copenhagen has six inner-city micro-breweries, many more out of town, and a host of beer restaurants whose cuisine is centred around the amber brew. It's worth noting that the minimum age requirement for alcohol consumption in Denmark is 18.
Learn more about visiting the Carslberg Brewery

#10 Thing to Do in Copenhagen: Shopping in Europe's longest mall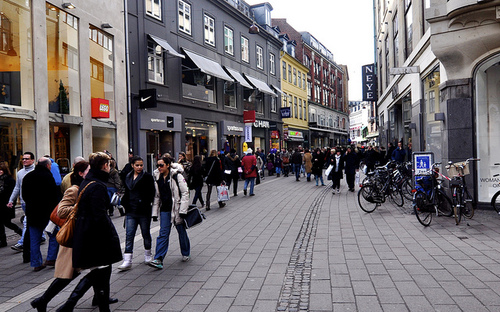 Photo credit: Dan via Flickr.
I can't tell a lie. As much as I love museums and galleries and sites of historical significance, sometimes a spot of retail therapy in a foreign country brings me unparalleled joy. Maybe it's a product of living in a consumerist outpost like Iceland. Maybe it's because I'm a girl and I love shoes.
Whichever way you look at it, Copenhagen's shopping is up there with the best, not least of all because it is the home to Europe's longest shopping mall, Stroget. Intersecting it is the equally fabulous Kobmagergade, home to all the big international fashion chains, as well as the department stores Illum and Magasin du Nord. If boutique strip shopping is more your speed, Vesterbro, Fredericksberg and Norrebro are all peppered with delightful retail offerings.
I could go on. Copenhagen really is a tourist's delight, whatever your fancy. But it's always much more fun to discover a few things yourself.
-Maggie Rays for Viator