Vast, glistening fjords? Horn-capped Viking invaders? The eerie glow of the Northern Lights? Whatever comes to mind when you think of Norway, there's no doubt that it's steeped in mystique. With its location on the cusp of the Arctic and wilderness blanketed with snow for up to 6 months a year, Norway is a country tailor-made for the winter and there's no better time to explore than with a carpet of fresh snow underfoot.
1. Skiing and snowboarding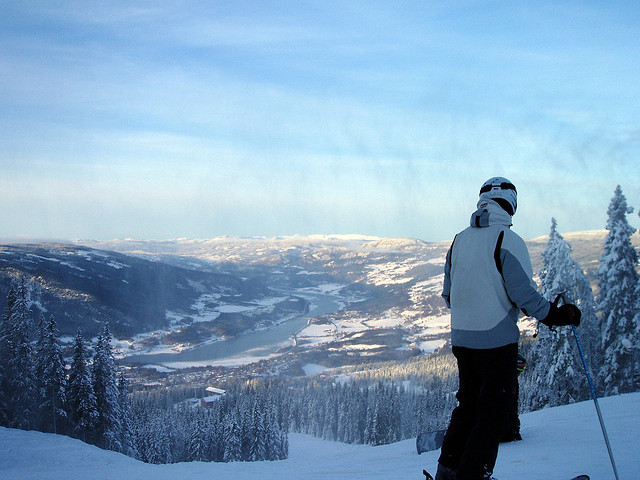 With more snow than they know what to do with, skiing is not just a pastime in Norway; it's a long-standing tradition that's celebrated as the country's national sport. They even have a museum, the Holmenkollen Ski Museum, devoted to the sport.
Norway's ski season lasts for around 6 months, with a wide variety of resorts and ski runs fit for everyone from first-timers to extreme adrenaline junkies. Norwegian ski resorts are renowned for their excellence, but it's the stunningly preserved landscapes and untamed alpine scenery that really make it special. Trysil, a 3-hour drive from Oslo, is Norway's largest ski resort, but the Eikedalen alpine centre, an hour north of Bergen and the Lillehammer district, host of the 1994 Winter Olympics, are also popular regions. More experienced skiers can enjoy an abundance of wild cross-country routes without paying a cent.
2. Dog-sledding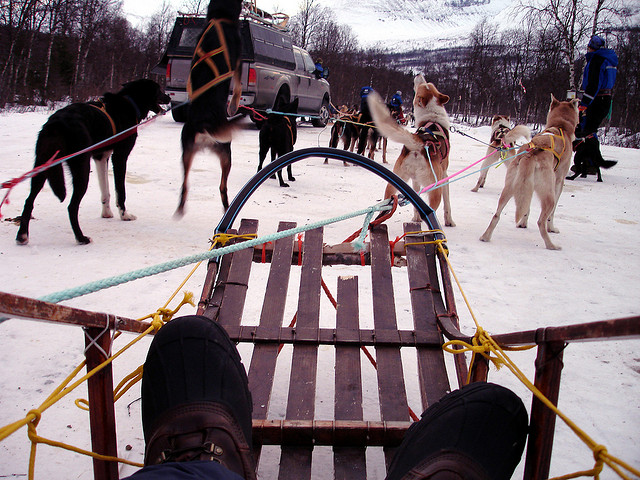 For all the adrenaline rush of cross country skiing with minimal effort, pass the baton to a team of dedicated huskies and let them tow you at break-neck speed along the snow coated terrain. Dogsledding is a hugely popular activity in the Northern region of Norway, host to Europe's longest dogsled race, Finnmarkslᅢᄌpet. A number of sledding tours set out from Tromso, many of which take you into the heart of Sᅢᄀmi territory - Norway's indigenous tribes - where you can dine on traditional foods and spot herds of reindeer roaming the fields. Get acquainted with your team of dogs and dog handlers beforehand and you'll see how the huskies enjoy the sport as much as the tourists.
3. Oslo Christmas markets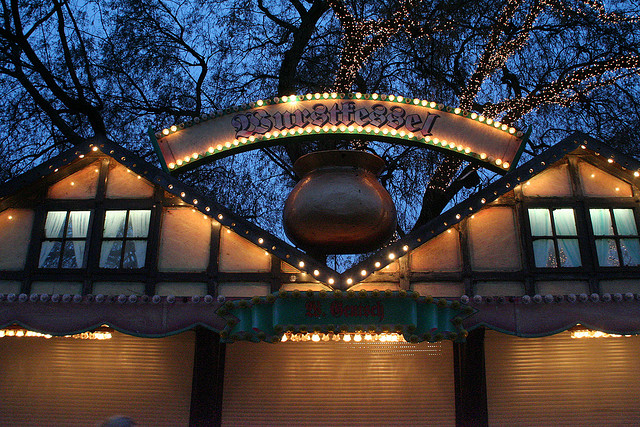 Once you've worked up a sweat in the snow, unwind with some Christmas shopping in Norway's capital. Oslo plays host to number of Christmas markets throughout the festive season, the largest of which takes over the Oslo City Hall Square and harbor. Here, stalls sell a variety of baked goods, festive handicrafts, gifts and tree ornaments. It's not all shopping though - take a horse and sleigh ride along the coast, enjoy the live music and entertainment at the open-air stage on the harbor or keep the kids busy by learning to make Christmas soaps or tree decorations. Alternatively, the Norwegian Museum of Cultural History's Christmas fair offers 100 stalls with handmade crafts and traditional Christmas foods.
4. Northern Lights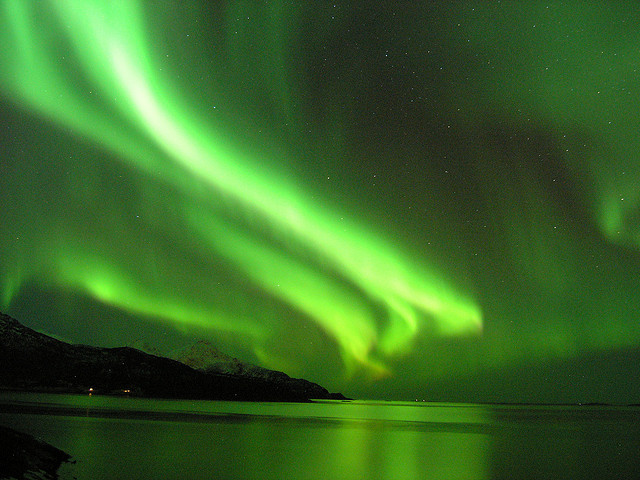 A visit to Scandinavia wouldn't be complete without a glimpse of the Arctic's most spectacular phenomenon - the Northern Lights. Created by solar flares drawn to the magnetic circle of the North Pole, the natural wonder sees the sky comes alive with an other-worldly display of flickering green and purple lights. Of course, the Lights, known officially as 'Aurora Borealis', are at the mercy of nature, so there's no guarantee that you'll get to witness them firsthand, but there are a number of popular viewing spots in Northern Norway. Visit in the peak visibility period between December-February and tour guides will ensure you have the best possible chance.
5. Bergen's Gingerbread Town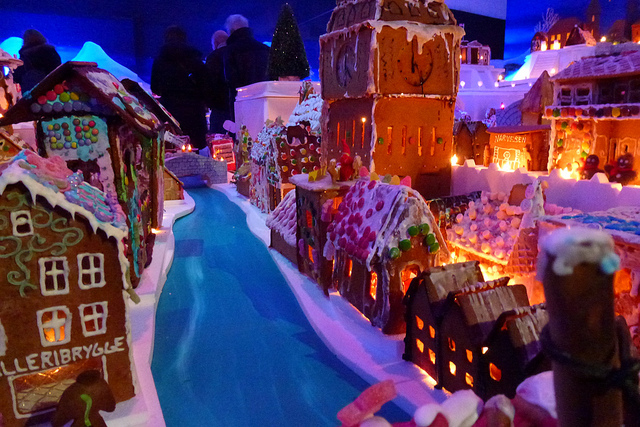 For Europeans, few snacks are as Christmassy as Gingerbread, whether it's a 'Hansel and Gretel' style gingerbread house or German-style gingerbread hearts. Bergen's gingerbread fame stems from its annual community craft project - an elaborate model of Bergen, made entirely from, you guessed it, gingerbread. The enormous cookie sculpture has held the record as the world's largest gingerbread city since the start of the tradition, over 20 years ago. Featuring over 650 gingerbread houses, trains, cars and people, the items are baked and decorated by thousands of individuals from local schools, kindergartens and businesses. Get your mouth watering at the public display, held in a giant tent in Bergen from the end of November up until New Year's Day.
6. Kirkenes Snow Hotel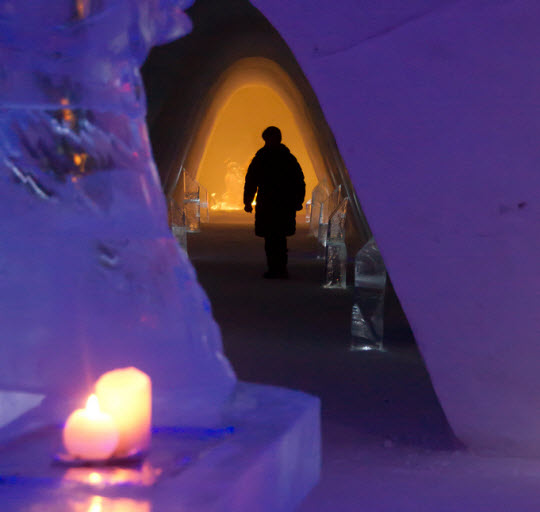 The trend for hotels carved out of ice has swept the world's chilliest nations in recent years, and Norway, of course, has it's very own snow-sculpture-cum-guesthouse in the arctic town of Kirkenes. This is no mere gimmick, though - the incredible 'snowsuites' are rebuilt each year with ice taken from the lakes and decorated with elaborate ice sculptures carved by specialist artists.
Don't worry about getting frostbite in your sleep either - the snow's insulating properties actually offer protection from the icy temperatures outside; special thermal mattresses and sleeping bags will keep you comfortable on your ice-block bed and there's an onsite ice bar where you can warm up with some Nordic vodka before hitting the sack. Just make sure you book in before it melts away - the Kirkenes Snow Hotel is only open from late December until April each year. Oh, and don't forget your thermals!
7. Ice festivals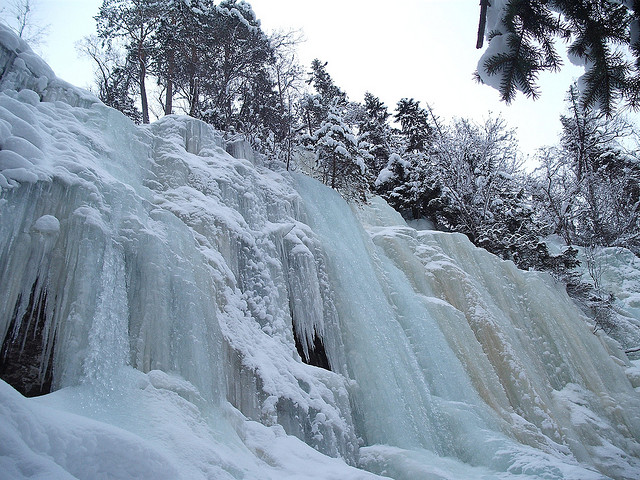 If you still haven't had enough of the cold stuff, join the locals in celebration of their icy climes at one of Norway's inimitable ice festivals. Rjukan Ice festival, held on the last weekend of February, is a popular ice climbing festival that draws hundreds of climbers from around the globe to attempt climbing the region's famous frozen falls. Best of all, though, is the country's renowned Ice Music Festival held on the first weekend of February in the town of Geilo, about halfway between Bergen and Oslo. Perhaps one of the world's most unique festivals, not only the stages are made of ice, but the instruments, including guitars, harps, horns, chimes and drums, are all hand-sculpted from ice. They don't just have to look good either, they have to sound like instruments too - the improvised concerts are performed entirely with the ice instruments, making what organizers call the 'sound of winter'.
8. Visit Santa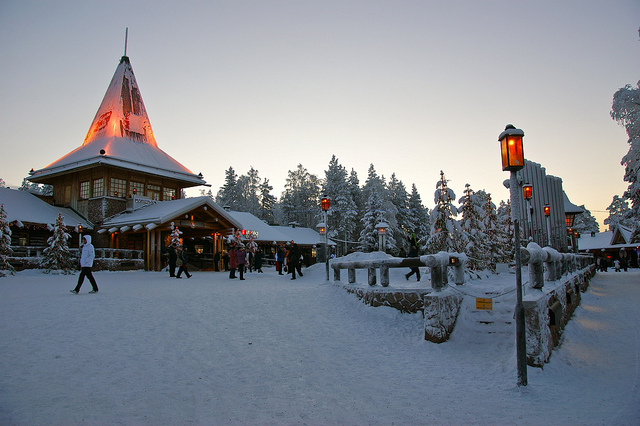 You can't come all the way to the Arctic and not pay a visit to Santa Claus, and with easy access to Lapland, you can deliver your letters to Santa in person. Although periodically contested by its neighbors, Santa Claus' official Lapland residence is in Finland, but with the European open border policies a number of tours run from Northern Norway to the legendary Santa Claus Village. Here, you can stamp your postcards at Santa's official post office, pay a visit to his reindeer, pick up some souvenirs from the Christmas market, and of course, meet the big man himself.
You don't have to cross the border though - Norway's own Santa house is located in the northern town of Savalen, where you can meet the Norwegian Santa Claus and his reindeer, post letters from his post office and stock up on gingerbread at the Santa shop.
9. Ski kiting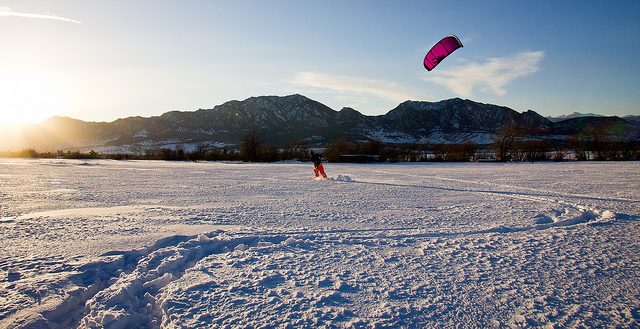 Adrenaline seekers will revel in Norway's latest winter sport craze. Forget using gravity to hurtle you downhill, Ski Kiting, or Snow Kiting as it's sometimes called, harbors wind power to propel you along icy plateaus, snowy mountaintops and even uphill. Skiers and snowboarders use a giant kite attached to a harness and with possible speeds of up to 100km/h this isn't an activity for the fainthearted. If you fancy trying your hand at the sport, head to the northern coast, or visit one of the kiting spots near Oslo, where the snow-drenched landscapes look all the more spectacular at high speeds. Varanger, Hardangervidda and Geilo are all Ski Kiting hotspots, having hosted the World Cup and World Championship Kiting events over the years. Just don't forget your helmet!
10. Horse riding in the snow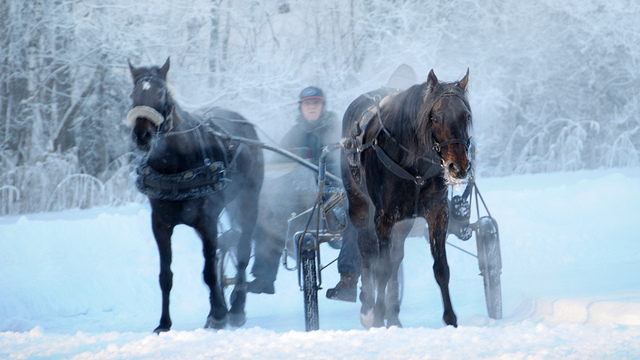 Horse riding might seem like an activity best suited to grassy ranchlands and deserted beaches, but Norway's native fjord horses are well equipped to deal with the cold. The hardy equines are descended from Viking horses and can easily plough through snowy fields and icy footpaths, making horse riding an all year round activity.
Experienced riders can enjoy galloping across glistening white landscapes, but even if you've never ridden before, a horseback stroll through the countryside offers the perfect opportunity to soak up the wintry scenery. Of course, if you don't fancy riding, you can let the horses do all the work and enjoy a ride in horse-driven sleigh, instead.